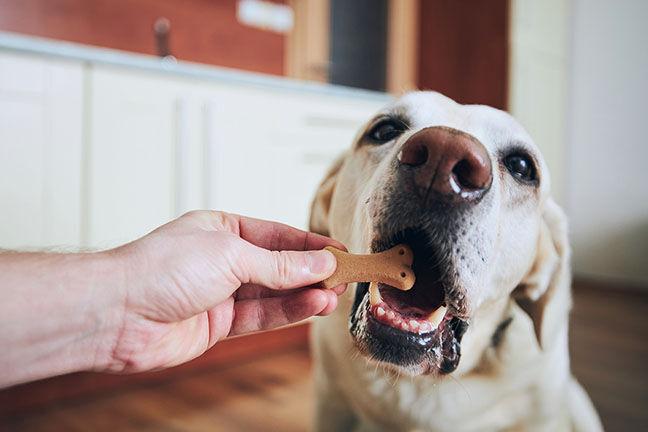 People may have kicked off 2023 by vowing to cut back on the baked goodies (it remains to be seen how long that lasts), but it's pretty certain they didn't make that same resolution for their dogs. In fact, says Erica Vogt, senior marketing manager for Whitebridge Pet Brands, L.L.C., people can't seem to resist giving their dogs yummy baked treats—it's one of the fun ways people connect with their pets, she explains.
"The humanization trend is having a huge impact on baked treats," Vogt says. "Treating, after all, is a bonding experience for dog owners and regardless of the types of ingredients they favor, pet parents love giving their furry friends treats that are similar in appearance and flavor to the ones they enjoy themselves. We're seeing more manufacturers coming out with baked treats in human-style formats and even products that people can actually share with their pets."
Vogt cites research figures indicating the U.S. pet treats market, valued at $10 billion in 2021, is expected to realize a compound annual growth rate of 10.4 percent from 2022 to 2030, thanks to the increasing number of pets, which is driving the demand for treats. And although chewable/meat treats comprise the largest market share with a growth rate of 9.5 percent, at a rate of 13.5 percent, crunchy/crispy (baked) treats are outpacing that segment in terms of growth.
The other nice thing about baked treats is the wide variety of options available to pet owners. Whether purely indulgent and decadent or functional and better-for-you (and in fact, many baked dog treats combine both attributes), there is something to appeal to any type of owner.
"There are a few types of consumers," says Amy Singelais, president of Preppy Puppy Bakery. "Health-conscious dog owners are minimalists when it comes to ingredients. They're focused on very limited overall ingredients including sugars, grains and food colorings.
"Other dog owners see treats as an occasion or impulse way to spoil their pet," she continues. "This type of owner is usually more focused on flavor, variety, seasonality and appearance of the treats. [However] wheat, corn and soy are always a big no-no in dog treats."
Just Like Us
Headquartered in West Wareham, Mass., Preppy Puppy offers an array of hand-decorated, soy-free, wheat-free and corn-free dog treats, offering a large assortment of soft-filled birthday cakes, pastries and every day and seasonal cookies. Ingredients are always US-sourced and human-grade, says Singelais. Among their baked products are the Layer Cakes, offered in Girl, Boy, Neutral and Gotcha Day. The bakery's proprietary soft filling is sandwiched between layers of their peanut butter and oat recipe. A candle and edible image market are sold with each layer cake.
Singelais says the baked dog treats industry closely follows or slightly lags behind human bakery trends in the sense that dog owners "buy with their eyes." For example at one time gourmet doughnuts were huge in the human bakery world, now they are often found in pet bakeries. Gnomes are another case in point, popping up in both arenas at roughly the same time.
"Mixology is a current trend; pet owners are gravitating toward combining traditional flavors with something new and exciting," she explains. "For Preppy Puppy, peanut flavored treats have always been a top seller. This year we've added other flavors such as pumpkin, apple and blueberry into our original peanut recipes."
Allison Sparks, head of marketing for Shameless Pets, says they're also seeing dog owners getting excited about traditional flavors but with an added twist, such as the upcycled superfoods the company includes in its treats. Headquartered in Chicago, the company focuses on upcycling "misfit or surplus ingredients" into high-quality pet treats, crafted with pets and planet health in mind. Offerings include soft-baked biscuits, some treats for cats, along with other kinds of products.
"For instance, our Bananas for Bacon treat includes peanut butter and bacon, two known pet-adored flavors, while also including bananas that help deliver key vitamins and minerals," Sparks says, explaining that all their treats include a functional benefit, such as hip and joint or digestive support.  
"Dog owners are looking for something their dog will love and that they can also feel good about feeding their dog," she adds. "Owners are looking for clean ingredient labels, treats without filler ingredients, more sustainably made and packaged treats, and treats that provide a health benefit to their dog in addition to tasting great."
The Wellness Factor
Health and wellness is still an ongoing focus, and as such, people are seeking guilt-free treating, says Vogt, scrutinizing both the ingredients and how the products are manufactured. Pet owners are favoring treats with recognizable and natural ingredients, ones that are made with "homestyle processes" similar to what they would use in their own kitchens.
Whitebridge, headquartered in St. Louis, is a global pet nutrition company providing a range of minimally processed, natural, wholesome foods, treats, complements and supplements for dogs and cats under a variety of brands, including Cloud Star.
"At the same time, the category is becoming more elevated and segmented, basically following the lead of the pet food market, with consumers looking for specialized features in baked treats, such as functionality, proactive wellness solutions, sustainable sourcing, probiotics, alternative proteins and plant-based proteins," Vogt says. "We believe treat manufacturers will continue to align with this trend and that, going forward, the baked treat category will reflect many of the developments and innovations we're seeing in pet food."
One of the company's newest baked treats is Cloud Star Wag More Bark Less Meat Cravers oven-baked biscuits, combining a crunchy biscuit with real meat and pieces of either chicken or beef jerky. The treat offers a two-in-one taste/texture experience and joins together the upward trending meat jerky category with the big and steady biscuit category. A human-style treat is the Cloud Star Wag More Bark Less Sandwich Cookie. Filled with real, creamy peanut butter the oven-baked sandwich cookie is made entirely with human-grade ingredients and is sharable between person and pup.
 

'Easy Money'
Although Sparks notes some price sensitivity when it comes to baked dog treats, "owners want to feel like they're giving their pets the best treats they can while also feeling like it's a good value," she says. Vogt says it's becoming less so, explaining that pet owners are looking for upgraded features. As such, they're willing to pay more.
Also, treats tend to be an impulsive purchase, considered an indulgence pet owners are fine splurging on, says Singelais.
"A looming recession could force consumers to focus on essentials or purchase lower-retailed items," she says. "[But] birthday will always sell as people are willing to spend more to celebrate."
Effective inventory management and merchandising are extremely important to this category's sales. In this respect, freshness, novelty and seasonality are essential, says Singelais. Retailers should think about what kind of presentation—a covered tray, a basket at checkout, a bakery case or packaged treats—is going to work best for their store's format, says Singelais, adding that whatever the option, keep it fully stocked. "A case with just a few cookies looks like it is old product and gets passed over," she explains.
Vogt cautions it's important to call attention to the various kinds of treats offered in the baked assortment, using sectioning, signage and other merchandising tools to help differentiate the formats, shapes, aromas and flavors offered, along with any functional and nutritional solutions. To encourage impulse-buys, also consider cross-merchandising options, she adds.
A display of dental treats, for example, could be set up near the dog toothbrushes and toothpaste, or you could place some grain-free treats with grain-free foods," Vogt says. "You could even put some scrumptious 'humanized' treats in the toy department to catch the attention of people looking to buy a special gift for their pup."
And don't forget seasonal and holiday displays or end caps since baked dog treats lend themselves well to this type of merchandising.
Looking for opportunities to engage customers and discuss baked dog treats will also turn their attention to this category and increase sales. Ask if they're interested in supplementing the dog's diet with a baked treat and if so, is there any particular functionality they're looking for? Is weight a concern? Are there any protein/food sensitivities or allergies? Are they looking to celebrate a particular occasion pertaining to the pet? Or do they want a treat that is simply that…a treat?
Baked dog treats can make a significant contribution to a store's bottom line, contributing to an overall positive feeling about the establishment and enticing customers to come back and make repeat purchases, says Singelais.
"Decorated dog treats generate good margins for retailers," she says. "Seasonal treat sales [account for as much as] 40 percent of overall treat sales if stocked and marketed properly. Retailers should create a destination with birthday items and soft pastries which will help to develop and maintain a solid consumer base year-round.
"Retailers would be surprised with the revenue they generate with little square footage and minimal costs with teats," Singelais continues. "We have small, independent stores who sell up to $60,000 in treat sales annually. Easy money."  PB