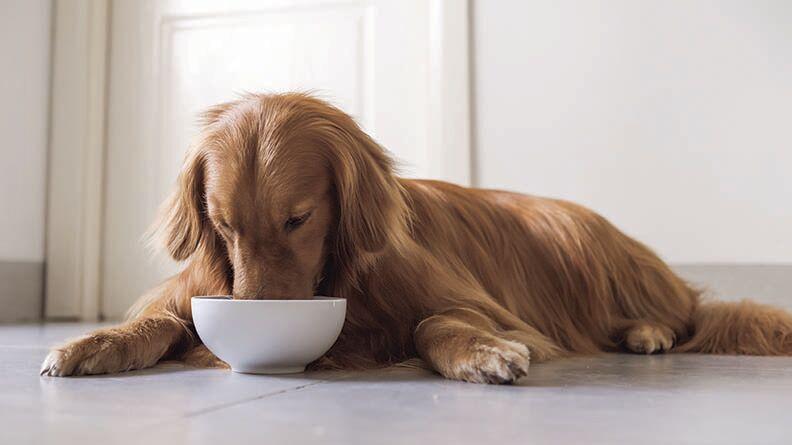 Fitting perfectly with the less-is-more mindset that has people looking to simplify their lives and diets, limited-ingredient dog foods and treats have found an increasingly receptive audience among pet owners, particularly as they learn more about their benefits. 
For example, says Emma Kumbier, veterinary outreach coordinator at Primal Pet Foods, many dog owners like to rotate the proteins in their pet's diet; this is more simple with these foods, as there are fewer ingredients the dog could potentially be sensitive to. Identifying ingredients that may be causing the pet problems is easier as well. 
Limited-ingredient diets (LID) are excellent for dogs with allergies, sensitive stomachs or who are picky eaters, says Jen Beechen, vice president of marketing for the ORIJEN and ACANA brands made by Champion Petfoods. 
These issues are often why pet owners decide to give these foods a try, according to Colin Redding, a territory manager for NutriSource Pet Foods.
"Usually we see customers asking for LIDs because their dogs are uncomfortable with itching, hot spots or runny stools," Redding says. 
"In most cases we get customers looking for LIDs on recommendations from their vet to switch to a limited-ingredient diet and they want a more affordable and holistic solution than expensive vet prescription brands," he continues, adding that a recent packaging change describing the product as limited-ingredient has resulted in a "huge" increase in sales. 
LID Challenges
Despite that lift, Redding says there are lingering pet owner misperceptions affecting this category overall. One he thinks may be in play is the idea that allergies and other issues have a strictly environmental cause, rather than being triggered by diet, and therefore are best treated with medication. Another is automatically looking for a product with the fewest ingredients, rather than considering what might be the best solution.
"Yes, only four or five ingredients in a full-feed sounds impressive, but you have to be careful because you also might be limiting nutrition," he explains. "Many of the mainstream LIDs aren't very nutritionally dense and have a lot of protein sources other than meat. Lots of other LIDs are meal-only or even start with a non-meat source. The challenge is to convince customers to go to a food that actually gets the gut working correctly versus the most limited option."
Pet owners also may have the mistaken belief that limited-ingredient foods are high in carbohydrates as opposed to what dogs actually need to eat—meat, says Beechen. These diets shouldn't mean a dog is fed less meat, but instead should prioritize high-quality animal ingredients for optimal health, she says. 
This ties into another pet owner worry and category challenge. "Dog owners may be concerned about whether or not their dog is getting adequate nutrition and whether or not the differential between limited-ingredient foods or more traditional multi-protein foods may have any correlation to health," says Kumbier.
According to Kumbier, all Primal products can be considered limited-ingredient, but the most popular are its raw topper options—Market Mix, Butcher's Blend and the Cupboard Cuts line (soon to be released). 
Of course, while innovation keeps the category dynamic, it can also introduce additional challenges. With more LID offerings entering the category, many of which tend to be costlier than conventional ones, this could potentially deter purchasing. Pet specialty retailers can address this situation by educating customers about the advantages of limited-ingredient diets and by offering toppers and treats, many of which are quite affordable, in addition to full-feed formulas.
While cost can be a concern, many pet owners may also put off exploring limited-ingredient products until their dog comes down with a health issue or shows signs of a food sensitivity or allergy, says Susan Davidson, global marketing manager for ZIWI. Rather than waiting until there's a problem, pet owners should embrace limited-ingredient products sooner rather than later, since these diets can help avoid sensitivities from the start, she explains. If problems do arise while feeding a limited-ingredient diet, the culprit becomes readily apparent and the dog can be switched to another protein.
It's important to note that there are also challenges impacting manufacturers, which threaten to impact pet specialty retailers if they haven't already. The most pressing of these are the current supply chain issues, tormenting industries across the board, says Tanya Fernandez, social media coordinator and copywriter for Zignature Dog Food, which provides meat-first LID products including its Zignature Original Line and its Zignature Select Cuts line. 
Laura Jones, COO of Jones Naturals, LLC, describes manufacturing "in this space" as challenging due to the fact they don't use any artificial ingredients to help preserve the products. The company provides U.S.-made and-sourced dog treats and chews derived from meat proteins, among them the Woofers burger. 
Communicating With Customers
Even with this category's challenges, there is still unlimited potential for LIDs in pet stores. To help introduce their customers to this category, Redding suggests that pet specialty retailers should focus on talking about the relationship between gut health and the food the pet consumes. 
"We believe in talking about not limiting nutrition and maximizing gut health," he says. "The best way to talk about limited ingredient diets is to talk about gut health and immunity. Retailers already do a fantastic job here but we should keep talking about what proteins to limit and focus on probiotic/prebiotic supplementation."
It's imperative for retailers to ask a variety of questions to understand what a customer is specifically looking for in a product, and what product is the best fit for their pet's specific needs. 
"When it comes to bones, the type of chewer needs to be established in order to recommend the right bone," says Jones. "Pork and lamb bones are softer and are only recommended for light chewers. Allergy questions are also important to ensure they are pointed to the right protein for the dog." 
Fernandez agrees that asking the right questions is essential for a successful match between dog and product. She advises retailers to inquire about the pet's nutritional needs and any sensitivities to certain proteins or ingredients. 
Asking what formula style is desired, says Kumbier—for example a single-source or multi-source, traditional or non-traditional protein—is a good way to start a conversation. As for merchandising these products, she feels a good approach is creating displays or endcaps featuring all the LID choices the retailer offers.
"I personally like to see matching-protein products—like a fish-based kibble paired with Primal's Sardine Market Mix," Kumbier explains. "It shows pet parents that, although their pet's diet is limited, their options aren't."
In addition to endcaps, retailers should merchandise these items in a prominent section of the store, suggests Beechen. Also, don't overlook the attention-getting power of point-of-sale positioning and signage/shelf-talkers that call attention to the features and benefits of the various LID products, which will also help spark valuable conversations.  
"One of the most important roles for retailers is to help pet lovers understand why it matters to feed a quality food," she explains. "By educating them about the benefits of limited-ingredient diets, pet parents are better equipped to understand the important role nutrition plays in the overall health of their pet."  PB