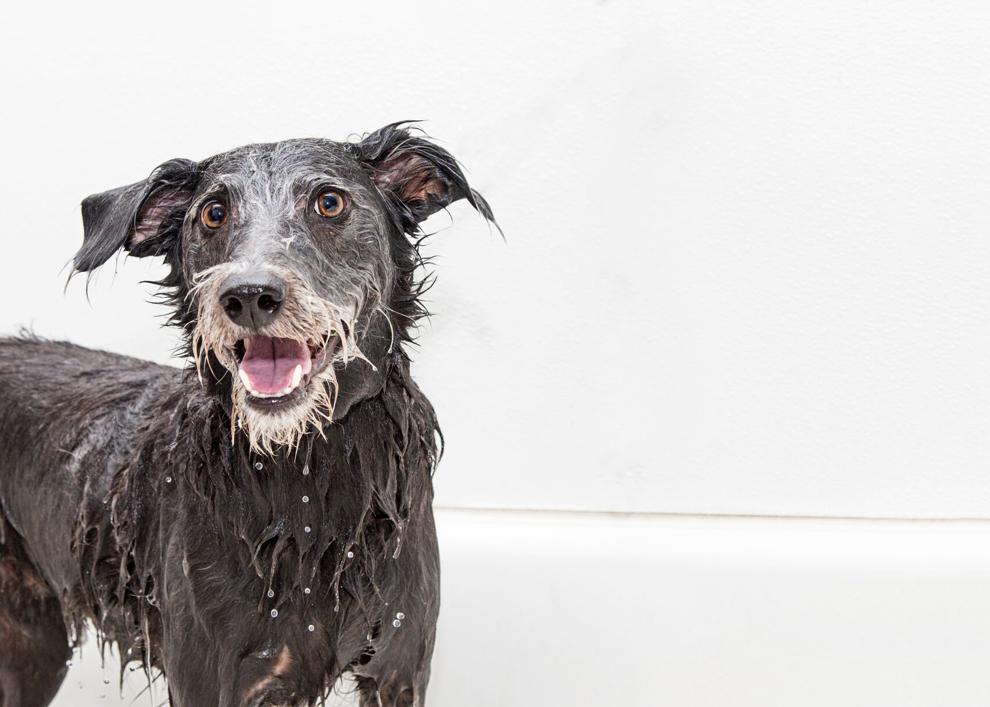 Recreating a pet-spa experience at home for canine companions requires more than simply lathering up their fur, rinsing and repeating. While dogs might have their own feelings regarding bath time—some may be anxious, yet others might enjoy it—a pet parent's job is to create a comfortable environment for their canines during bath time. 
Relying on home bathing to maintain pet hygiene between grooming appointments is important for an animal's overall health. To assist pet parents looking for the most essential items to bathe dogs at home, retailers should learn about these products by seeking an education from manufacturers, exploring customer demand and remaining open to client feedback.  
Bathing to Promote Wellness
The link between dog health and cleanliness is inextricable. Similar to their human counterparts, a dog's skin and coat are susceptible to damage from the elements, such as the sun and wind. Even the indoor home atmosphere can have an impact on a dog's skin and coat health due to air-cooling and heating systems. Of course, aside from environmental factors, pets experience shedding seasons, which requires more frequent brushing. Overall, given these elements, choosing the appropriate supplies for thorough, yet gentle, cleaning is crucial to dog health. 
"Grooming and wellness are very much intertwined," says Julie Creed, vice president of sales and marketing for Pure and Natural Pet. "Grooming refers to the hygienic care and cleaning of a dog, and wellness focuses on the well being of your pet. Grooming and wellness are both a vital part of your pet's overall health, which can improve their happiness and longevity." 
In addition to regular dog bathing serving as an important component of a pet parent's consistent health-and-wellness initiatives, performing this work at home between professional grooming appointments can afford insight into how a dog is feeling. The close proximity required between a dog and its pet parent during a home-bathing session yields opportunity for noticing changes in areas such as skin and coat texture, new growths such as moles or sebaceous cysts, ear buildup, and paw-pad health. 
"The most important benefit of regular and attentive grooming is the opportunity to take preventative care of your pet and to notice any small changes in your dog's overall well being," explains Michele Crowley, senior vice president of marketing at H&C Animal Health. "Being able to investigate an outward change can often lead to catching larger issues before they become serious." 
As the trendy term "self-care" has dominated marketing within the human wellness space, the trend is moving into pet care, yet dogs are dependent on their human families to provide these experiences. Through adding dog bathing at home to a regular routine, pet parents will become attuned to their animal's needs, which will enable them to advocate on behalf of their pup's health when visiting the groomer, vet or hotel. 
"Grooming and self-wellness go hand in hand. Just like with humans—you have to take care of yourself," says Dawn Leoso Duncan, vice president of Glo-Marr Products, Inc. "Retailers need to remind pet parents that they have to be assertive about the care of their pet. They have to take care of things before problems start up." 
Comprehensive Dog-Bathing Care
Going beyond the suds, dog pet parents must invest in quality products created from ingredients that are gentle, yet include effective materials that cleanse and soothe. A comprehensive home-bathing process for dogs includes finding solutions to maintain the health of more than simply a canine's skin and coat. 
"Good grooming includes looking after your pet's skin, coat, paws, ears, teeth, nose and eyes, plus being patient with them during the process," Creed says. "With a regular routine, you can avoid health problems and even an expensive run to your veterinarian. Having a healthy and happy pet is the ultimate goal every pet parent wants to achieve." 
To follow through on a regular routine, pet parents should always have specific bathing supplies on hand. It's also beneficial to have supplies at the ready in case of an emergency cleaning that could occur if a too-curious dog rolls in an unidentifiable substance while on a walk or following a surprise encounter with a skunk. 
"Dry shampoo spray is great for spot cleaning—especially surface dirt that they may try to bring back inside," Leoso Duncan says. "Regular shampoo is a must. Always have that on hand because you never want to be without it when you have to give a bath. You want to have quality shampoo on hand all the time, non-detergent based. Moisturizing spray is essential because you give instant relief when applying it instead of having to bathe again." 
For certain brands, the foundation of promoting dog health through proper hygiene lies not in the ingredients that are included in formulas, but those that are excluded. For Crowley, this means educating pet parents regarding a holistic approach to grooming, in addition to creating formulas that are free of wheat, corn, soy and dyes. 
"At H&C Animal Health, we view grooming through the lens of overall pet wellness," Crowley explains. "For us, grooming is not only about outward appearances, but the balance of internal and external health that gives our pets their healthy skin, coat, nose, eyes, ears, and paws."
Trending Home-Bathing Components
While consistency in home bathing is key and the basics of safe, effective home bathing might seem unchanging, new trends are emerging in this category. Whether ensuring all family members were safe and clean during 2020, or learning more about their loved ones with whom they share a home, pet parents were showing interest in specific products over the past year.  
"This last year proved that pet wipes are very important," says Creed. "This category has continued to grow for us. Customers also seem to be looking for products geared to their pets' specific conditions."
One aspect of pet bathing that continues to grow in popularity is sustainability. As pet parents shop for grooming supplies to use at home, they are interested in products that are good for their puppies and the planet. 
"As for trends in the home dog-grooming category, we expect the continued and growing demand for natural, organic and sustainable dog grooming solutions that are both safe, proven, and efficacious," according Crowley. 
As manufacturers recognize growth in certain areas of their businesses through different trends, pet parents must be reminded of how crucial home bathing is to dog health and wellness. 
"Everyone loves to smell good, so I see more colognes being a trend for pets!" according to Leoso Duncan, who also emphasized the importance of bathing for dog wellness. "I can't stress enough how important it is to take the time to groom your pet at home. Prevention is key. Stay ahead of issues before they start. Regular brushing and moisturizing make the biggest difference."