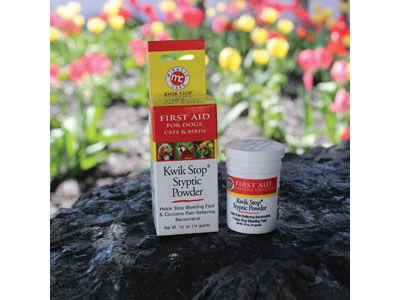 MiracleCorp's (miraclecorp.com) Miracle Care Kwik Stop Styptic Powder is styptic powder featuring benzocaine and ferric subsulfate. Benzocaine alleviates any pain and itching, aids in the healing process with minimal discomfort and helps stop bleeding, while ferric subsulfate stops the bleeding quickly by contracting blood vessels. It can be used on dogs, cats and birds of all sizes and ages. Available in 0.5 oz., 1.5 oz. and 6 oz. containers.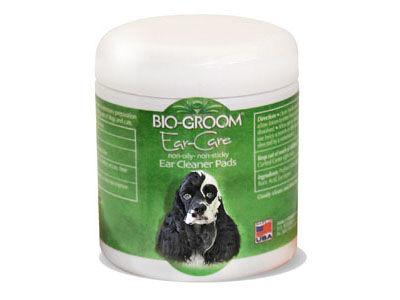 Bio-Groom's (http://biogroom.com) Ear-Care Pads are pre-moistened, 100 percent cotton pads that are a veterinary preparation specially developed for routinely cleaning and drying ears of dogs and cats. Gently cleans and dries the ear canal, and removes excessive wax build-up.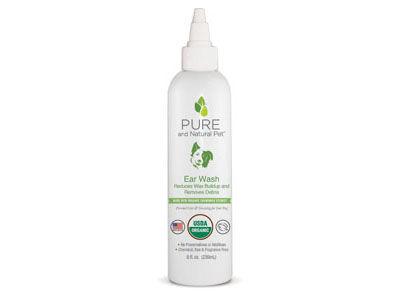 The Pure and Natural Pet (pureandnaturalpet.com) USDA certified organic 8 oz. Ear Wash cleans and soothes raw, irritated, itchy, greasy and smelly dog ears. The Ear Wash uses carefully formulated, USDA certified organic ingredients to control odor, itching, and discomfort, and remove debris and wax build-up. The formula has no chemicals or preservatives and is alcohol-free. The non-stinging Ear Wash can be used daily, or as needed.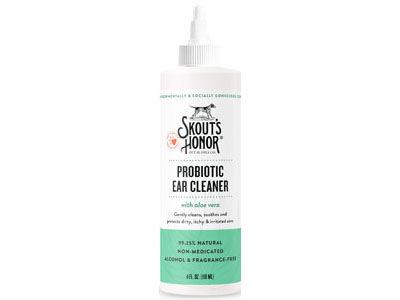 Skout's Honor (skoutshonor.com) Probiotic Ear Cleaner (4 oz.) with aloe vera gently cleans, soothes and protects dirty, itchy and irritated ears. It helps to restore harmony and stabilize the ear's natural microbiome. The probiotics continue to fight against harmful bacteria in the ears for up to two weeks. Non-medicated, non-drying (alcohol-free) and fragrance-free.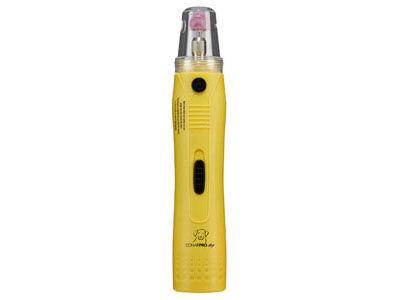 Conair's (conair.com) ConairPRO Dog and Cat Professional Cordless Two-Speed LED Nail Grinder's grinding capabilities allow for a safe and gradual trimming of the nail. The nail grinder features two LED lights that illuminate the nail quick for better visibility, and a quiet and powerful motor. Its battery powered cordless, lightweight design provides comfort and convenience, while enabling easy movement. For a powerful trimming, its two-speed performance helps to cut down on time while effectively trimming the nails.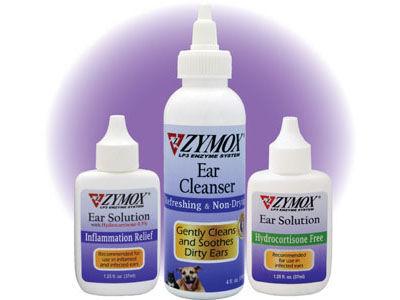 Pet King Brands' (zymox.com) ZYMOX Ear Solutions and Ear Cleanser provides relief for problematic ears without antibiotics; and are safe, non-toxic and easy to use. ZYMOX Ear Solution for irritated ears contains a patented combination of enzymes to aid in removing ear exudate and maintaining ear health. ZYMOX soothing relief comes in two formulations: without hydrocortisone and with 0.5 percent hydrocortisone for added itch relief.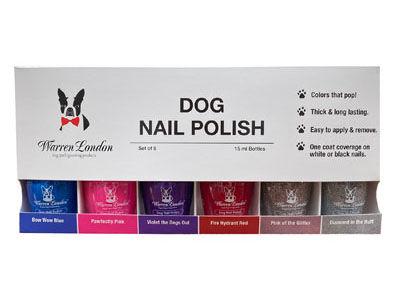 Warren London's (warrenlondon.com) Six Color Manicure / Pawdicure Set includes the colors Pawfectly Pink, Violet The Dogs Out (Purple), Fire Hydrant Red, Bow Wow Blue, Pink Of The Glitter, and Diamond In the Ruff (Sparkle Silver). The long-lasting dog nail polish works on dark nails with a thick and durable coat. Shake well before using. Unscrew cap, and coat brush tip with polish before applying paint on dog's nail.