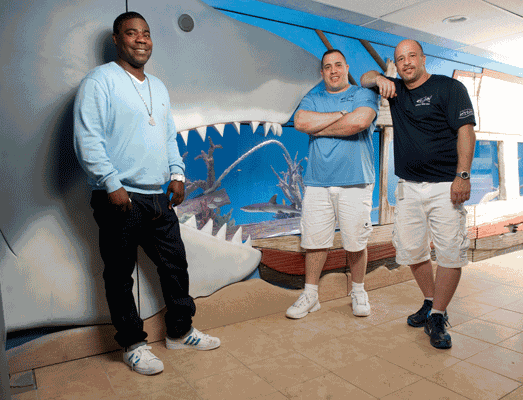 Anyone who has watched the popular Animal Planet show Tanked knows it is a lot of fun to watch brothers-in-law Wayde King and Brett Raymer go through the ups and downs of designing, fabricating and setting up aquariums for Acrylic Tank Manufacturing (ATM) in Las Vegas. But what is more important to members of the pet industry is the fact that the show has given the tropical fish trade a much needed boost.
It is no secret that the aquarium hobby has faced an uphill challenge in attracting younger generations, due in large part to the Internet, video games and the many other technological distractions that occupy their time. However, the stunning aquarium designs that are regularly featured on Tanked have gone a long way in capturing the imagination of the viewing public—hopefully, helping to turn the tide for the hobby.
While King and Raymer have enjoyed the fame that has come from starring on the show, they get more gratification out of their role in strengthening the aquarium industry—although they have had to defend themselves to retailers who have questioned their "instant" tank installations. The problem was that editing of the show took out many of the more boring technical details.
"People were badgering us at shows and asking, 'How do you set up a tank so quickly?'" says King, who is the CEO of ATM. Both he and Raymer, who is the company's COO, are passionate about keeping fish properly, and like many experts in the aquarium industry, they understand that quick set-ups can be accomplished using biological media such as bacteria to cycle a tank virtually instantly.
"The thing is, today when you set up an aquarium, it's very difficult to cycle quickly, but if you use seeded bio-material, have natural seawater, and put in live sand and bacteria, that tank is done and ready to go," notes King.
Unfortunately, the producers of Tanked originally did not highlight this process on the show. As a result, some viewers were going into their local pet store demanding instant tanks without realizing what went into these quick set-ups. Thankfully, the show started delving into these factors more and more in later seasons.
Most of the feedback from the pet industry has been positive, say the Tanked stars. "I like the fact that people come in here and thank us every day for making their store survive through the [difficult] economy," says Raymer. "I think we've invigorated the industry."
When asked how can pet stores sell more aquariums, both Raymer and King say that having great display tanks is the number-one way to drive sales of tanks, as well as fish and products. "Every pet store with aquariums should have at least three nice display tanks, including a reef, a freshwater with live plants, and a regular saltwater tank where you can show the world what you can do," says King. He also stresses that having display tanks allows customers, especially kids, to "see the tank, touch it, and realize they love that tank and want to have one like it at home."
The hardest part of setting up a display is decorating it. Robert Christlieb—called Redneck on the show—oversees ATM's entire manufacturing process, but he used to be in charge of making the decorative inserts that would be the focal point of the company's tanks. He says that as long as the "décor is safe for the fish, you can do anything with a tank. You've just got to have a creative mind." He suggests looking at books, tanks at other stores and photos on the Internet for inspiration.
 Raymer believes that another way pet retailers can sell more tank setups is by making sure the store is always well maintained and clean. King agrees, noting that the livestock within the store should also be well cared for. "A lot of people will go around an area visiting many different pet stores and will say to themselves, 'Oh, this store is dirty, and this one is disgusting, and this one smells, and this one doesn't have nice looking fish,'" he says. "But if your store is clean and has great and healthy fish, you're going to be successful."
King suggests that any pet retailer that sells aquarium setups should have either maintenance available through the store or a trusted third-party affiliate. This can be a great selling point, especially for getting larger tanks into businesses that do not want to care for the aquariums themselves. Some stores have found that the income generated by taking care of aquariums, or by getting a commission from a maintenance company, can help boost the store's revenue.
According to Frankie DiLuzio, ATM's head of residential sales, selling more fish and setups starts with having a good knowledge base. "The more knowledge that you have in this industry, the more you can help your customers out with whatever they need, and the more successful you will be," he says. "The more time that you spend with your customer, give your customer the information that they need, and they know they can count on your store help, the more they are going to tell their friends about you."
To gain the necessary knowledge, DiLuzio suggests that retailers be sure to learn every aspect of how everything sold in the store works to keep a tank clean and the fish healthy. It is also important to keep up with the latest trends and advancements in the fish industry. Although not completely new, the best innovation in the aquarium industry—and the one that has been advancing more and more—is LED lighting, says Jacque King (no relation to Wayde), retail manager for ATM. "LED lighting is a big step in the right direction, although we're not 100 percent there yet," she says.  "I think we have a lot of growing to do in that area."
ATM has been working on adding LED lighting to its proprietary product line, which includes a bacteria product called Colony, as well as an all-natural water conditioner, an acrylic cleaner and a phosphate remover. As for other products, ATM will soon offer a high-quality sea salt that has a high amount of necessary elements, dissolves quickly and easily, and is reasonably priced and very consistent. The company has been testing it for over four years, says King, and those who have tried it "love the salt." ATM will also soon offer carbon, as well as a line of fish food that will include floating and sinking pellets for fresh and saltwater. The food will not be baked, as this can cause a loss of nutrients.
Of course, what ATM is known for is making tanks. Any pet store can call and order an acrylic tank of any size and shape from the company, as ATM has been doing both retail and wholesale for years. In fact, when Tanked first aired, hundreds of pet stores contacted ATM once they realized they could order custom tanks for themselves and their customers.
"We'll do any size from a very small to a very, very large tank that can be either simple or complex in design," says Wayde King. "Everything is built to order."
In addition to its custom work, ATM is developing a line of small, packaged tanks that can be set up on a counter top. The designs for these mini-tanks will be inspired by some of the aquariums that have been set up on the show, such as a gumball tank and possibly a skateboard tank.
Another important development for retailers that King and Raymer are proud of is the creation of an online directory—on their website—that pet stores, maintenance companies and installers around the country can join for a small fee. Then tank customers can look up who is available in their area, what they offer and what they can do to help with the customer's aquarium.
The affiliate program is reflective of King's passion for the pet industry. "We're trying to help every store out there, and to make the aquarium industry stronger and better for everyone," he says.