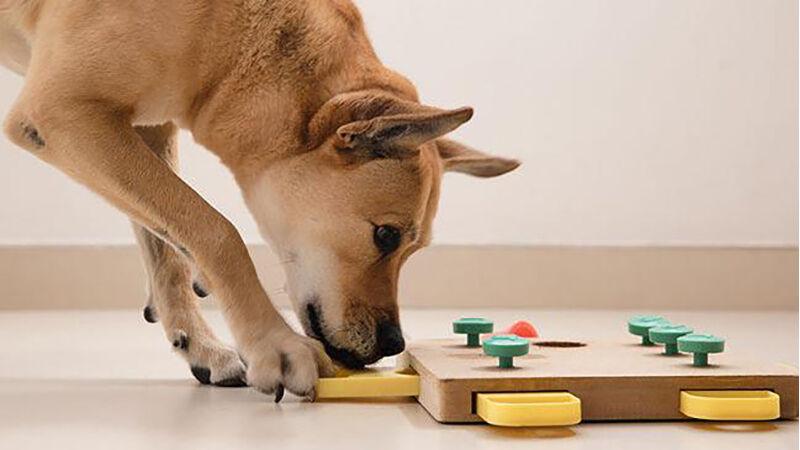 Pet specialty retailers on the hunt for a category with room to grow would do well to consider interactive dog toys and puzzles. According to Lisa Hisamune, director of sales at P.L.A.Y., it's one with lots of "untapped potential" and "endless possibilities" mainly because it's relatively new. Headquartered in San Francisco, the company creates an array of fashionable and ecofriendly pet bedding, toys and outdoor products.
"Interactive toys have taken off as pet owners are becoming more engaged with their pets," she explains. "This is what I like about interactive toys, it allows you to form a better bond with your pet as you interact more with them during playtime."
Also driving interest in these products is the pandemic, which fueled awareness about the importance of pet health and wellbeing, says Sarah Pedersen, marketing manager for Only An Ocean. The Charleston, S.C.-based company selects, represents and distributes various international brands offering training tools, toys, collars, fashion accessories and more.
Then there's the impact of social media, that has provided people with new ways to interact with their pets, she adds. Pet owners are not only sharing their activities with their pups, they're also searching for solutions that effectively address anxiety, hyperactivity and various destructive behaviors. This is where interactive toys and puzzles can offer a big assist.
"Customers are looking for guidance and education to become better pet parents," Pedersen says. "Interactive products can support training and communication, help reduce anxiety, boost confidence and include health-related habits to combat the pet population's rise in obesity."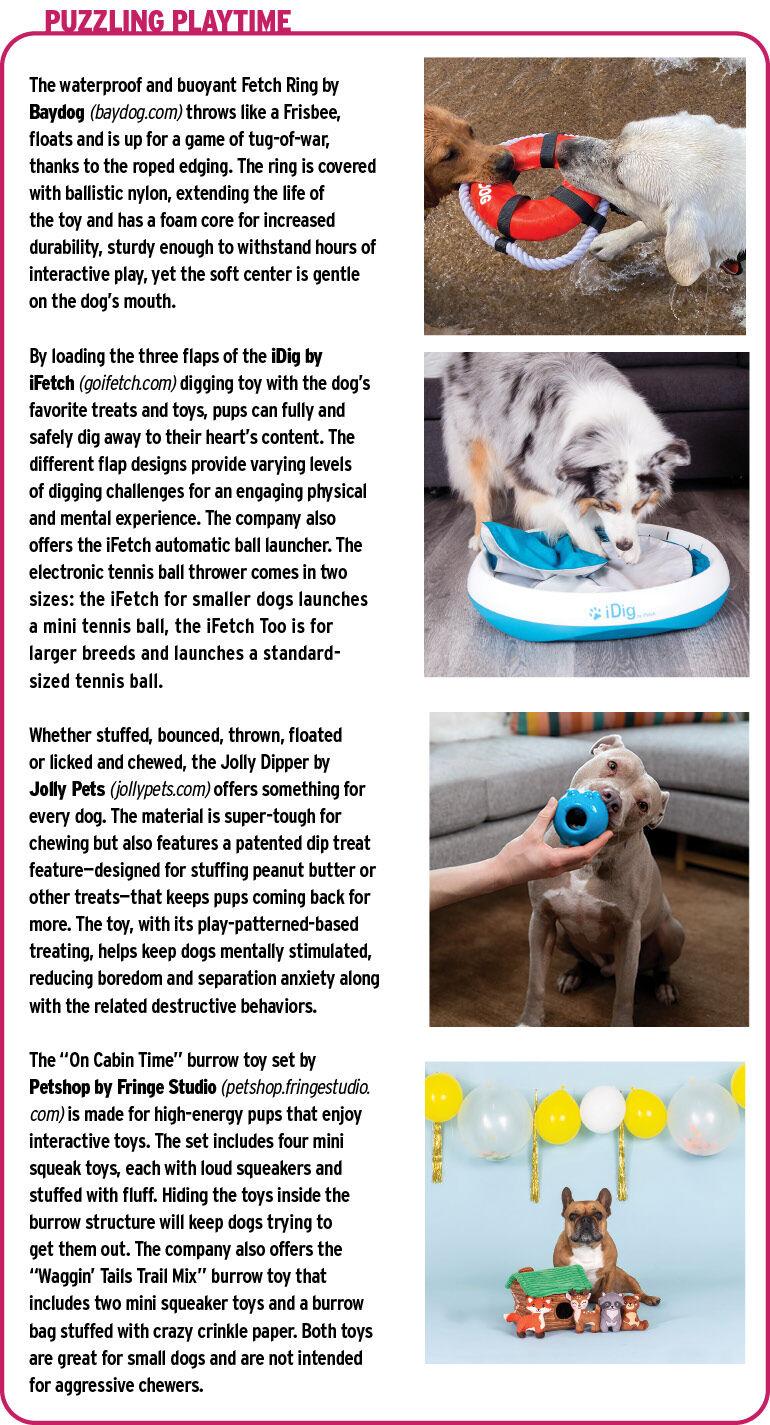 Mark Pasco, vice president of sales for Mammoth Pet Products agrees that COVID-19 and the need to support better pet health have been boosting demand for these products. Also, even as the pandemic has eased, people remain invested in spending more quality time with their pets. Located in Mammoth Lakes, Calif., all of the company's 300-plus toys are designed for interaction.
"Interactive toys help create a positive play experience by helping people bond with their dogs," he says. "[Plus] interaction is an excellent teaching tool. One of the main advantages for pet specialty retailers is that by getting pet parents involved in interaction, they will always come back to try new interactive toys."
Unlimited Innovation
And there are plenty of interactive toys and puzzles available for pet specialty retailers who want to keep their inventory exciting—a big draw for customers. Emily Benson, marketing director for Starmark Pet Products in Hutto, Texas, describes this category as extremely innovative, with manufacturers continually looking for ways to keep pets entertained and challenged. This novelty is one reason behind the steadily increasing interest in treat-dispensing toys, she says, citing APPA data showing that in 2020, nearly one quarter of households reported using these kinds of toys. Starmark has two other companies; Starmark Academy for Professional Dog Trainers and Starmark Animal Behavior Center.
"What's most exciting in this category is that there doesn't appear to be a creative limit to the designs," she says. "As manufacturers, we haven't reached the ceiling yet in terms of what pets can figure out."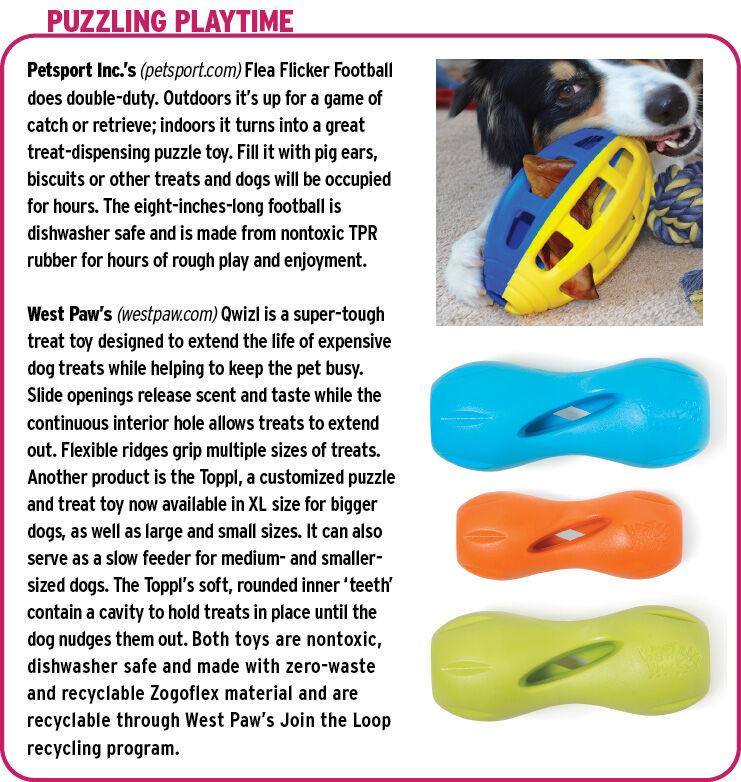 For example, Starmark Pet Products offers the Twist and Lock Toys, available in KettleBell and in Roller versions. Both are constructed from durable, puncture- and tear-resistant TPE material. A horseshoe-shaped treat is inserted into the toys, which are turned to lock the treat in place, requiring the dog to chew or turn the treat to remove it. The toys float and can also be used for fetch or tug play. Another offering is the Starmark Everlasting Sprocket, also made from TPE. This holds the company's Everlasting Treats and offers two levels of difficulty—upper level for beginners and a lower level for more experienced chewers. Base level can also contain treats for more challenging play, says Benson.
These kinds of products give dogs something they have to figure out in order to get what they want, says Leah Nagel, B2B marketing manager at Zippy Paws, a Chino, Calif.-based designer and manufacturer of pet toys and accessories. For example, the company's SmartyPaws Puzzler Sunflower—a three-tiered game featuring rotating levels that can hold treats or kibble—hones dogs' problem-solving ability while giving them an engaging way to receive an edible reward.
"This also helps to entertain and reduce boredom," she says. "Demand has been steadily increasing for interactive and puzzle toys. Pet owners are looking for innovative ways to play with their pets and provide them with more variety during playtime."
A popular interactive toy from P.L.A.Y is the Wobble Ball 2.0. Made from durable TPE material, its teardrop shape keeps it moving about and the dog chasing it around for treats, which can be inserted into the cloud-shaped openings at the toy's top. Larger treats can be inserted into the ball since it also comes apart into three pieces (the larger the treat the more challenging the toy becomes, which is why it's advised to also mix in smaller treats). The dog is challenged to push the ball around with nose or paws as treats slowly fall out. It can also do double-duty as a slow-feeder, Hisamune adds. 
The company also offers Find-n-Seek plush toys throughout their plush collections, the most recent of which is the Mutt-a-Rons toy from the Pup Cup Cafe Collection.
"The plush toy looks like a macaron gift box with three separate, colorful macarons inside," says Hisamune. "The pup is encouraged to seek out the individual macarons and pull them out of the gift box. Each macaron has its own squeaker and the box has crinkle inside."
A new product from Mammoth, added to the company's EXTRA line earlier this year, is the EXTRA Double Tug Big Knot with Loop Handle, says Pasco. The loop is designed for holding onto while the dog tugs on the rope end with knots, or chews on the large knot in the center of the rope, he explains. It's available in three sizes and is appropriate for all breeds.
Only An Ocean offers the SPIN bowl from PetDreamHouse, part of the PAW/SPIN range of functional interactive feeding accessories, says Pedersen. The bowls, a combination of puzzle toy and slow feeder, are designed to encourage natural licking and sniffing in dogs, as well as in cats, while promoting mental stimulation and engagement and natural, slow eating. Available in various degrees of difficulty, from easy to tricky, they can be used as a stand-alone bowl or set up with its multifunctional center puzzle element and inserts matching the appropriate challenge level for each pet.
Another product is the Beco Bone, a tough chew toy from Beco Pets. Constructed from thick, springy natural rubber it has a hollow center to which treats can be added, encouraging and rewarding healthy chewing behaviors.
Making Room
Interactive toys and puzzles can often be bulkier and require more space than, for example, plush toys, says Nagel.
"Maximizing planogram space and choosing products with sleek packaging can help retailers best merchandize these products," she says. "Unique designs are always eye-catching as well to help promote this category."
Pasco says these items should have a "main home" on the planogram and a secondary spot in another part of the store, for example, in the food/treat section. To maximize sales, it's important to make it easy for customers to find interactive toys and puzzles, says Hisamune, who feels stores should establish a dedicated section for this purpose. And since customers may not know what each toy does, ensuring staff is educated about the features and benefits of each is important. 
"Having callouts for toys with special features will also help customers navigate through the many options," she says. "If you have digital media and can showcase some of the toys being played with, that will also attract customers to want to try a particular toy."
Having an online/social media presence is another advantage, says Pedersen.
"This is a great way to make sure you're staying in front of your audience," she explains. "A challenge that comes with these innovative products is that a consumer may not understand the purpose, use or versatility of the products. Utilizing social media to tell the story and make it relatable to the pet parent's regular routine is a great way to educate consumers of these new products."
Although these products offer benefits to every type of dog, it's nevertheless important to help customers find the best fit, says Nagel. For example, keeping snout in mind, a smaller dog may need a smaller interactive toy, whereas a "pup puzzle expert" may need something with multiple features that offers more of a challenge. Pasco cautions that inquiring about size is essential, since customers often select too small of a size trying to spend less, creating a potential safety hazard.
Drilling down to the details will help improve outcomes and satisfaction. Benson suggests asking about the breed, size and weight of the dog and what kind of chewing the toy needs to withstand. It's also important to ask if the dog will be unattended, since some toys and puzzles should only be used under supervision.
Inquire about the primary purpose, advises Pedersen. For example, does the pet owner want to encourage more physical activity and weight loss, or just play and bonding? Do they want to keep the pet occupied and stimulated or prevent destructive behaviors? Observed intelligence and activity level are other areas to explore, says Hisamune, reminding that not all dogs may enjoy interactive toys and not all are food-oriented, potentially making some puzzle toys less enjoyable for them.
One of the main challenges these products present is that they do require a bit of explaining to customers, says Pasco. However, Pedersen says pet specialty retailers are up to this task.
"Their primary advantage is knowledge," she says. "Based on their direct social interactions with their clients and their pets, they can provide brand and product information, education and value to offer the right toy for every pet.
"In their store environments, retailers are also able to continually create the shopping experience that attracts pet owners, specifically the socially driven millennial population," Pedersen continues. "By offering a personalized shopping experience, retailers can help guide clients to new and innovative products that can better the pet's health and the relationship with their pets." PB