Our salon gets at least one call each day from a pet owner looking for someone to hand strip their terrier.  Hand stripping seems to be a dying skill with groomers these days, as many just don't know where to start. When teaching, I have found it easier to break it down to the basics, which makes learning the process a lot less intimidating. With that in mind, this month, I have decided to focus on the skill of hand stripping alone.
The benefits of hand stripping include keeping a vibrant color, harsh texture and a more natural look. When working on pets, a lot of factors come into consideration, including price, scheduling, genetics and behavior. When terriers are shown, they are in what is called " show coat" or "rolled coat," which requires different areas on the dog to be worked on weekly, if not more often. Pet owners want the benefits of hand stripping on a more of a pet level. I have found that seeing a dog every eight weeks allows me to have a top layer of long hair to pluck out. I admit, I will cheat on rears or neck if a dog is giving me a difficult time, but I try my hardest to pluck as much as possible. It's important to note that hand stripping does not hurt the dog when done with proper technique.  PB
Before: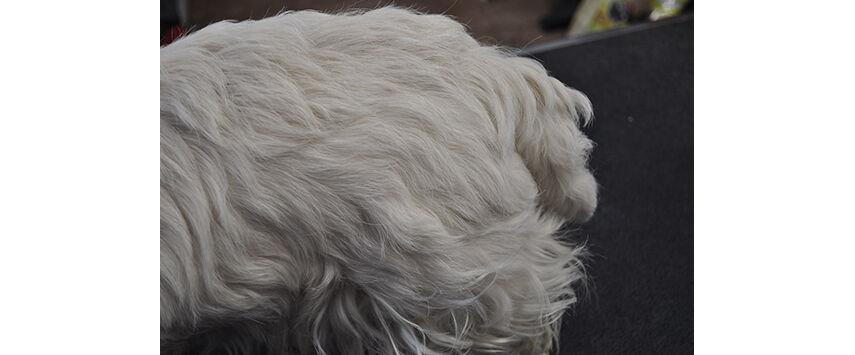 Step 1: Pluck Before Bathing
Do all the plucking before the bath, as a dirty coat plucks out easier. Use ear powder or chalk to help grip (think gymnasts chalking their hands).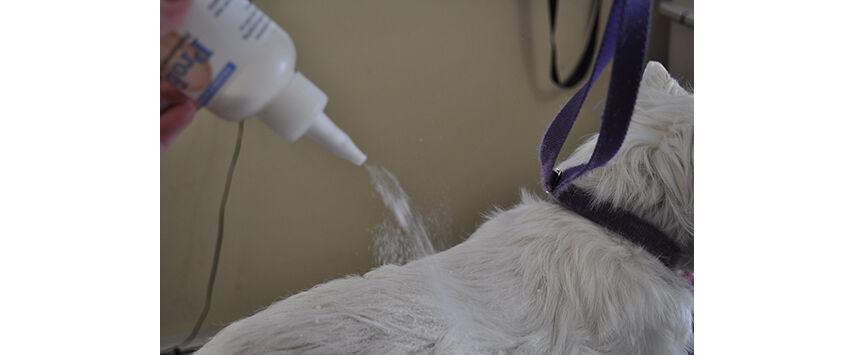 Step 2: Knives Out
You can use stripping knives or your fingers for hand stripping. There are many different styles of knives with different spacing in the teeth.  Comfort in your own hand is important, and we all have different size hands. I have a variety of knives, and I use the knife that best complements the dog I'm working with at the time.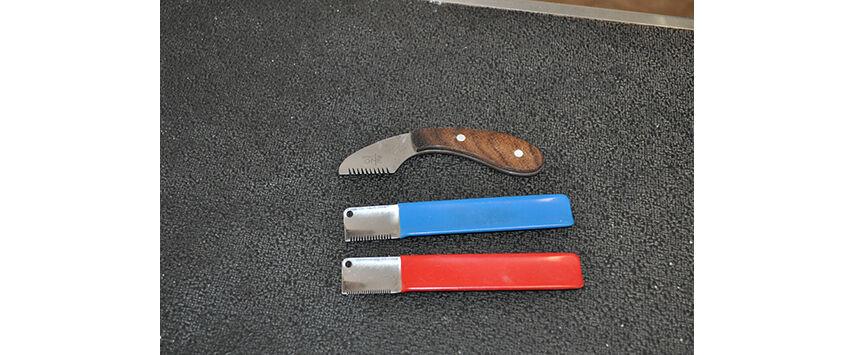 Step 3: Rake & Carding Knife
Use a fine rake and carding knife as well, but use them minimally and not in place of hand stripping.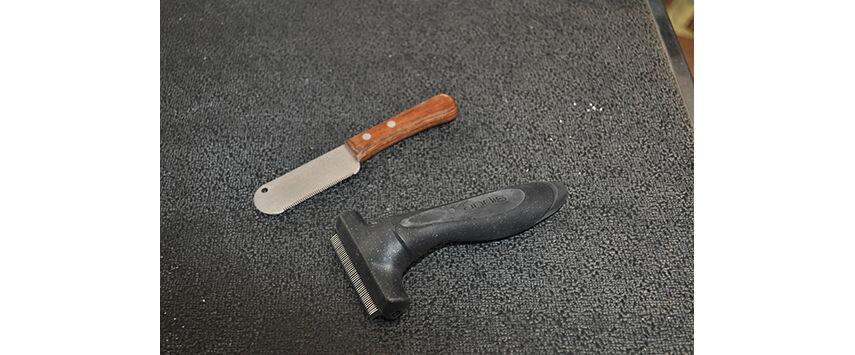 Step 4: Proper Technique
It is important to hold the skin taunt with your spare hand to avoid hurting the dog. Grab a small amount of hair by the tip between the knife and thumb or forefinger and thumb. Pull the hair in the direction you want it to grow in. The motion should be straight back, with no flicking of the wrist, which can cut the hairs.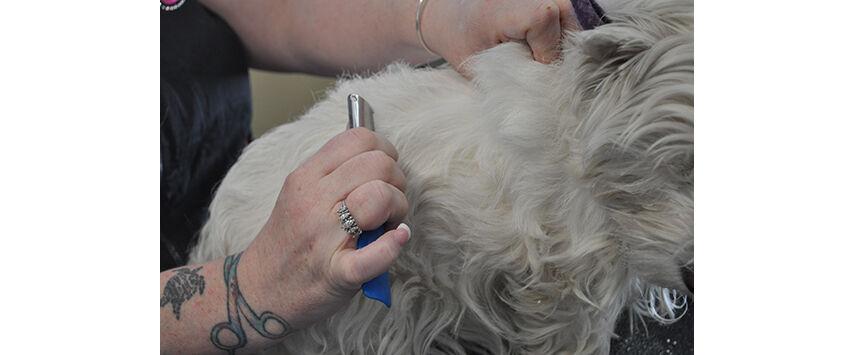 Step 5: Pluck Carefully
When first learning, go slow and really pay attention to what you are plucking. The hairs should be full strands.  If you see small hairs among the hair plucked, you are cutting the hair rather than plucking. Remember, you are only grabbing hairs from their tips.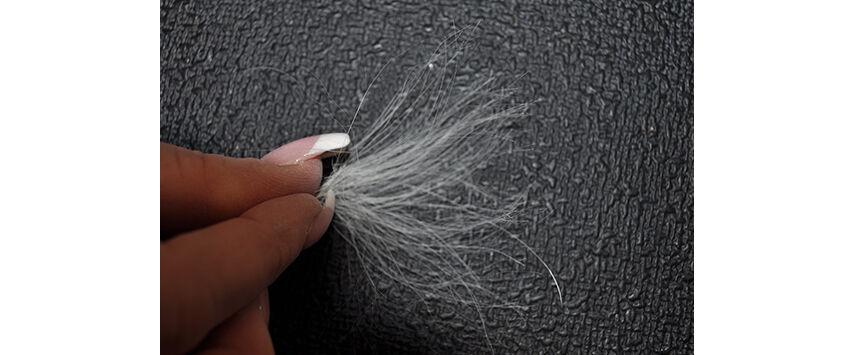 Step 6: Bathe Afterward
Most pet parents want their dogs bathed. When using the dryer, it is important to blow the hair in the direction you want the hair to lay.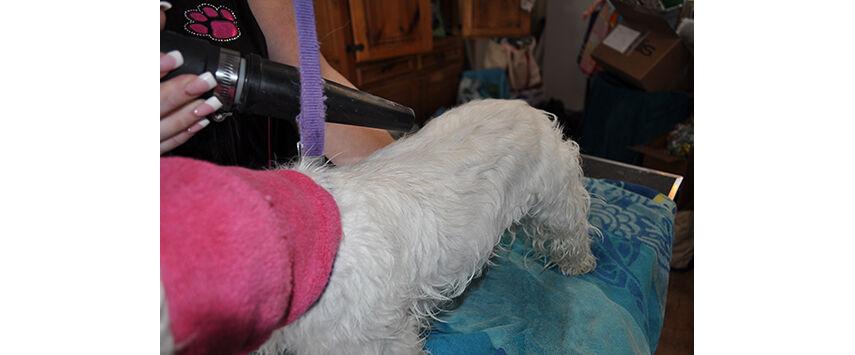 Step 7: Drying
If you are going to cage dry, do not use heat. Another option is to simply let the dog sit for some time before finishing. I recommend using a drying jacket or making your own with a towel. This will help the coat lay flat.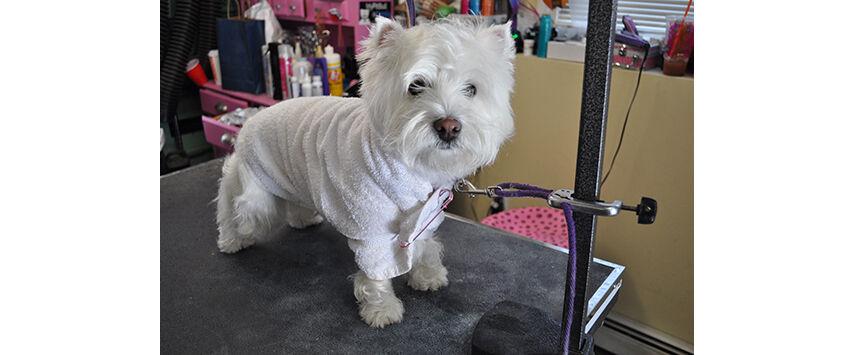 Step 8: Finish Drying with Slicker
Go through the dog's coat with a stand dryer and slicker brush. At this time, use your fine rake on bulky areas, blending lines and lightly through the coat on the legs.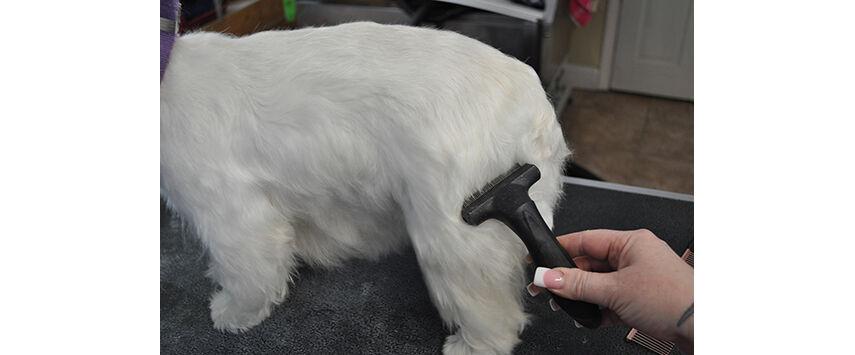 Step 9: Finish Plucking
Pluck any stray hairs left over. Blending can be tricky, but taking it slow and really watching what hairs you are plucking will help you see what needs to be plucked.  Many groomers are tempted to break out the thinning shears or snap-on combs at this point, but put them down or you will regret it next time.
After: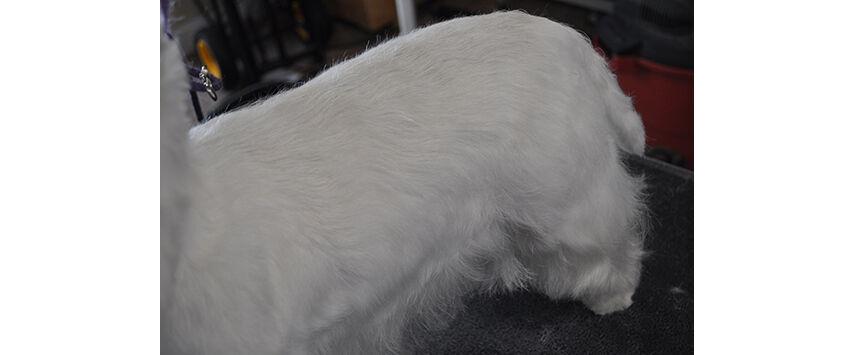 Professional groomer Annie Francis, CMG, is a grooming competitor, speaker and Andis educator. She works at The Village Groomer in Walpole, Mass. Is there a breed or cut that you'd like to see featured in the Grooming Table? Send your suggestions to mkalaygian@petbusiness.com.