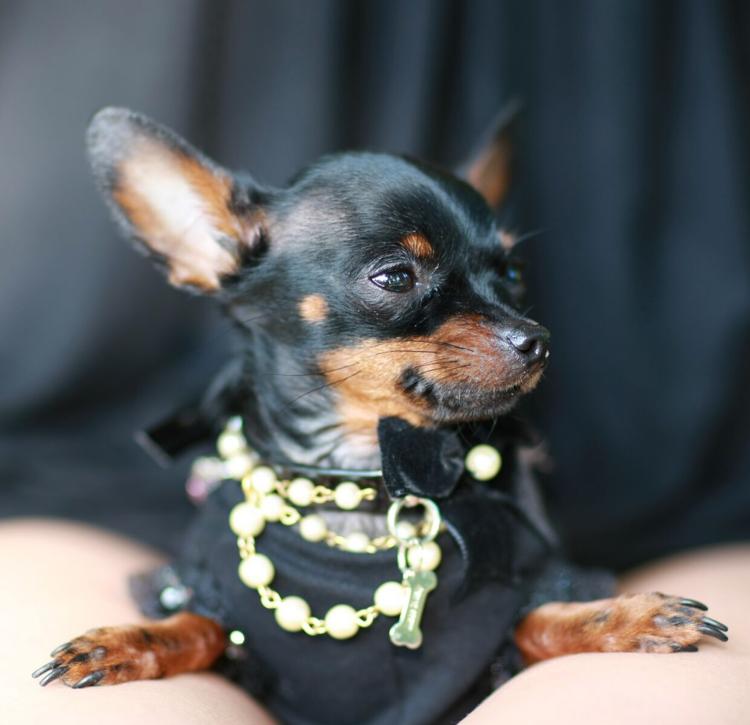 Why do groomers need to gild the lily of their work, so to speak, by adding bows, bandannas and other bling as finishing accents? Doesn't the work stand for itself?
Groomers do it to send a message: "I think your dog is special. You and your pet are worth a little extra, and I go the extra mile on your pet." Sending that message is worth the extra time, trouble and money it may take to add that finishing touch.
Kamen Kostadinov, vice president of Bandanas Unlimited—a wholesale supplier of bandannas, do-it-yourself bandanna fabric, bows, scrunchies and more—agrees that it's the message that counts when it comes to accessorizing pets. "We are in the business of creating fun and joy for the dog-loving family," says Kostadinov.
These extra touches can increase sales, add to the festive mood during celebrations and make every groom unique—even if the cut is the same each time—adds Kostadinov, whose company offers accessories in holiday, seasonal or everyday themes and colors.
Some crafty groomers make their own accessories utilizing supplies from crafts and fabric stores. This is a great way to create personalized and unique touches for clients' pets. However, taking the do-it-yourself approach is time-consuming and takes some skill, so some groomers buy them from their distributors or from a popular bow supplier, such as Bardel Bows, which offers an array of bows in various colors and themes. In fact, there are many small businesses, often owned by groomers, that offer unique items, and many can be found with a quick Google search. ABAB - A Bow and Beyond, owned by groomer Leslie Crisanaz, is a good example. The company sells its accessories and crafts on Etsy, an online retail hub for handmade and vintage items.
Graceful Creations of Mount Vernon, Maine, is another small business that offers interesting options, and it can be more readily found on Facebook. Owner Kendra Laliberte began the company when she could not find bandannas that fit well and looked good on her puppy Grace, so she began making them herself, with an eye for safety as well. 
"With the tabs being tie-able, you can adjust the fit for your dogs comfort," Laliberte explains.  "All of our bandannas are reversible so that there is a flat side on both sides. This helps eliminate the chance of a dog seeing a frayed edge [to chew on] and provides two looks on one bandanna. We start by taking two high-quality fabrics and sewing them together, then turning them inside out, so all the seams and rough edges are contained on the inside. We then do a top stitch to help reinforce the stability."
Bandannas from Graceful Creation, which offers wholesale prices and custom orders on request, are fitted, with a curve in the pattern, so it fits more like a bib.
Bows and bandannas are a mainstay of finishing touches in pet grooming, but don't forget all the other ways to make pets stand out from the crowd.
Try adding a dash of color to ears, topknot or tail with Davis' Studio Color Creme Chalk Pens, or Pet Paint's sprays and stencils. Warren London's quick-drying Pawdicure Polish Pens add a touch of color to nails. Soft Paws Nail Caps, available in dozens of colors, offer yet another option. Feather extensions are also popular—ask Lisa Correia, whose Feathers N Flair can be found on Facebook. There are so many ways to make each pet in the salon look special and send that message to their owners.
One company that offers a comprehensive array of accessories is Bow Wow Bling, which was started when company founder Lori Roberts' groomer glued rhinestones on her Yorkie puppy's ears. Everyone that saw them loved them, Roberts recalls, so she began researching crystals and other items for groomers. "We are definitely all about accessories," she says. "I started the company over seven years ago, aimed at groomers and add-on service products."
Early on, Roberts discovered ways to provide groomers with truly pet-friendly accessories. "I learned that pets can have latex allergies, just like humans," she says. "I thought I was out of business before it began because all glues had latex in them."
This led her to develop Bling it On!, a latex-free glue that keeps crystals on for up to six weeks. The glue can be removed with any oil-based product, unlike latex-based glues that can only be removed by using acetone, according to Roberts.
Bow Wow Bling uses genuine Swarovski crystals, which can be arranged into paw tattoos or flower designs, woven into hair and more. The company also offers glitter, nail foils, fur chalk, collar charms, various types of topknot bands—everything a groomer needs to accentuate any pet's beauty. Best of all, there are how-to instructions on practically everything on the site, retail packages to resell to customers, and various prepackaged kits for groomers.
Of course, accessorizing is just as important to the owners of male dogs. There are many options, including bow ties from Bandanas Unlimited, clear Soft Paws nail caps, and bows and bandannas featuring military, sports, patriotic or hunting themes and colors. Plain black polish can cover a single white toenail or an irregularity. A groomer who works hard to send that Doberman out with a shiny coat, great smell and clean ears may want to consider shining up those toes as well. Groomers can use bows in the local high school or college team's colors, putting them on the collar instead of the ears or hips. The mohawk has never gone out of style in the canine world, even with a dash of color to it. Choose or make stencils for flames, pawprints or other "tough guy" patterns.
Whether accessories are included as part of the grooming process, or sold as an add-on or in retail, make sure you have everything on hand that you need to broadcast loud and clear the message: "You and your pet are important to us."
Carol Visser is a Nationally Certified Master Groomer and Certified Pet Dog Trainer. A pet product expert for PetEdge, she and her husband Glenn own Two Canines Pet Services in Montville, Maine, which provides grooming, boarding, training and day care services to Waldo County.