Some might question why it's necessary to put the time and effort into perfecting scissor work when shave-down grooms or snap-on combs are more economical, but there's a good reason—scissor work engages the creative part of our craft and improves our skills. Even if you are taking most dogs short, their heads and expressions are still often done by hand. The better you are at scissoring, the better those results will be. And, it doesn't hurt that Poodles have remained in the top 10 in AKC breed popularity for decades, and many owners prefer a hand-finished look.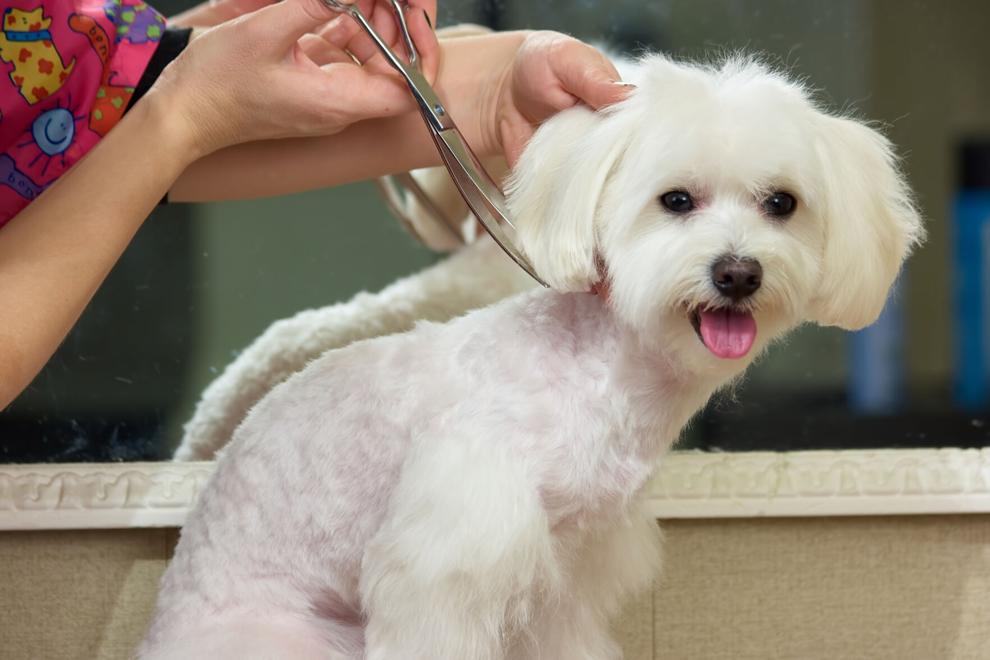 Perfecting scissor work helps develop our eye as groomers, allowing us to "see" the groom before we've actually touched the dog. Part of our job as stylists is to make each dog we groom look their professional best, which often means knowing the breed standard and using their hair (or lack thereof) to visually correct if the breed outline isn't quite to standards.
For example, how many West Highland White Terriers have that dip behind their shoulder blades, yet the breed standard calls for a level topline? If you just go down the back with one comb or blade, it will show that they've got that incorrect back structure. It doesn't take long to swap to a longer tool or thinning shears to leave the hair in that area a bit longer, filling in the dip to make a nice level topline. Is something that subtle going to be noticed by the owner? Probably not, but they will notice that the dog somehow looks better.
How about all those dogs that are supposed to have straight front legs, but instead have elbows that stick out or feet that turn out to each side? Instead of following the curve of the leg or angle of the feet, just scissor as though the angles were correct. They will have leg hair that's shorter in one area and longer in another, or a rounded foot that is scissored closer to the foot on one side than the other, but they'll look more like the show champions their owners already think they are.
A little corrective scissoring can hide many conformational faults. That pet quality Bichon can gain a beautifully-angulated hind leg with a little help from you, even if it's as straight as a ruler. Check out dog shows and look at photos online of your favorite competitive groomer's work to get a visual of how each breed should look.
Good Form
The two most important factors in perfecting scissor work are knowing the correct technique and having good tools. This may be a recap for many, but the basics in technique that bear repeating are:
•  Hold your shears with your thumb and ring finger through the holes as it gives you better reach.
•  Don't put your fingers very far into the holes—the pads of your fingers should be what's touching the metal.
•  Open and close them fully in order to use the full length of the shear and ensure a smoother cut.
•  Use the entire length of the shear, not just the tips.
•  Don't pat or bounce. Keep your hand still in relation to the dog and don't move it in or out. Stay level and straight as you move along.
That last is one of the most difficult for many to master. I struggled with it, but I now have the perfect exercise to make not patting a habit: pretend to scissor imaginary hair from the furniture in your home. Sure, my roommate thought I'd finally lost it, but a nice table leg will hold perfectly still while you practice scissoring exactly 2 in. all the way around it. It's also safe to ignore the rest of the table while you carefully watch the full length of your shear to make sure you aren't bouncing in and out or letting them fall toward the furniture at the shear tips.
If you don't have enough dogs with a coat left long enough to practice on, try scissoring a little before you pick up your clippers to use a snap-on or blade.
Another aspect of perfecting the scissoring techniques you use is ergonomics. Grooming is a very physically demanding career, so the better we can take care of ourselves, the longer we can stay in this business. We'll also be less likely to be in pain or discomfort later on, especially from repetitive motion injuries.
An important factor in correct ergonomics is how you hold your shears, which will also help your scissor work. It's simple: stay relaxed. Hold your hand out as though you were going to shake someone's hand, but with the fingers relaxed. Your wrist is straight, your thumb is naturally about opposite to your fingers and your wrist is not stiff. Use shears like that as much as possible.
Move your body around the dog instead of just your hand or wrist. There are times when bending your wrist is necessary, but minimize it as much as possible, and use only your thumb to open and close your shears, not your whole hand. It's better for your hand and gives smoother results. Remember to be kind to your body—it's the only one you've got.
Extended Time
Using good scissoring habits will also extend the lifespan of the shears. For example, using too much pressure can quickly dull fine blades, as well as put unnecessary stress on one's hands. If your shears are cutting a little dull, send them to be sharpened sooner rather than later.
Selecting good tools has to be less about price and more about personal preference. Pick the right shears for YOU. Everyone's hands and style are different, and using shears you are comfortable with is half the battle in improving your scissor work.
To extend the life of your good shears, don't lend them out—no matter how good another groomer may be, they will hold the shears in another way than you and vary in the pressure they use, causing the shear to wear quicker and feel differently when you get them back.
I began with a school-issued 8 1/2  in. shear. The idea that smoother scissoring with less cut marks could be achieved with a longer shear that would need to be opened and closed less often made sense to me, so I got a nice set of 10 in. shears. Not only was that true, but I found my hands were less fatigued because they weren't working as much. So, naturally, I went out and got a set of 12 in. shears, which was a dismal failure. My scissoring got worse, and I could not stop the habit of allowing the tips to fall inwards. Perhaps I could have persevered, but I wasn't doing that many large dogs that required full body scissoring. Whether it's long or short, curved or straight, pricey or inexpensive, make sure it's a piece of equipment that YOU are comfortable with.
There are many different styles of shears to choose from, so I asked Melissa Jepson, popular industry speaker and owner/stylist at Pupscale Pet Salon in Montclair, Calif. for some advice on which handle type is best. It turns out there's a style for everyone and their particular scissoring style:
•  Even handle—this is the basic handle type, with finger and thumb holes that are symmetrical. It's popular with manufacturers as it's easy to make and, according to Jepson, "it can be very difficult to fit to your hand unless your fingers are very small without a lot of reach, or you use your middle finger instead of ring finger."
•  Offset handle—the thumbhole sits farther down the shaft, allowing a more natural hand position for most. How much farther down the shaft is variable depending on the shear and manufacturer. Jepson explains, "a more widely offset (crane type) handle is ideal for long fingers. How offset you should go will depend on how far over your thumb moves when you scissor; the farther across your palm you naturally move the more offset you need."
•  Three-hole handle—these provide extra steadiness. Jepson likens them to training wheels in a sense, though "that's not to say they're only for beginners, but they definitely help give you more control when you scissor."
•  Swivel handle—the thumbhole swivels, or moves, as you scissor. It allows your wrist and shoulder to move less and do less work. They can save a lot of wrist fatigue, by all reports. These are available with one or two finger holes opposite, and with double swivels on the thumb as well as single. Jepson cautions, "there is a learning curve, and some find they can't overcome it. Either try them out before buying, or choose a company with a good return policy, just in case."
•    Short shank handle—some shears are made with a shorter length between the fingerholes and where the blades start. I always knew that I found these more comfortable to use, but thanks to Jepson, I know why—"If you have a large grip a longer shank will be more comfortable, smaller fingers should look for shorter shank shears."
So, go out and practice good scissoring techniques, watch people whose work you admire, get the tools best suited to you and your style, and impress your customers with your awesome scissoring skills! The dogs you groom (and your body!) will thank you.  PB
Carol Visser has been involved in the pet industry since 1982 in various capacities, including grooming in and owning a busy suburban shop, working as a product expert for PetEdge, teaching seminars and training dogs. She certified as a Master Groomer with NDGAA in 1990 and as a Certified Pet Dog Trainer in 2007, and she continues to enjoy learning about dogs and grooming at her small salon in rural Maine.