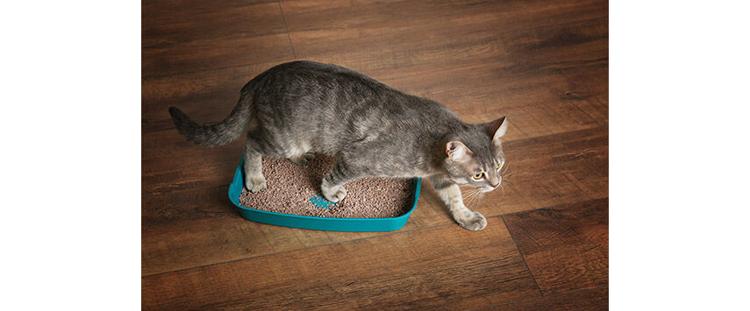 Cats are curious by nature, cuddly on occasion and loners when they want to be. Unlike dogs, they don't require multiple walks a day; and, for the most part, they're indoor creatures—which means they have no choice but to relieve themselves in the house.
"Litter box duties can be the dreaded part of sharing your space with a feline friend," says Ginger Bussey, vice president of Cat Claws. "Cat owners want to find products that make this unpleasant job easier and faster, and less of a hassle and mess."
The Morrilton, Ark.-based company manufactures a variety of pet products, including litter trapping mats, litter box cleaners and deodorizers, and litter scoops and liners.
Cat Claws' best selling item is its heavy duty litter mat, which features a grassy surface that's gentle on cats' paws yet tough on litter tracking.
"We are proud to say it's made in the USA from high-quality, marine-grade carpeting," says Bussey. "Our litter mat is so easy to clean, just take it outside and shake the loose litter out, then hose it off!"
Josh Wiesenfeld, CEO of Boxiecat, notes that cats happy with their litter box help the whole household function better.
"Litter box aversion is a leading reason why cats are surrendered to shelters," says Wiesenfeld. "The right litter box set-up can help prevent litter box aversion."
The Santa Monica, Calif.-based company has created a litter extender that addresses litter box odors and limits the frequency at which litter needs to be changed.
"It features a probiotic odor encapsulator, which eliminates odors and helps keep litter more germ-free so cat parents don't have to throw out the litter box as often," explains Wiesenfeld. "This is proprietary to BoxiePro and an entirely new concept in litter."
Another important factor to consider when buying litter boxes and accessories is the length of a cat's life, and the owner's desire to make those years as fun and seamless as possible.
"Cats typically live for 12-18 years, so it is important to take some time to consider the best litter box and accessories that suit you early on," says Tom McConnell, founder of Red Rocket Pets. "No one wants to spend time and money replacing these products after discovering that they did not meet their needs."
Red Rockets Pets, based in California, sells litter bags and charcoal sachets for its Kitty TWIST'R system, as well as a Kitty Cave and Kitty PAWder room.
The company created the Kitty TWIST'R to address various concerns when it comes to litter odor. One simply uses the company's covered scoop—which prevents spills between the box and garbage—to pick up old litter. Stepping on the foot pedal of the Kitty TWIST'R lifts the lid and untwists the bag so the dirty litter can be dropped in. Once closed, the bag retwists.
"The patented design eliminates odors and holds up to two weeks of soiled litter for one cat," adds McConnell. "The bag never becomes untwisted so no odor ever escapes. No bending down, no cutting, no tying and no gross cat litter 'burps' ...EVER!"
Although it initially may cost more money, McConnell points out the product is an investment that will pay itself off over the years.
Lifestyle Litter
Another thing to keep in mind when searching for the perfect cat litter set-up is that each consumer has their own lifestyle. Sometimes cleaning a litter box takes up the time that a cat owner doesn't have.
"A self-cleaning litter box is a great option, it saves time, litter and can help with behavioral issues, such as eliminating outside the litter box when it's not clean enough for them," says Darryl Hodgins, art director for OmegaPaw. The Saint Marys Ontario, Canada-based company produces a variety of cat and dog products.
"Our most popular product is the Roll 'n Clean Self Cleaning Litter Box," continues Hodgins. "This litter box is designed to save time and eliminate the need to dig around a traditional litter box for waste."
Even better, the box doesn't require electricity, making it an economical and energy-saving option for cat parents.
"We have recently developed new versions of our litter box that have extra features, such as chrome accents, designer colors and a litter step that catches excess litter as the cat exits the litter box," says Hodgins.
Another important consideration when it comes to choosing the right litter box is that not all cats have the same preferences. Some may prefer an open box, others might enjoy an enclosed box with a side hole while another might prefer an enclosed one with a hole on top.
"We have more than 20 different ones and the range is still expanding," says Chantal Saelen, managing director for Moderna. "Just because not all cats are the same either! Some prefer open pans, some the closed versions. We also have a top entry model or a box with a sifting option."
The Gaffney, S.C.-based company manufactures litter boxes for every type of cat and cat owner, as well as scoopers and bowls, to form the ideal starter kit for new cat parents.
It's also important to consider how many cats a household has when it comes to finding the right set-up. More than one cat can spur the need for a more innovative product.
"We will be debuting our new multi-cat Kitty TWIST'R at Super Zoo in Las Vegas, based on feedback we received and acted upon," says McConnell.
Sift and Sell
When it comes to actually selling these products, retailers need to capitalize on what each pet parent is looking for, and understand how to sell them the product that best suits their need.
"Meeting customer needs and solving problems is key in our category as customers often struggle with finding appropriate solutions," says Weisenfeld. "Retailers should emphasize the problems the products solve."
BoxieCat provides a wide range of support to help retailers achieve this, including education for staff, opportunities to try new products and store materials for staff and consumers.
An exceptional marketing tool for cat litter products is demonstration.
"In the case of the Kitty TWIST'R, some pet retailers actually use the product to dispose of waste in store so consumers get to see, and not smell, how the product actually works," says McConnell. "Seeing is believing and this approach really works!"
Hodgins agrees that demonstrations are a great way to market new products to customers.
"Demonstrations of how the Roll 'n Clean Litter Box works at store level is one of the best ways to market the Roll 'n Clean," he says. "Consumers are amazed at how easy the Roll 'n Clean Litter Box is to clean, and are sold on the first demo."
When it comes down to it, the most important tool a retailer has is their knowledge of the products and cats in general.
"It should be communicated that every cat is different and special and deserves the best-[suited] cat box," says Saelen.  PB