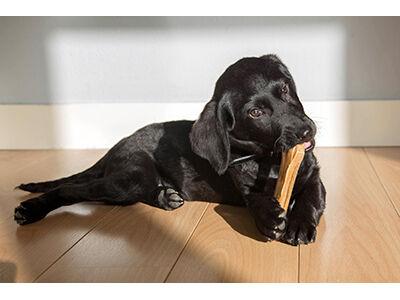 Humans aren't the only species prone to stress eating—dogs are known to chew whatever they can get their mouths on when they're experiencing separation anxiety, teething as puppies or even when they just want a little snack. If they don't have the proper outlets to take their excess energy on, it could spell trouble for chair legs and sneakers.
As life resumes after the pandemic and dogs find themselves home along for longer periods of time then they're grown used to, owenrs are likely to see an outburst of poor behavior, explains Lindsay Tracy, director of brand development and new businesses for Redbarn.
As pet parents seek to curb any destruction before it starts, they're going to be reaching for chews and demanding consumables that include short ingredient lists, no artificial colors, flavors or preservatives, and ethically-sourced proteins.
Though traditional proteins, such as fish, are still in demand, consumers are beginning to seek out novel proteins, as "[they] have half the calories as traditional beef, pork and chicken proteins," explains Dean Triandafellos, CEO of ROAM.
He continues that this demand is being driven by educated consumers, including Millennials, who account for 37 percent of total dollars spent on pets and have taken over the top spending spot. The demographic demands, "true, free-range animals that are treated ethically with no GMO, antibiotics or growth hormones," he continues.
Elena Kalogeropoulos, CEO of Chasing Our Tails, explains that additional benefits provided by novel proteins include helping pet parents navigate food allergies by helping them find comfort in identifiable, single-ingredient protein treats.
Beyond Functionality
While dog chews used to be just for function, consumers are now demanding transparency, quality and affordability, explains Eric Abbey, president and founder of Loving Pets. Pet parents want to know what's in the chew and where it's from, so retailers should seek out products with packaging that includes Made in USA icons and a limited-ingredient nutritional panel.
For its part, Made in USA is one of the biggest factors in establishing trust between a pet parent and chew, explains John Bosserman, sales and marketing manager for Wholesome Hide, Inc. He says consumers want assurance that the ingredients are not only sourced in the U.S. but also produced in a safe and wholesome environment that's free from contamination.
"We are doubling down on making sure all of our ingredient suppliers are continuing to source domestically and are producing the ingredients we buy in the safest manner possible," he says. "We believe that developing new standards in responsible sourcing will lead to unique product lines which we currently have under development."
The Made in USA trend reflects consumers' desire for high-quality ingredients and short, easy-to-read ingredient lists.
"We hear from many of our customers that they are looking for dog treats that have a small list of understandable ingredients made by a company they trust," says Bosserman. "The most important feature is having a small and easily understood ingredient panel."
Easy Retailing
Since consumers generally come into pet stores at the ready with questions about ingredients and sources, retailers should be armed with the knowledge to answer those questions, as information and detail about how a product's made and the nature of its ingredients are big factors in persuading a customer to buy said chew, explains Bosserman.
One thing retailers should ask shoppers is specifics about their dog's chewing patterns. Redbarn focuses on chew personalities, and light to moderate chewers need highly-palatable, tantalizing chews to keep them interested while power chewers need durable, long-lasting chews that won't shatter in their mouths.
"This information can help retail associates narrow down their store's natural chew selection by pointing out the ones safest for the pet to enjoy," says Tracy. "From there, they can continue narrowing down based on flavors, ingredients and general pet parent preferences."
Retailers should also ask about allergies, advises Kalogeropoulos, as well as breed, size, age, temperament and the dog's idiosyncrasies because, "once they understand the dog, the chew options will be easier to present to the pet parent."
Some consumers also want to know if the chew has an odor, and the brand offers bones with a hardwood smell and bully sticks that lack smell.
To provide information for retailers, Loving Pets helps retailers build awareness through selling tools such as clip-strips, floor displays and sampling programs, says Abbey.
Triandafellos says retailers should merchandise novel protein natural chews separately from other chews, or they can merchandise the chews by category, such as by breed size and chew behavior, and use signage, shelf talkers and in-store videos to educate consumers.
"Most chew and treat sections are very confusing and not merchandised in a consumer-friendly way," he says. "The idea is to make the consumer aware that other product exist that may be better suited for their pet."  PB