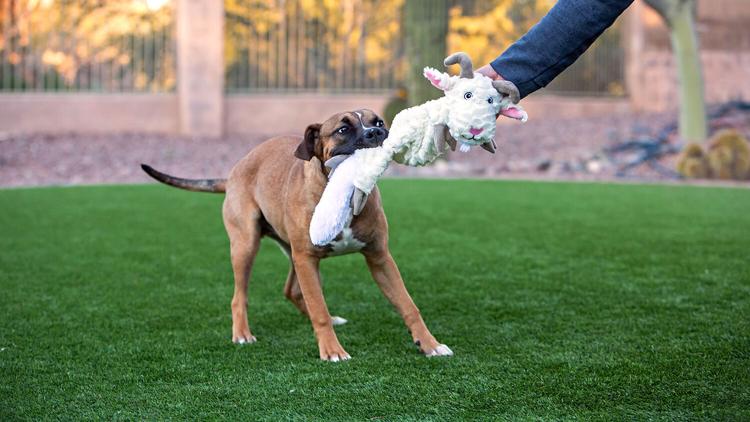 When it comes to keeping pups entertained, plushes are a toy as old as time. Dogs adore soft toys, whether it's to tear apart or carry around like a security blanket.
"Plush toys have always been a staple toy for dogs, and pet parents love to buy these types of toys for their dogs," says Lisa Hisamune, director of sales at P.L.A.Y. Pet Lifestyle and You.
Though plush toys are undoubtedly classics, it doesn't mean manufacturers have grown complacent in production of these items. Companies are constantly innovating their selection—in terms of material, size, shape and design—in order to manufacture a variety of toys that are suitable for all breeds of dogs. Plush toys have had a Cinderella-esque makeover from its original one squeaker design back in the day. Pet parents appreciate toys that include numerous features, such as detachable parts, as it can turn a single toy into a whole playground.
"This could include toys that are like puzzles where the dog has to dig out separate pieces of the toy or detachable parts so the dog can tear or take apart the toy without destroying it," explains Hisamune. "Another feature could be to add rope to the toy."
Stocking Up
Stocking a variety of toys is essential, but customers might be paralyzed when faced with all the choices available to them. Helpful customer service as well as organized, informative displays are important in guiding owners to the best plushes for their furry friends. All-in-one toys are great to include in any retailer selection, but more specialized toys can help to diversify a selection and provide something customers can't find elsewhere.
"It is important to offer a nice assortment of brands and toys that you don't find Wal-Mart, Target and others," says Ward Myers, owner and CEO of Spunky Pup.
Given the sheer variety the plush toy category presents, retailers have to make sure they're well-informed and can guide pet parents to the best plush for their pup.
"Consumers tend to try and purchase based on price rather than size, and will end up buying a toy that is too small for their dog," explains Mark Pasco, vice president of sales for Mammoth Pet Products.
Of course, the size of the dog is not the only factor to consider. A dog's age and personality also help determine which toy would be best for their playtime. Strong chewers and aggressive players benefit from more durable toys, and puppies might have different needs than fully grown dogs.
Pet parents have to constantly adapt their plush toys to their dog's current needs, as puppies that once gave plush toys a long life suddenly get their adult teeth and shred their beloved friends to pieces.
With all these factors to consider, it is important to stock a wide array of plush toys for your customers to choose from. In addition to the durable plush toys that will be a constant in their pup's life, it's also fun to stock smaller, cheaper options for pet parents to buy as surprise gifts for their dogs or other dogs in their life.
"Some of the less expensive plush toys don't hold up well for strong chewers, but can be sold as an impulse buy or so the consumer has something new that is inexpensive for their dog," explains Pasco.
What's Inside?
Manufacturers understand that soft toys are at the highest risk of becoming destroyed and are therefore adapting production methods.
"Some consumers are looking for plush toys that are durable and can stand up to a chewer or a strong-jawed dog, while others may be seeking out small plush toys that can help with teething puppies," elaborates Hisamune. "These plush toys might have multiple layers of durable fabric or added features like rope or a spiked-ball squeaker inside to massage gums."
Manufacturers understand that dogs might destroy soft toys, and they often even plan for it. Pasco explains that the company's Squeakies plush toy line has been upgraded to now include, "Big Squeaks, that fill up the body and eliminate the need for poly stuffing."
Pasco further explains that this is perfect for both pets and owners, saying "…dogs love the squeakers, but do not have stuffing to make a mess if they break open the toy."
In a similar vein, Hisamune explains that vendors account for their toys to be destroyed so they sneak in a fun surprise, such as toy, ball-shaped squeaker or even a mini plush toy, to keep the fun going and give the toy added life. This allows dogs to take apart or play roughly with them without completely destroying them, making them a good investment for pet parents.
Of course, given the frequency that plush toys can be destroyed, pet parents want to be sure the higher production turnover that results from their pup's play isn't having negative effects on the environment. As such, eco-friendly toys have entered the fold.
Because of this, brands are focusing on toys that are better for the earth. Spunky Pup has two newer lines of toys, Clean Earth, made from recycled materials, and Organic Cotton, the first in the industry to be made from certified organic and all-natural materials.
Similarly, all of P.L.A.Y.'s plushes are made with PlanetFill filling, made from recycled plastic bottles. Mammoth focuses on sustainability in its materials, as well as offering instructions on their website for how to recycle parts of their toys once they are no longer useful.
The best way these messages are conveyed is through clear packaging and displays that keep consumers informed about things they care about, such as safety and sustainability.
"It's the message on the packaging that is important," explains Myers. "Tell the [product's] story with packaging and materials: Sustainability and U.S.-made are important."
As important as the insides are, pet parents are also doing a certain amount of judging a plush by its cover. With the prevalence of social media, consumers are making sure to buy toys that are not only great for their dog, but great for their social media aesthetic, too.
"With the new generation of pet parents wanting to take Instagram pictures of their dog, the best accessory, besides clothing, is a cute plush toy," says Hisamune. "If a plush toy looks good, but also is durable and has fun features, even better!"
Plushes are perfect for birthdays, gotcha days, and holidays, as well as those days where owners want to get something extra for their pooch.
"I think it is always clever when stores categorize their toys easily so the customer can see the toys that they carry with specific features they are looking for all in one place," continues Hisamune. "This way, customers do not have to spend their time tirelessly reading all the labels on toys to make sure they have found the best one. Retailers can also have sections based on eco-friendliness, durability, puppy play or a holiday-themed area." 
Whatever customers' wishes, retailers can be sure to meet them by providing numerous plush toys and informative displays to help their customers pick the best ones for their pets.
"I believe we will see more fun Instagram-friendly designs, as well as innovations in materials that provide extra durability and more interactive play," says Hisamune. "Eco-friendly materials continue to be in popular demand, so I think we will see more players in this area."  PB