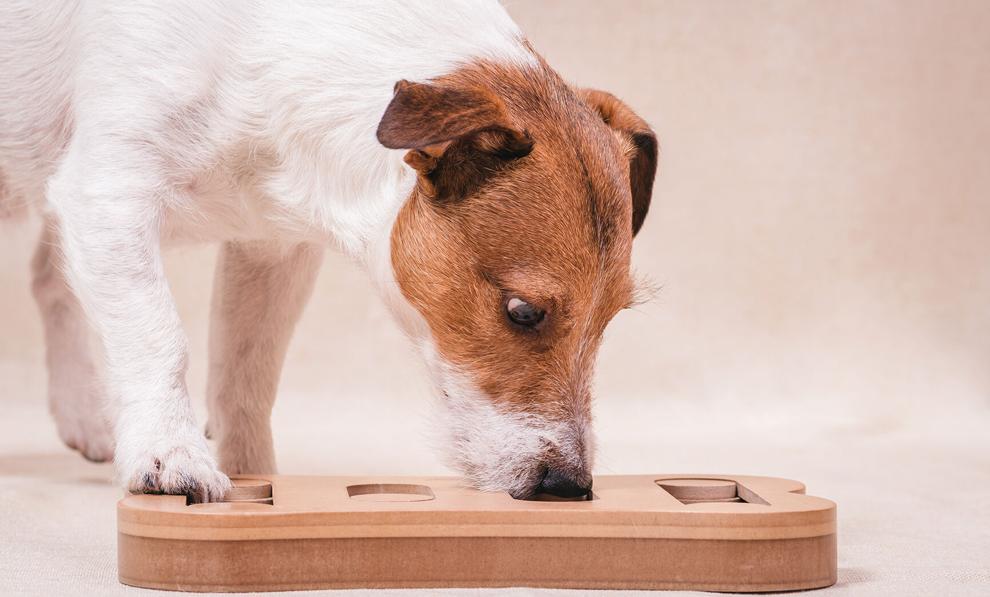 Playtime for dogs is about more than just fun; it's a crucial part of maintaining their mental and physical health. While simple ropes and tennis balls still have their purpose, dog toys have come a long way over the years. These days, pups need something that's a bit more challenging—enter: interactive and puzzle toys. 
In the simplest terms, interactive and puzzle toys are a category of toys that respond to pets. The term is wide-ranging, applicable to everything from treat-dispensing puzzles and hide-and-seek plushes to high-tech gadgets that launch balls or roll across the floor on their own.  
"Interactive dog toys and puzzles are key for mental enrichment," says Debbie Hamill, chief marketing officer at iFetch. "The saying 'use it or lose it' applies to dogs just as it does to humans. It's just as important to keep your pet's mind engaged as it is to keep them physically active, especially as they age."
These types of toys provide a wide variety of benefits to canines, including combatting boredom and redirecting a pet's attention away from related destructive behaviors, including anxiety and stress.
"In cases of anxiety, the toy can be treated as a source of comfort or distraction from the source of anxiety," says Emily Benson, marketing director of Starmark Pet Products, Inc.  
And, since they don't require direct participation from owners, interactive toys and puzzles allow dogs to burn off excess energy even when owners are away or busy working from home. This can also be helpful when inclement weather forces pups to find entertainment and exercise indoors.
And, just because interactive toys and puzzles don't need humans on the other end tugging or throwing, it doesn't mean that owners can't get in on the fun.
"These toys can also create a healthy bonding experience between pets and their parents as they play together, whether it's a puzzle toy for the dog or fully engaged interactive play for both pet and parent," says Sarah Johnson, account manager at P.L.A.Y. Pet Lifestyle and You. "These also help foster the bond as pet parents get to enjoy seeing their dogs' minds at work as they sort the puzzle at hand and offer praise when they succeed." 
Worthwhile Investment
While there are certainly plenty of reasons for retailers to add interactive toys and puzzles to their in-store offerings, the category does require a bit more in up-front costs than traditional toys. 
"Because these toys are typically much more expensive than a plush toy or ball, it can be difficult for some retailers to make the initial investment of carrying these items in their stores," explains Hamill. 
Luckily, that concern is quickly offset by the continued growth of the category, which industry experts claim is showing no signs of slowing or stopping anytime soon.
"The interactive dog toy and puzzle categories have continued to grow over the past several years," says Hamill. "Online retailers are seeing spikes in sales of most dog toys—including interactive—since the beginning of the pandemic. As more people are working from home and spending more time at home on the weekends, pets are becoming even more integral to their everyday lives. Many families are also adopting new pets in order to bring some joy and companionship to their lives during these difficult times."
Making the most of this category, though, does mean making more than just a financial investment. Retailers also need to be thoughtful about which interactive toys and puzzles they add to their toy aisles. 
The first thing retailers should look for in potential stock is quality, says Grant Jape, assistant marketing manager at ZippyPaws.
"Retailers need to look for quality more than anything when it comes to interactive and puzzle toys," he explains. "These toys tend to have a longer and more aggressive playtime for pups, therefore, if they are low in quality and toughness, this will lead to faster destruction. Ultimately, this will lead to unhappy consumers and reduction in return-buyers."
And, even though it's smart to stay up to date on the latest category offerings, don't forget about tried-and-true bands, says Mark Pasco, vice president of sales at California-based Mammoth Pet.
"This category creates opportunities by keeping what [retailers] carry fresh and exciting," he continues. "The challenges would be that there are so many different brands and toys to pick from, how do they know they are picking the right ones? I would recommend picking from brands that have been around for a number of years."
Once retailers have built a well-rounded mix of high-quality interactive toys and puzzles, they then have the challenging of helping pet parents navigate the increasingly crowded category. 
When making recommendations, retailers should ask owners about more than just their budget; age, breed, size and energy-level can all make a difference in which interactive toy or puzzle will be a good match.
"It's important for retailers to ask questions about each pet to understand their unique play style and abilities and make sure the selection will offer the enrichment it is meant for," adds Johnson. "There can be different levels of challenges between toys to accommodate different engagement levels."
Strategies for Sales
In addition to personalized recommendations, retailers can also drive category sales with a few smart marketing techniques. One of the simplest ways to get to the forefront of customers' minds is with strong visual merchandising.
"Displaying and demoing interactive toys prominently in the store is a great way to sell them and generate in-store excitement—especially around the holidays or cold winter months when outdoor activity is limited," says Hamill.
"Video and image examples of a dog using the interactive toy is key," adds Jape. "Pet owners are very visual and being able to see the actual use of the toy will lead to more conversions. 
Retailers shouldn't let these products reside solely in the toy aisle. Many interactive toys and puzzles also offer the opportunity for cross-merchandising with other products, such as dog treats, for an extra boost in sales. 
"Many of the successful toys integrate special treats that allow for additional and more repeatable sales opportunities," explains Benson. "Once the initial toy or toys are brought home the replacement treats will bring the consumer back into the store for follow up purchases."
Ultimately, the best selling points are the wide-ranging benefits of interactive toys and puzzles for canines of all ages and sizes. So, it's important for retailers to stay abreast of the latest innovations from manufacturers as the category continues to transform. 
"Just as consumers continue to look for toys that will entertain, challenge, and stimulate their pets, manufacturers are responding to the demand with increasingly more creative designs," continues Benson. "Manufacturers are now developing more toys that must be manipulated or used in a specific way to achieve the final goal of food, a sound or other reward. New materials are also allowing for increased function and durability in toys. Growth and innovation in this category are definitely in the future."  PB