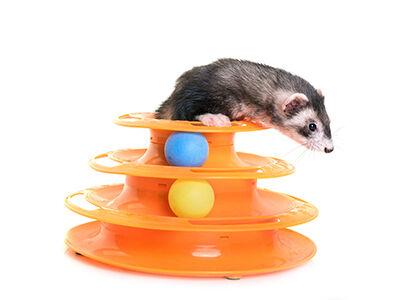 When it comes to buying pet toys, most people think of dogs and cats, but Fido and Fluffy aren't the only four-legged friends that benefit from playtime. Small animals need the entertainment and mental stimulation that toys provide, and retailers and small animal lovers alike will be pleased to discover the broad selection this category provides, including everything from hybrid products that blend nutritional and cognitive elements to a range of color palettes and materials.
"The problem is if you don't get toys for the smaller animals, they get bored, and when they get bored, they start chewing and try to get out of their cage," says Melissa Whitton, owner of Most Valuable Pets in Lexington, Ky. "They'll chew on anything—food bowls, etc. You want to make sure their minds are stimulated. Every living thing gets bored—you want to give them things so they're not sleeping all the time."
She continues that the fun and diversity that come along with small animal toy lines has made a big difference in sales. According to Whitton, Kaytee and Ware Pet Products were the initial players in the small animal toys category, but Oxbow shook things up with its creative products that provided more to chew on than just plain wood.
"Oxbow knocked it out of the park with their enrichment toys," explains Whitton. "It has opened people's eyes. Animals don't just need things to chew on—they need toys to help with foraging behavior and boredom busters. Our best sellers are little toys that the animal can pick up, chew on and flip around, more so than those that just hang from the bars of a cage."
Best of Both Worlds
The increase of well-informed pet owners has led to a shift in buying behavior, Whitton says, explaining that brightly-colored things used to be the big sellers, but as several manufacturers switched to all-natural product lines, the colors became brown and mundane and didn't sell—so manufacturers got creative, leading to the creation of multi-functional products.
"The new thing is to combine them—things that are healthier to chew and provide enrichment," explains Whitton. "There are edible elements to give the animal enrichment, and the bright colors draw the eye of the human/adult customer. Also, [they appeal to] children—they're the ones with the hamsters, guinea pigs and rats, which are hugely popular right now."
John Gerstenberger, vice president of product development and sourcing for Ware, explains that the company's All-Natural Chews, Health-e-block and Health-e-Chews, and Critter Hut are, "made from woven plant material," which is, "100 percent safe to chew and makes for a great pet mouse, rat or hamster hideaway."
For its part, Marshall Pet introduced its 24 in. ferret swimming pool, which includes durable materials that hold up against nails, teeth and general ferret shenanigans, says Amanda Altman, marketing coordinator for Marshall Pet. She continues that it's collapsible and easily-transported and -stored, and in addition to water, it can be filled with rice, dry noodles or shredded paper to become a dig box; bubbles for a bath; or a few balls for play.
Differences in Demand
Although pet owners have always wanted the best for their furry friends in every circumstance, Randy Eich, co-owner/manager of Country Pets and Ponds in Warrensburg, Mo., says he's seen a recent uptick in customers purchasing more toys and products related to their small animals.
"I think since many of our customers have been spending more time at home with their pets during the COVID-19 pandemic, they are more concerned about their pets and their well being," he continues.
Retailers need to understand the physiological and behavioral differences between large and small animals so they can recommend the most appropriate product to a customer. A large animal like a German shepherd, for instance, may chew intensely for a short period of time before losing interest in the toy. But an animal like a rabbit, though smaller in stature, is a constant, habitual chewer.
"Small animals, because their teeth never stop growing, chew out of necessity and therefore the type of material [the toy is made of] and its density is a major consideration as well as requirement," Gerstenberger explains.
Conversely, Altman says ferrets are curious critters who love to burrow and nap, and hide their toys.
"Little treasures are perfect for them—but be careful!," continues Altman. "They have super sensitive digestive systems, so the material of the toys needs to be durable enough so that it doesn't break down with rough play. Ferret owners need to be especially aware of the state of their pet's toys. Anything that is too worn or could break apart should be tossed."
Appealing to Consumers
Merchandising is critical to educating consumers and ultimately driving sales. Eye-catching product displays draw the pet owner in, ideally leading to meaningful browsing and conversation with store employees. Whitton says she's noticing more information on packaging, which helps inform buying decisions, while DJ Nelson, owner of AquaRealm Aquarium and Pets in St. Johnsbury, Vt., explains that he rotates his displays to keep them fresh and visually interesting while highlighting new items.
"Displays should be fun, eye-catching and educational all at the same time," he says. "I also like to have the products in the cages, as this also helps display and sell the products. The trick is to change it out as it starts to look really chewed up or run down. If you don't do live animals, you can still set up a cage with some of the items in it and or have a hamster in with toys or chews to show them off. Also, having a variety of toys and chews on display make people feel that they have choices, and this promotes buying."
Although there are more toy options available for small animals than ever before, there is still plenty of room for growth in this category.
"We have a lot of customers ask for small animal toys, but there doesn't seem to be much of a selection on the market for small critter toys," says Eich. "There has always been a better selection of toys for ferrets than for guinea pigs, hamsters, pet rats, et cetera. I would like to see manufactures come up with some new toy ideas geared towards these types of animals."
Whitton advises against just selling consumers a cage, a bag of food and a bowl and thinking that will be enough. She recommends to think about toys and treats, as they're both ways that, when combined, keep small animals happy, entertained and stimulated. PB