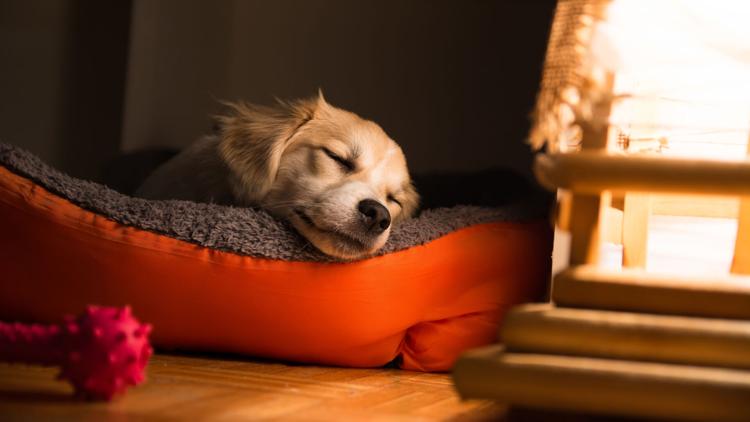 When people think about the differences between dogs and cats, what often springs to mind is how much more time cats spend sleeping. The perception is that cats are hardly ever awake while dogs, on the other hand, are always up and ready for fun. While it's true that cats do seem to spend most of their lives nodding off, dogs don't exactly skimp on the snoozing. In fact, they can spend up to 18 hours a day sleeping, says George Barton, marketing manager of Tall Tails.
"Sleep is an essential component to overall health and happiness for any dog," continues Barton. "Shouldn't that warrant their own sleep spot dedicated to their sleep styles and needs?"
Driven by the awareness of how important sleep is to their pets, dog owners are seeking out bedding that provides a safe and secure space for their buddies to catch some z's. And, since this need is constant, dog bedding is a category that pet specialty retailers should get a good handle on.
The demographics of pet ownership underscore the importance of these products. Figures provided by Sherry Samani, president/CEO of Sentiments, Inc., show that 68 percent of all U.S. households have at least one pet (don't forget, cats use bedding too). Additionally, approximately 45 percent of dog owners have a senior dog that's seven years or older.
"As seniors, they have the same ailments as their pet parent—arthritis, sore joints, etc.," Samani says. "Pet parents want a bed that will assist in alleviating these issues, allowing their fur babies to sleep comfortably."
Advancements & Innovations
A lot of innovation is happening in terms of bedding designs and materials, explains Bill Parsons, sales manager for P.L.A.Y Pet Lifestyle and You. This aging pet population has inspired several product advancements. For example, manufacturers are using memory foam, orthopedic and cooling materials.
"New designs tend to center around how the bed is used," explains Parsons. "For example, is it intended for travel or outdoor use? Will it fit in a crate? Can it be washed regularly with heavy use and not wear out quickly? The perfect balance of durability and soft comfortable materials is always at the top of what designers and manufacturers are looking to create."
Innovation in this category is just starting, adds Barton, with products utilizing more complex materials and technologies in order to meet the needs of dogs at any life stage or age.
Age does play a determining factor when it comes to bed choices, says Tea Kainu, CEO of PAIKKA, Inc. She explains that owners of puppies tend to seek out beds that are cute, easy to wash and inexpensive, knowing their pet will quickly outgrow it. Adult dogs are a different story, as the bed's quality and features become more important than price, especially since adult dogs will spend at least half the day in the bed.
The technology occurring in pet bedding mirrors what is happening with human bedding, with some of the exact same features showing up in dog beds, explains Patricia McCune, senior products manager, soft goods for Petmate.
Because pet owners want their pets with them wherever they go, beds are popping up all over the house, in nearly every room and even in outdoor living spaces, she adds. Consequently, beds matching or complementing home décor are increasingly sought out, making design and details very important.
Demand is strong and growing, driven not only by more educated consumers but also by home retailers entering the pet channel and providing more compelling options, explains Kainu. The high-end market represents a particularly excellent opportunity, she says, as these consumers are especially interested in bed technology and health benefits. Environmental concerns also exert an influence.
"Owners are more demanding and conscientious today and want to choose sustainable beds both in material and quality so it will last longer," Kainu says. "Also, when dogs begin to age and they experience the effects of aging, special features such as memory foam are even more valued."
How to Merchandise
Research shows that pet furniture sales are approximately $5.8 billion annually, with growth estimates to be 5 percent in 2020, explains Samani. She continues that beds are no longer a frivolous, "nice to have in a store" type of item. Bedding isn't like food that can be easily purchased online; customers usually go into stores to get a feel for the material and quality.
Barton attributes this to the fact that when humans are shopping for their own bedding, they like to touch and feel the products. And, thanks to the humanization of pets, they're doing the same for their dogs, offering some significant advantages for retailers.
"Pet beds drive up the average overall purchase amount and adds profit per unit," says Kainu. "Consumers often purchase several beds, especially when they discover a brand or bed their dog loves. Pet beds on the market today offer many technical features that require explaining. Pet specialty retailers who [provide] their staff with this knowledge stand to profit since many pet owners are willing to buy when they receive professional opinions and learn what kind of bed is best for their dog."
To that end, it's important to talk with customers about how their dog sleeps in order to make the best recommendation. Kainu suggests asking about the age, breed and size; if there are any health issues or concerns; if the dog sleeps alone or with another pet; if the dog likes to burrow or sprawl; if the pet prefers a warm or a cool place; and how active or hyper the dog is.
Despite the benefits beds offer, merchandising products that large can prove challenging, especially for stores with limited square footage. This can make deciding to enter this category difficult, says Barton. Merchandising strategies intended to help pet specialty retailers get around space constraints include:
•  Offering the size of bedding that best fits their customer demographics and geographical location (i.e., smaller beds for cities that are likely to have apartment-sized breeds).
•  Purchasing a racking system that allows retailers to display a range of bedding by size, trend and color.
•  Limiting the amount of beds on the actual floor and keeping a backstock in the storage room.
Parson encourages retailers to experiment with bedding layout to see what appeals most to their customers. Some ideas he shares include stacking beds by color and size, going vertically to put these at eye-level and to save space, and hanging lightweight mats on a rack so customers can easily fan through them, feeling the different fabrics.
"We always remind stores that buying a bed is a tactile experience, so having them off the floor and within reach is key to any successful merchandising display," Person says. "The most important thing is to understand as much as they can about the customer's needs and desires when it comes to bedding. The more they know about what the customer cares about, the better [the chances are] of finding the perfect solution."  PB