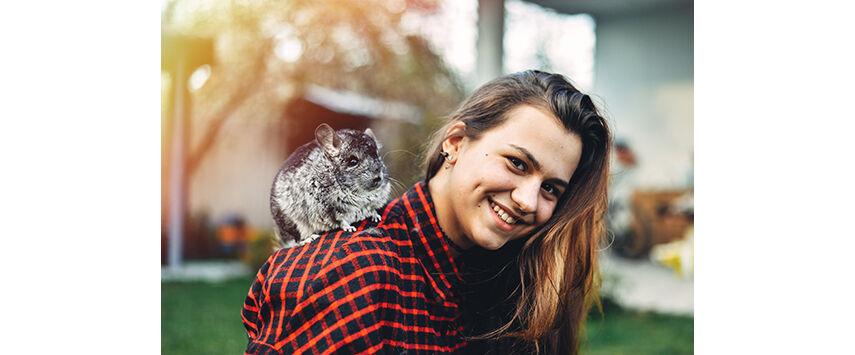 A shift within a small animal's standing in a family is bringing pet parents closer to their pint-size pets as the need to provide these creatures with products that promote health, wellness and mental stimulation beyond standard food purchases is realized.
As the demand for small animal chews rises, manufacturers are creating goods that aid in promoting dental hygiene, supplying nutrients and challenging animals, such as rabbits, gerbils, guinea pigs, ferrets, hamsters and chinchillas.
"Today's consumers are recognizing the value of daily enrichment," explains Lucas Stock, communications manager at Oxbow Animal Health. "Pets should have access to multiple chews at any given time and these items should be rotated regularly to keep pets mentally stimulated and physically engaged. The frequency of rotation depends on the behavior and personality of the individual pet."
The change is also apparent in both the quantity and quality of chews that pet parents offer to their animals.
"In the past, treats were given in very small amounts to small animals. Many of them were low cost and made palatable through the inclusion of sugary syrups or molasses," explains Claire Hamblion, marketing manager at Supreme Petfoods. "Today, treating is much more common and increasingly recognized as a way to bond with a small pet, helping to build a positive and trusting relationship."
Other trends include greater attention to creating quality products through the use of natural ingredients and their added health and wellness benefits.
"In more recent years, chews have evolved to become more versatile, playful and [naturally]-inspired," says Gina Nicklas, marketing specialist in small animal for Kaytee. "Pet owners realize the importance of Timothy Hay for small animals and the importance of keeping their pets' teeth trimmed down."
Building Your Selection
When choosing chew products for small animals, the most pressing needs of pet parents are to give premium products to the animals that complete their families. By providing benefits such as flossing, cleaning and gnawing, pet parents will discover the potential for possibly improving animal health.
"A modern, high-quality treat for small pets should be better nutritionally—with higher fiber levels and no added sugars," explains Hamblion. "Pet parents are looking to provide their small animal with chews that are natural, versatile and fun. Natural chews, chews with enrichment capabilities and chews with a fun design are all selling points for small animal chews."
Often, the materials used are different woods or types of hay, which are designed in an array shapes, such as knotted designs. These products can also be used as games to avoid boredom, as the mental health needs of small animals are not always the top priority.
"Pet owners are looking for multi-purpose chews that are not only good for wearing down their pets' teeth, but also something that serves as an interactive toy," says Nicklas. "Traditional wooden and loofah style chews have been upgraded to more fun and playful designs."
Many small animals enjoy chews, but these products could wear away or become depleted quickly. Buying chew products should become a regularly scheduled purchase, just as buying food is performed according to a certain schedule.
"For example, some highly-engaged pets may completely wear out a chew in a day or two, at which time the pet parent should immediately replace with new," Stock says. "If a pet doesn't show excitement over a particular chew, we encourage pet parents to try presenting the chew in a different manner."
Some manufacturers have recognized an increase in spending on these types of products. For Hamblion, the potential for creating activities is driving consumers to invest in products that will allow animals to enjoy different experiences each day.
"Discretionary spend[ing] on treats is holding up really well and growing actively—we expect this to continue. We attribute this to pet owners getting closer than ever to their pets, which means they really value the experience treating delivers," she explained. "Rabbit owners are the top treaters, so make sure they are catered for by your product listings. The second most popular are hamster treats, as these animals become ever more popular with people living in small apartments."
Certain products are aimed at helping animals build mental acuity. These goods are designed to resemble puzzles with pieces that intersect and can be disassembled. In order to help customers find the perfect chew for their small animals, retailers must be able to explain how these products will make a beneficial impact on pet health.
"What's most important is to offer a variety of chews at any given time and to be an active participant in presenting them to your pets," says Stock. "We hear regularly from customers who love the products so much that they are buying multiples at a time and eagerly repurchasing for their pets."
Once customers find a product that attracts them to pick up a package in a store and satisfies their animal's needs, they will continue to purchase these specific goods and entrust the brand with their pet's satisfaction.
"Consumers want to purchase items in which they feel they are getting the greatest value on the dollar," says Nicklas. "Chews with multiple purposes are a great way for customers to feel as though they are making a smart purchase."
At the retail level, store managers and associates should expect that parents don't understand every need of their small animals.
At Supreme Petfoods, March Parnprome, manager, has worked at his family's single-store business for approximately 10 years and says that once customers understand the solutions provided by chews, they return to the shop, particularly for small-animal products that contain wood and loofah.
"It's more about entertaining their pet. For most people, they are looking at the product if the packaging is eye catching," he explains. "Giving animals chews is beneficial of the health of the animals. If you're not capitalizing on giving them chews and giving people a good variety to choose from, you're leaving money on the table."  PB