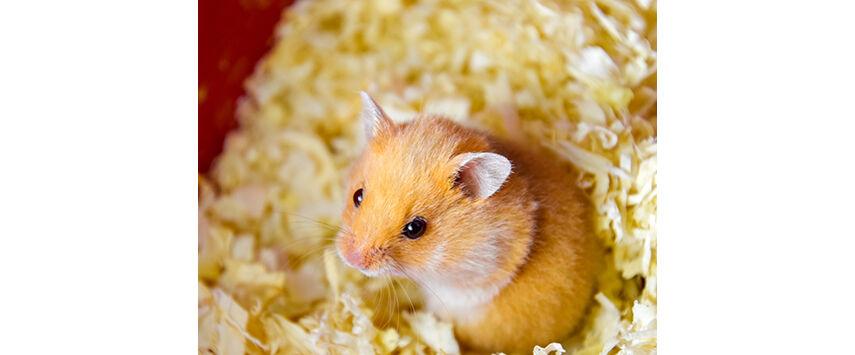 When it comes to creating a happy, comfortable home for a small pet, the right bedding and litter can make all the difference. High-quality products in these categories can absorb odors, keep pet habitats dry, minimize dust and make clean-up easier for the pet owner. To succeed in these high-impact categories, retailers should make sure they're up to speed on the best materials, merchandise thoughtfully and take time to learn about their customers' particular needs and preferences.
There are a variety of factors to consider when helping a customer select a bedding option for their pet. Leslie Ellis, consumer communication manager at Healthy Pet, explains that there are several different materials used to create different types of bedding, which can impact how effective it is in controlling odors and other desired qualities.
"There are several options for small animal bedding, so it's very important for retailers to educate themselves on the differences in order to explain and recommend according to their customer's needs and what's best for their small animal pet," says Ellis. "Bedding can be made of many different substrates like shavings, pellets, fabric, hay or different types of paper. Performance factors such as odor control, absorbency and amount of dust should all be considered when making recommendations."
Retailers can turn to their manufacturer partners to learn more about the different materials and available in the bedding category and their associated characteristics to build the best possible product selection for their customers. Jason Casto, director of marketing, small animal, at Kaytee, points out that retailers can visit the company's Youtube channel for a multimedia approach to learning about this product category.
"Kaytee now offers videos to help retailers learn about bedding," Casto says.  "[The company] offers videos to educate retailers and consumers on absorbency, softness, expansion and other attributes and unique differences of bedding."
Sustainability Matters
As consumers become increasingly concerned about sustainability and eco-friendliness in the products they purchase for themselves and their pets, litter and bedding are a prime category for consideration. Since these products are routinely discarded and replaced as part of maintaining a clean habitat, some pet parents are looking out for options in these categories that are sustainably manufactured, made from recycled materials, compostable and are otherwise Earth-friendly.
Ellis says that sustainability concerns are certainly impacting the bedding and litter category, noting that Healthy Pet takes a sustainable approach to product manufacturing and highlights that the company partners with the Pet Sustainability Coalition, helping to ensure they are practicing sustainability across the business, from employees to interacting with the local community.
"Today's consumers are looking for products that are sustainable and planet-friendly as well as healthier for their pet, family and home," Ellis says. "Many are making the switch to plant-based cleaning products, organic foods, sustainably produced clothing or paraben-free beauty products, and that is now including the choices they make for their pets. Healthy Pet only uses sustainably sourced wood and paper fibers in their products, which are biodegradable and compostable, too."
On Display
Compared to colorful toys or treats, bedding and litter might present more of a challenge in merchandising. However, retailers can still make an impact on customers by using the products in store displays—especially if they have small animals for sale—and using other creative approaches to highlight specific products.
"We highly recommend retailers use a high-quality bedding in their display habitats with 'we recommend' signage," Ellis says. "This allows small pet parents to see the bedding actually being used by someone they trust."
Casto points out that using litter and bedding products in-store is a great way for retailers to both see the quality and characteristics of the products themselves and showcase it for their customers.
"For retailers who also sell livestock, one of the best ways for retailers to evaluate the quality of a manufacturer's small animal litter and bedding products is to test the products through store use," Casto says. "Store use allows retailers to physically use, display and ultimately recommend featured products and brands to their customers."
Ellis recommends creating a one-stop-shop experience for small animal pet owners, allowing them to visualize everything they need and see product recommendations all in one place. 
"Set up a pet theater with all the accessories, bedding, and habitat all in one place for easy shopping, especially for first-time purchasers," Ellis says. "It's much more enticing than just a package on the shelf, and be sure to snap a photo to share on social or email or even a video for even more engagement."
Bed, Bath and Beyond
When merchandising litter and bedding, retailers should also consider what other products might complement the display. Claire Hamblion, marketing manager at Supreme Petfoods, notes that the company's Tiny Friends Farm Bathing Sand can be displayed alongside bedding.
"Bathing sand can be merchandised within the health and hygiene fixture, alongside bedding and other products," Fowles says.
Fowles explains that bathing sand, like litter and bedding, is an important part of creating a healthy habitat for many types of small pets. As pet owners learn more about their pet's natural behaviors, they are seeking out additional products to add to their quality of life.
"Owners of small pets are becoming more knowledgeable about their pet's needs, and there is a real drive to help these engaging animals express their natural behaviours," Fowles says. "An important routine for many small pets is taking a sand bath. Tiny Friends Farm Bathing Sand is an absolute essential for chinchillas that need to clean their very dense coat using dry sand. Other small pets like hamsters, gerbils and degus enjoy using bathing sand too as a treat."
She explains that bathing sand, which needs to be very soft and fine to avoid damaging small pets' delicate skin, naturally absorbs excess oils and helps distribute natural lubricants on the hair.
"We're dealing with a very different pet owner these days, with more young adults taking their hobby more seriously and doing all they can to improve their pet's well being," she says. "Bathing sand plays an important role in servicing that need."
Productive Partnerships
Bedding and litter are certainly categories where customers will know quickly if the product is not performing to their desired standards, so it is essential for retailers to find manufacturer partners they trust. Beyond evaluating the quality of the products, looking into product sustainability and investigating manufacturer support in marketing and merchandising, retailers should also ensure manufacturer will stand by their performance promises. Casto highlights that in the case of a dissatisfied customer, Kaytee offers a money-back promise.
"Retailers who sell Kaytee products can also trust that Kaytee products are backed by a Satisfaction Guarantee," Casto says. "The Kaytee Satisfaction Guarantee offers money back directly to the consumer when that customer is not completely satisfied with a Kaytee product they purchased. The consumer just needs to return the unused portion of the product along with the original register receipt to Kaytee."  PB