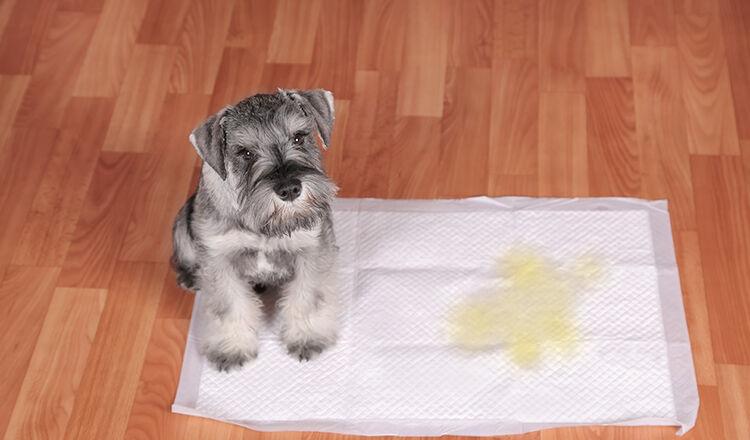 Many dogs were adopted during the COVID-19 crisis, and when the pups relieved themselves inside their new homes, their humans realized these pandemic pals needed some housetraining. Teaching a dog where to eliminate is always an important part of welcoming a furry friend into the home, and manufacturers say products such as mats, diapers, waste bags and cleaning supplies can drive sales among new and current pet owners, in addition to building customer loyalty. 
"Adoption rates surged across the country at the beginning of the lockdown" says Jennifer Marler, category manager for waste management for PetSafe. "New pet parents were home all day and using that time to train their pets." 
As there was some initial fluctuation as e-commerce sales increased and employment decreased, the profitability of housetraining products seemed a little hairy as households prioritized more essential items. 
"At first, we saw a retraction from our larger retail partners, when orders and shipping were prioritized to serve the healthcare supply chain needs," says Bill Klein, founder and inventor of the Pop-Up Pee Pad. "Things relaxed more as we entered the summer, and saw a subsequent resurgence of purchases and accelerated growth into fourth quarter, with double digit growth year over year."
Specific Products
In order to entice pets to eliminate outdoors (or redirect indoor elimination when going outside isn't possible), manufacturers are getting creative with the products they create. With that in mind, housetraining isn't exclusive to puppies. Senior dogs who face incontinence issues may need to be re-trained, and adult dogs new to the home may start off with some behavioral issues.
Though pet parents are eager to get their pooches eliminating outdoors, they need to keep in mind that dogs—specifically those that have been adopted from shelters and rescues—might take a while to adjust to the new routine.
"When a dog's situation or home life changes, so will its habits," says Linda Jangula, president and CEO of Wiki Wags Disposable Male Dog Wraps. "The more patience spent with the animal, the better the chances are for a healthy adjustment with a positive outcome."
For example, Klein explains that 48 percent of male dog owners say their dogs urinate on chair legs. To combat that, the Pop-Up Pee Pad is a training pad for male dogs, which features an attached 3D target shaped like a fire hydrant that can absorb up to 32 oz. of liquid. 
With older dogs in mind, Pop-Up Pee Pads plans to release a larger pop-up target and base pad for medium to large dogs that are becoming less mobile, explains Klein.
Additional products include male dog wraps, which more or less act as a diaper for pets. However, Jangula cautions owners about the overuse of these products. 
"We always recommend pet owners attempt to train the dog first before putting them into a wrap or diaper of any kind," she explains. "To help train the dog, some dog owners put a wrap on the dog while indoors and take it off when going outdoors."
Cleaning Indoors and Out
Getting the dog to eliminate only when they are outdoors is usually the goal for housetraining, so products that help dog owners clean up after their dog outside are an important component of sales. 
"For housetraining, the dogs have to be walked," says Chris Crosson, co-owner of Doggie Walk Bags. "They get tired of the backyard. There are not a lot of dogs that don't like to be walked." 
Indoor cleaning products aren't just limited to new pet owners (though they're typically the bigger target audience)—even the most well-trained dogs find themselves in situations where they have no choice but to relieve themselves indoors. This could be because their owner has been gone for too long or they're facing incontinence issues/an illness.
As a result, "we've seen an incredible spike in our business," says Jenny Gilcrest, vice president of marketing for Skout's Honor. "Cleaning is top of mind for everyone, and they want to be well-stocked." 
The company makes plant-derived, environmentally- and socially-conscious cleaning solutions such as Pet Urine Destroyer, Pet Stain & Odor Remover, Pet Stain Carpet Cleaner Kit and others. Skout's Honor products are only available in pet specialty stores, a detail that helped stores stay stocked during the crisis.
Retailer Benefits
Retailers can drive sales by discussing the pain points customers have. By offering solutions that are easy to use and show quick success, business owners can generate repeat business. That way, dog owners will likely buy the products not only when they bring home a new dog, but later when the dog needs the item again. 
Due to all the complexities and nuances of housetraining, the category is ripe for add-on opportunities. Additionally, retailers can use outdoor elimination and clean-up products to encourage repeat purchasing and incentivize add-ons by utilizing cross-merchandising opportunities. For example, poop bags and pooper scoopers can be displayed by dog food, or even included in a first-time dog owner kit.
"When pet specialty retailers were relying on partners that could be resourceful and flexible and quick to react, we were always prioritizing those retailers no matter what," Gilcrest says. "As a small company, we have access to big players and a robust manufacturing chain, and we were able to fulfill orders." 
For retailers who want to see continued success with housetraining products, they'll need to keep up with demand. On the manufacturer's side, those companies need to keep developing innovative products that solve housetraining issues while also appealing to pet owners. And, of course, keeping a wide selection of products remains important.
"We are excited for next year," explains Gilcrest. "One thing we learned is to make sure we are well stocked plenty of months in advance. There are things we can't control."  PB