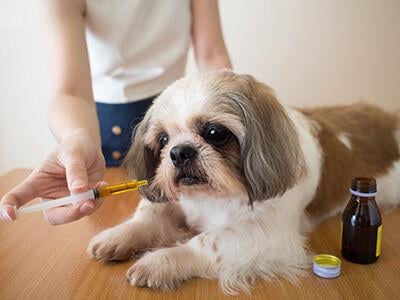 By this point, you'd be hard-pressed to find a category in the pet industry that isn't reflective of human trends. As pet parents continue to look beyond the basics to further improve the health and longevity of their dogs' life, they've expanded their purchases to include supplements, which pet parents have integrated into their dog's routine just as easily as they've incorporated daily multivitamins into their's.
"Consumers are simply more aware of supplement for their pets, because they are taking supplements and natural remedies themselves for their own good health," says Michael Stoeckle, president and CEO of Ark Naturals. "The heightened interest in preventative care in humans is clearly crossing over into pets."
This spells good news for retailers—acording to a report published by Technavio, the global pet dietary supplements market is estimated to grow by $666.55 million between 2020 and 2024
"The dietary supplements category for pets is very exciting right now," says Jeanne Jacobs, leader of business development at NativeRemedies' PetAlive. "Pet ownership is at an all-time high, and consumer demand is driving natural products into the mainstream. Consumers are looking for products that are safer, with fewer side-effects and at a lower price than pharmaceuticals or prescription medications."
The global pandemic is likely a driving factor behind this growth, explains Marianne Warnaer, global sales director at Biomega. She continues that the COVID-19 outbreak brought health issues to the front of mind for humans.
Of course, current events alone aren't the only contributing factor to the expansion and increased awareness of this category. Dog supplements have been muscling their way to importance, with natural remedies in particular gaining traction over the past few years.
It's CBD's World
The beauty of supplements, and a major part of their profitability, is that there's a variety of items encompassed under its wide umbrella. While there's certain items that can be incorporated into everyday routines, there's also other products that can be kept on stand-by for specific situations, such as times of stress and anxiety.
Susan Goldstein, co-founder of Earth Animal with her husband, Dr. Bob, explains that pet parents want a way to deal with those conditions that doesn't involve giving their dog a drug and dealing with whatever side effects may come along as a result.
Jacobs explains, "Today's consumer is aware of the health risks associated with artificial ingredients, flavorings and colorings, and is looking for clean products for their entire family, including their pets."
Resulting from this desire, manufacturers agree that CBD is a major driver in pushing the growing interest in herbal supplements and remedies. Stoeckle explains that it's hard to even imagine another product or ingredient making as big of an impact in the category as CBD.
"All animals have an endocannabinoid system, and hemp/CBD can offer the same benefits to pets as it does to their owners," adds Jacobs, meaning that pet owners turning to CBD for their own problems is pushing this ingredient into the spotlight.
Susan Goldstein explains that CBD acts as a "gateway drug" to other supplements and remedies, allowing pet parents to get a feel for its natural benefits and help them explore natural solutions further.
"CBD has really served in a very good way to open up the awareness and interest in supplements in general," explains Susan Goldstein. "So, I think the trend is still with CBD, but we are seeing greater interested in our other supplements and remedies as a result."
While CBD is widely known for its anti-inflammatory, pain relieving and calming properties, its sheer popularity is driving research to find innovate ways to further utilize CBD. Though still in its preliminary stages, there is some research that suggests CBD can be used as a treatment for cancer. With dogs living longer, cancer is more likely to appear, with nearly half the dogs over the age of 10 developing it before the end of their lives, according to the American Veterinary Medical Association. Though dogs generally respond better to chemotherapy than humans, there are side effects and, as in humans, the search continues for less harmful treatments.
This research is conducted in veterinary offices, as well as academic settings. For example, several of Earth Animal's partner veterinary clinics test products before they're marketed, and several are using CBD as part of cancer treatment with positive results.
"Now, I'm certainly not saying that our CBD has a cure for cancer, but what we are saying is that we're getting a tumor response, tumor decrease, that's extremely intriguing, because there are so many other properties to CBD being researched now," says Dr. Bob Goldstein. "We suspect that we're going to see some properties in CBD that are good for cancer treatment."
Education and Selling
As the category continues to grow and change, new information constantly seems to be released and, with the wealth of products available, it's easy for consumers to get confused. From daily supplements that promote overall physical/mental health and wellness to condition-specific remedies, it's up to retailers to break down the process and guide pet parents to the best option(s) for their pets.
"Consumers are often confused by the wealth of information surrounding supplements," explains Warnaer. "While they feel comfortable understanding the differences between nutritional supplements and the effects they may have on their own body, the role of supplements in pets is less clear. To combat this, the sector must ensure that information is accessible, concise and easy to understand."
Fact cards, demonstrations and featured products are easy strategies to implement to show off products and their capabilities, and can also introduce customers to new products that they may not have otherwise considered.
Retailers must also arm themselves with knowledge to be able to help customers as much as possible when approached with specific issues, as "understanding the underlying condition or symptoms that the consumer is looking to resolve and recommending the proper dietary supplements or homeopathic remedies can help ensure the consumers sees a positive result in the health of their pet," explains Jacobs, adding that an informed, knowledgeable sales force gives the customer a more personal shopping experience.
Above all, the supplements and remedies included in retailer selections should be safe and effective for dogs. The National Animal Supplement Council, for example, tests and oversees the manufacture, storage and sale of their approved items in a thorough process that ensures the product performs as advertised and is completely safe for the animals taking it.
In addition to safety information, retailers should be familiar with ingredient lists, where those ingredients are sourced, manufacture location, sustainability and administration method. Consumers are interested in natural, effective supplements that meet high standards of quality.
"Pet parents today, more so than ever, consider their beloved pet part of the family, and want to purchase only the best products for them," says Jacob.  PB