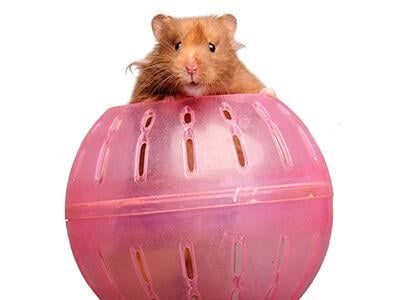 The influence that social media has is far-reaching—it impacts how people shop for every day goods, determines which brick-and-mortar stores they'd like to visit, and even shapes what types of pets they purchase. As accounts focused on small animals grow in popularity across all social networking platforms and showcase the animals' sheer cuteness and fun personalities, consumers are realizing how fulfilling bringing one into the home could be.
"As small animal enthusiasts, influencers, social media experts and specialized groups become more accessible and vocal about their wants and needs, manufacturers will have to stay attuned to the demands of the market and adjust and develop products accordingly," explains Tara Whitehead, director of marketing and communi-cations at Midwest Homes for Pets.
As a result of small animals' online popularity, they're no longer considered just a stepping stone to owning a cat or dog—they're desirable in their own right.
"As we've become more connected nationally and globally through technology and social media, we now know they are not just 'starter pets,'" continues Whitehead. "There are families, couples and singles who are completely dedicated to their small pet(s) and very consciously invested in their health, happiness and lifestyle."
The other piece factoring into the popularity of small animals—and perhaps one of the most determining factors—is that they meet the needs of adults and families whose home or lifestyle isn't accommodating for a larger animal.
"Small animal pets are a great solution for those living in smaller or more urban residences, which is a huge percentage of Millennial pet owners or dual income no kids, as well as empty nesters [and] baby boomers that have downsized and want pets that complement their smaller setting," says John Gerstenberger, vice president of product development and sourcing at Ware Pet Products.
Habitat Trends
While dogs typically have a big presence in the home and make themselves known, there's always the worry that small animals will be hidden away in their habitat, feeling unintegrated into the household. In order to ensure these animals aren't left out, habitats that go beyond just function and actually complement existing home décor and the personal style tastes of their human counterparts are needed.
"We see the small animal appeal continues to expand for adult owners, whose desires [and] tastes in product designs, packaging designs and functions are much more so-phisticated and refined," says Gerstenberger.
With this in mind, manufacturers are more focused on customizable habitats that allow for both the animals' needs and the pet parents' desires to be met.
"Everyone wants to be unique and express creativity, so cages that allow personalized décor or scenery, or whimsical and fun elements—while maintaining safety and ease of care—are trending and being shared widely within small animal social groups," Whitehead elaborates.
Just because small pet parents are focusing on looks, though, doesn't mean they're compromising on utility—it's actually quite the opposite. The category is seeing an increased focus on the needs of individual species and, as a result, moving away from any old cage or glass enclosure with a few wood shavings for the floor.
"There is a significant call for more features within the small animal habitats that offer a more customized and breed-specific natural habit," explains Gerstenberger. "Small animal habitats [are] no longer a 'one size fits all' category, so Ware prides itself in providing innovative product solutions along with educational materials that help retailers recognize each species' unique behaviors, diet, play etc."
Tailoring the habitat size to the desired animal is an essential distinction as even though all small animals are, well, small, their sizing varies—a rabbit would need more room in an enclosure than a guinea pig or hamster.
"I think the biggest change in small animal habitats is sizing," says Whitehead. "New pet parents aren't just interested in a starter home at a low price point, they know what to look for, and that includes larger habitats built with the pets' needs in mind."
When bringing an enclosure into the home, consumers also have to consider the lay-out of the habitat, as species have varying activity levels, interactivity with owners and other animals, and diets, among other factors. Gina Nicklas, marketing specialist for small animals at Kaytee, explains that ease and accessibility of assembly and cleaning are also at the top of the list for pet parents.
"Small pets are truly part of the family, so selling products that easily show [and] communicate comfort, safety, behavior-friendly features and benefits, space efficiency, affordability and fun are all key selling points," says Gerstenberger. PB