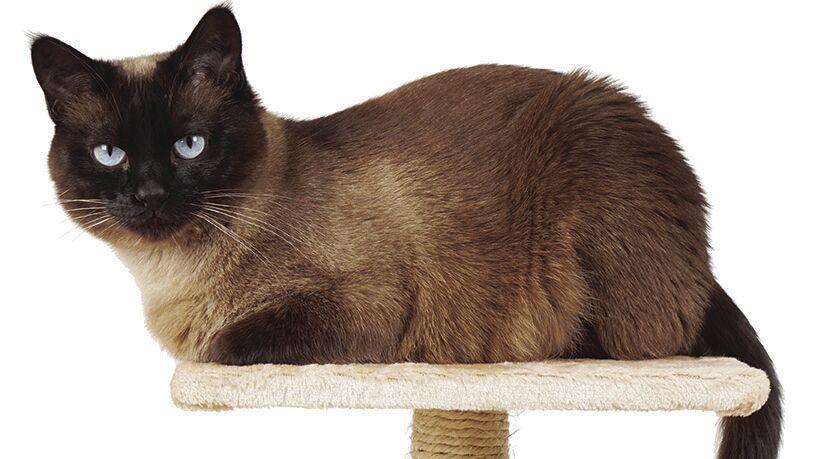 Families who welcome cats into their homes can expect a relatively independent companion. While every pet's personality is different, cats generally require much less attention from owners, compared to their canine counterparts. Of course, like all animals, cats still have instinctual needs that must be addressed, and while cat parents don't have to be as directly involved with their cat's care (aside from providing food, water or any medications on a daily basis) they should provide felines with the tools they need to take care of themselves. 
When it comes to climbing and scratching—two of cats' basic instinctual needs—it's imperative that pet parents provide a healthy outlet for cats to tap into this natural instinct, and to avoid any unnecessary damage to home furniture. The act of scratching allows cats to mark their territory, and trim and maintain their claws, all while getting a good body stretch. Climbers give cats the chance to perch and view their surroundings, giving them a sense of safety and security. Higher elevation also gives cats the chance to jump and encourages exercise, which is especially important for indoor cats, which likely won't have as much opportunity for exercise. 
"Having products that provide comfort and encourage play leads to a healthier, happier cat as well as less wear and tear on household furniture, curtains, etc.," says Tara Whitehead, director of marketing and communications for MidWest Homes for Pets.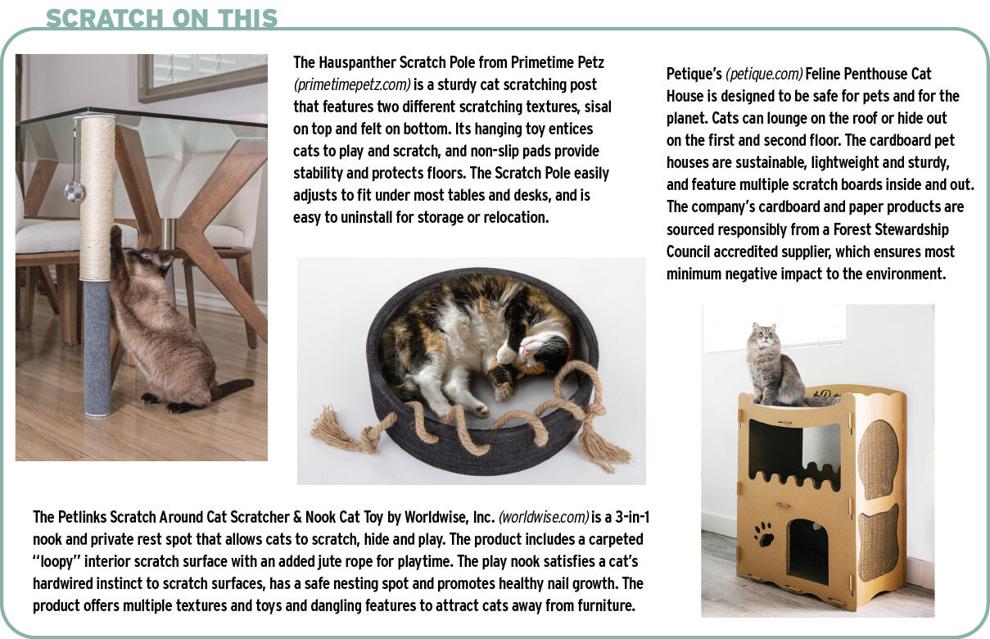 Elevating Durable Designs
Beyond anything else, cat parents want a high-quality product that can withstand their cat's scratching or climbing. 
"So many [cat climbers or scratchers] on the market are too flimsy, or not ergonomically designed for cats, to be worthwhile additions to any top-tier cat space," says Amber Bondoni, marketing programs manager for Coastal Pet Products. "As such, today's shoppers are seeking high-quality cat scratchers and cat furniture that also has sleek designs and takes up as little room in their homes as possible." 
As a direct result of the pandemic, more people continue to work from home full- and part-time, and now the "aesthetics of products inside the home have become even more important," says Karishma Patel, director e-commerce for Zee.Dog. "Cat owners are looking for alternatives to the traditional cat scratchers that are functional but don't fit into their home decor." 
In addition to products that take up less space and have a sleek style to match a customer's decor, pet parents continue to view their pets as family members—and they want the best for them. While working from home, cat parents want to see their pets engaged, entertained and happy. 
"As pets are seen as family members even more than ever before, their needs and presence in the home with beds, scratchers, toys and other elements are trending toward designs that show evidence of a well-designed shared space," says Bill Parsons, sales manager at P.L.A.Y. Pet Lifestyle and You.
In this shared space, cat towers, trees and other products don't have to be kept hidden—and many cat parents don't want them to be. It's known that the presence of pets can help humans while they're feeling anxious, so keeping a cat tree or tower in sight is a great way to spend time with cats while working from home. 
Francisca Flores of PetPals emphasizes that while stylish designs are increasingly important for consumers, safe and durable materials should always be the first consideration for climbers and scratchers.
After finding a safe and durable product, many pet parents gravitate to products that are better choices for a heathier household and the environment, according to Flores.
As an example, Bondoni says that scratchers made with corrugated cardboard that are recycled and easily replaced appear to be high in demand. 
Finding the Perfect Fit
Now, since cats have the reputation for being picky, it can be a challenge for pet parents to decide which product may fit their cat or cats best. One thought to keep in mind: it may take a cat some time to get used to something new.
"In most cases, cats will warm up to a new piece of furniture," explains Whitehead. "It just takes some time and some privacy."
Retailers need to communicate this with customers as soon as possible so they can expect that their cat might not take to a scratcher or climber right away. Customers can also set the scene in their home, by providing treats or placing the product in an area of the house where the cat feels comfortable, to get them to give the new product a chance. 
"Expecting your cat to immediately use the scratcher often leads to disappointment," says Patel. "Adding some catnip or placing their favorite treat on it encourages them to try out the scratcher. Depending on your cat's personality, it might take longer for them to enjoy their new toy." 
Before heading to the store, cat owners should observe their cat's behaviors and take note of what they like. Whitehead suggests that customers should think about these questions: "Do they climb on top of the fridge? Do they lay in the sun? Do they like to stretch up and claw down the side of the couch? Do they like to hide in things? Do they like to curl up when they nap or do they like to stretch out long?"
The number of cats in a household, and a cat's age, are also important considerations. 
"An older cat isn't necessarily looking for a large multi-level cat tree like a young active cat does," says Flores. "If you have multiple cats, it's important to provide enough space for all of them." 
As store associates talk with customers about what they're looking for in a cat climber or scratcher, they should establish how much a customer understands about these products and their specific benefits. 
"Given that most cats are indoors, they need to scratch inside the house and scratchers are a great way to protect your home's furniture and flooring," says Patel. "Retailers need to be able to highlight these advantages to cat owners, especially first-time cat owners that might not be aware of the benefits of a scratcher."
The best way to highlight these benefits is by providing education, both in-store and online. Store associates need to learn everything about a customer's cat and their personality to help identify the right products, and customers need to understand the benefits these products to make an informed decision. 
"Retailers can help educate their customers on the importance of these products by making sure their staff is trained on these items and can easily convey these top features and benefits to consumers," says Parsons. "At P.L.A.Y. we have a variety of retailer resources like this available, as well as helpful signage to display near products to showcase top-selling points easily to customers." 
Many customers will also appreciate a clear, visual display in-store. 
"Retailers should definitely consider displaying the scratchers in-store as the customer might use them in the home," adds Parsons. "This can help customers envision them in their home." PB