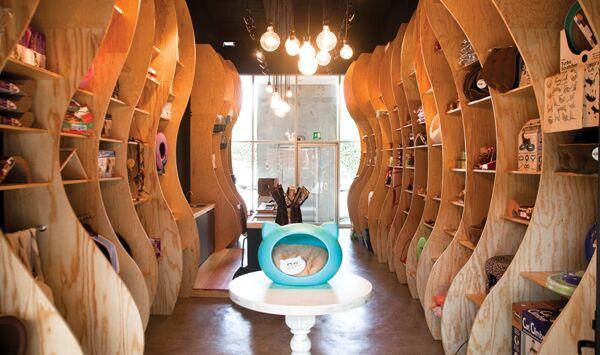 Dogs—man's best friend—are protective, loving, endearingly needy and unquestionably deserving of people's affection. Cats, on the other hand, with their independent nature and quiet demeanor, relate differently to humans. They have long played second fiddle to dogs, strumming their own tune to an entirely different beat.
Yet, pet specialty entrepreneurs Esther Garcilita and Marco Sotomayor are finding success in catering to the growing number of people who are attuned to that unique beat. The couple owns two stores in Mexico City, both named La Gatería, specializing in upscale, natural and organic cat products. Garcilita and Sotomayor, winners of the 2014 Global Pet Expo Retailer Excellence Award for Best International Retailer, are proving that cats are beloved and cherished by many, and they are indeed benefactors of the growing pet product market and all that it offers to doting pet owners. In fact, Garcilita contends—although dog lovers may strongly disagree—that while dog owners are abundant in Mexico, they cannot match the zeal cat owners have for their feline charges.
"Dogs are much more common in Mexican homes, but cat people are far more passionate about their pets and will do anything to make them happy," she says. "Cat ownership is becoming quite common, and it's growing amazingly—we think it is driven by the Internet and some TV programs, which are making cats more popular than ever before."
Still, the couple's desire to focus on cats and tap into what seemed to them an obvious void in the local pet retail arena was met with skepticism when they first started the venture a couple of years ago. "Few people thought we had any chance of succeeding," Garcilita recalls. "Even the first place we wanted to rent rejected us because they thought we soon wouldn't be able to pay the rent."
Both were established in other careers when they conceived the idea to open up a feline-centric store—Garcilita, a journalist, and Marco, a freelance photographer. The owners of several cats, the couple found the local market to be woefully lacking of suitable cat items, with pet-specialty-store shelves devoted largely to dogs. Travel gave them much-needed opportunities to stock up; it also gave them inspiration. "Every time we traveled to the U.S., we bought more stuff for our cats than for ourselves, and that made us think it might be a good business idea," she says.
So, despite the skeptics, the couple stuck to their plan. "On the first day we opened, we sold enough to pay the month's rent, and we knew we'd make it," Garcilita says. "People's response on social networks was overwhelming from the beginning, and that gave us strength to keep on going."
The stores are attracting a specific clientele, she adds—and a group of pet owners who are every bit as choosy as their feline counterparts. "La Gatería is a store for true cat lovers, people who love to pamper their friends," she says.
Garcilita and Sotomayor opened the first store in July 2012, in the trendy neighborhood of Roma, Mexico City. Described by the travel guide book Frommer's as Bohemian, Roma's metropolitan streets are lined with hip cafes and restaurants, art galleries and boutiques. "Most of all, it is very pet friendly," adds Garcilita.
The couple's foray into retail quickly yielded expansion. They opened their second store last summer, about five miles away from the first, in Coyoacán, which is, as described by Garcilita, "a beautiful southern colonial neighborhood in Mexico City, where painters Frida Kahlo and Diego Rivera lived."
Having found inspiration in the aisles of the annual Global Pet Expo trade show,  they have stocked their stores' shelves with innovative products that cat lovers could not find elsewhere in Mexico. The stores boast carefully curated assortments of products chosen for their high quality, unique design or both, and Garcilita says all are tested at home by the couple's four cats: Tristán, Manzana, Jícama and Arena.
The offerings include a mix of U.S.-made brands including Scratch Lounge, Litter Spinner, Petlinks, Pioneer Pet Products and OurPets—Garcilita says scratchers are among La Gatería's top-selling categories. The cost of importing these goods, of course, is reflected in the price tags, but so far, pricing is no deterrent to its customers. "Our clients look for the best, and understand this," she says.
Rounding out the product assortment is the couple's own line of pet products, thoughtfully designed to appeal to the store's discerning clientele. The brand includes a set of eight toys, two locally-made scratchers, and catgrass made of organic wheat and oat seeds. The items are already a hit with La Gatería's customers and are also being sold in about 12 stores in the country.
Garcilita and Sotomayor, who are in the process of working with a Mexican designer to design  a food dish and a water fountain for cats, have lofty goals for the brand. "We are working toward becoming distributors of our brand on a larger scale, to manufacture and export cat products, and also become known as the main cat-product providers in Mexico, distributing products that we buy mainly in the U.S,." Garcilita says. "We've been to Global Pet Expo for three years in a row and hope to be there for many years to come."
While the stores carry similar product assortments, Garcilita says they differ in overall style and design. "The first one is cozy, like a grandmother´s room; the second one has a contemporary décor, a lot of wood and high ceilings," she says. "Both have a huge cat carving as the main decorative element."
The stores have two employees each, while Garcilita and Sotomayor have maintained their previous roles as journalist and photographer. Garcilita foresees that changing soon, as they plan to dedicate more time to the business to oversee its growth.
Profits and business, however, are not the only priorities they share as it relates to La Gatería. They leverage the stores as a platform to help find homes for shelter pets and to spread the word about the importance of spaying and neutering for pets. The pair partners with shelters for their Viernes de Adoptables campaign—roughly translated, Adoption Fridays or Adoptable Fridays.
"We use the power of our social networks—66,000-plus likes in Facebook and 3,000-plus followers on Twitter—to [publicize] lots of spayed and neutered felines looking for a home, every Friday," Garcilita says.
Sotomayor, meanwhile, has been using photography to promote the joys of cat ownership. The couple recently organized a photo exhibition they entitled Catlovers, featuring customers of La Gatería in the intimacy of their homes with their cats. The point, she says, was to demonstrate how anyone can enjoy the company of a cat or two—or more.
"We're not business people," Garcilita says. "We're just cat lovers turned into entrepreneurs, so we want our love toward cats to [permeate] every action we take. We think profit comes when you believe in your business. La Gatería has a soul; it's not about profit itself, and our customers know that."