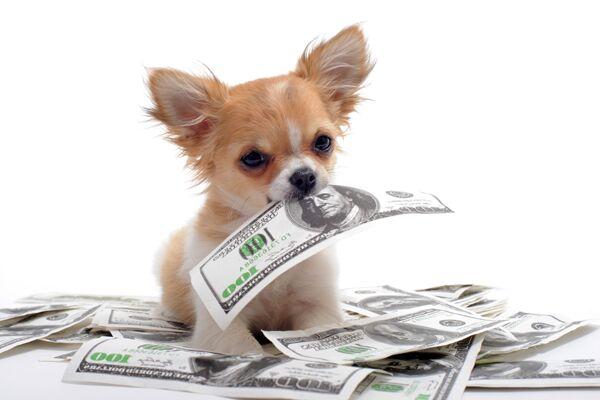 Being a pet parent is a joyful endeavor, but it's also a costly one. In fact, according to a new survey, American owners spend about $126.19 a month on their pets.
The report from OppLoans surveyed more than 1,000 pet owners from all 50 states about their pet spending habits, and then broke the findings down by various demographics, including location, age and gender.
Here are some of the most interesting (and surprising) findings from the survey.
Pet Types
• In the never-ending battle between dogs and cats, dogs come out on top when it comes to spending. Owners spend about $139.80 a month on canines compared to $92.98 a month on felines.
• The most spoiled pets, though, are small mammals like guinea pigs, hamsters and gerbils. These little furry friends cost owners approximately $251.82 a month.
Geography
• The highest spending state is Delaware. Pet owners from the Diamond State spend an average of $311.90 a month on their animal friends.
• The most frugal state is Idaho, where thrifty pet parents spend just $20 a month.
• The nation's capital is full of dog lovers. Washington, D.C., residents spend the most on dogs, at $270 per month. 
• Even pet spending is bigger in Texas, where owners spend the most on birds ($200 a month) and reptiles ($350 a month.)
• Love small pets? You'll feel right at home in Massachusetts, where they spend big ($975 a month) on small mammals. 
Gender and Relationships
• On average, men spend more than women on their pets, at $136.99 and $116.61 each month respectively.
• Married couples spend the most on their animal companions ($132.36 a month), followed by single people ($128.73 a month) and people living with a partner ($124.30 a month).
• Separated individuals spend the least, averaging $69 a month.
Generations
• Millennials aren't just the largest group of pet owners; they're also some of biggest spenders. Owners between the ages of 18 and 24 outspend all other age groups with an average of $173.67 a month, followed by ages 25-34 at $141.50 in monthly spending.
• The lowest spenders are young pet owners ($73 a month) and elderly owners ($80.43 a month).
To see the rest of the results, check out OppLoans full report here.