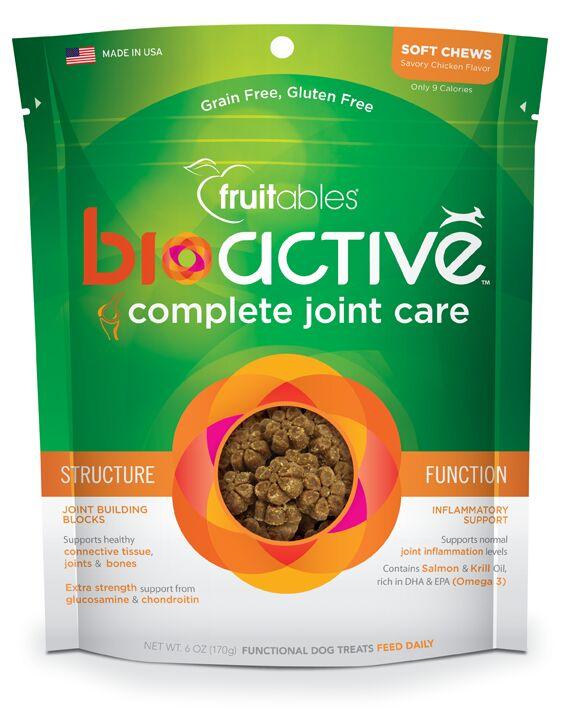 Pet Business: What are some of the keys to effectively selling dog treats in the pet store?  
David DeLorenzo: We believe retailer operators know this best, and we have learned a lot from some of the top operators.  Treats are often transaction building for the store, since food is a major draw to pet specialty for most pet parents. In our experience with Fruitables, having a wide assortment of textures, flavors and price points is important. We have found that the more flavors and textures (or function solutions) offered, the higher the number of treats that are purchased by pet parents. While almost all the big food companies offer treats, some of the best innovation comes from brands like Fruitables that focus on innovation in the category.
PB: Are there any common mistakes that retailers make in this category? How can they avoid/overcome these mistakes?
DeLorenzo: I don't know if I would characterize them as mistakes, but opportunities can be missed by not having a system to ensure that inventory levels on best sellers are maintained, regularly reviewing assortment to make room to bring in new items, or taking advantage of limited-edition products for impulse sales. On the other hand, over-assortment or not having appropriate space or category organization/location that helps the shopper make purchase decisions easy and quick can hinder sales.
Having a process to review the category, both from a sales/margin and visual presentation perspective at least twice a year, is a good start. Also, having someone in the store responsible for the section so the retail basics are always executed perfectly—inventory levels on best sellers, rotation, clearance of unproductive SKUs and featuring new SKUs—is a good way to train and potentially increase section contribution and pet parent satisfaction.
PB: What are some of the latest and most important trends in the dog treat category? How do human-food trends impact this category?
DeLorenzo: Grain-free, limited ingredients and unique textures and flavors are the most popular trends. We are also seeing more developments in the functional area, which has been an area where we've focused a significant amount of R&D effort and resources.
There have been a lot of healthy human food trends that have made their way to pet in the past five years, including natural, functional ingredients, simple recipes and incorporating textures and flavors like Greek yogurt, limited ingredients and superfoods (kale, coconut, different fat sources). Featuring items with proven efficacy and innovations that add value to the treating experience using product knowledge, ability to communicate specific benefits and knowing what the pet needs are key to driving increased sales and pet parent loyalty to the store.
PB: Tell us about Vetscience's approach to making wholesome, natural dog treats. How does this approach set Vetscience and its Fruitables brand apart from other treat manufacturers and brands on the market?
DeLorenzo: We're primarily a pet health company with a track record of research and development that has yielded significant breakthroughs. We believe strongly in products having efficacy as well as design and features that deliver a sensory experience to the pet and pet parent. We've translated healthy human food trends into the food supplement and treat categories, starting with our pureed digestive health and proven weight-loss products, and then incorporating our CalorieSmart approach to treats—highly palatable, low-calorie treats with fiber, antioxidant-rich pumpkin or sweet potato, and low calorie counts.
PB: What are some of Vetscience's most popular products/lines? What has made these products popular with pet owners?
DeLorenzo: Our Skinny Minis (including the recent launch of the first Watermelon flavor treat) and Crunchy treats have long been favorites with pet parents, as they deliver an aroma and flavor experience like no other product. Recently, we've seen explosive growth in our Whole Jerky line, with its limited-ingredient and highly palatable, natural format. Our limited-edition Vanilla Snowflake treat last year was the single-largest selling SKU in our history and generated a lot of awareness and trial for the brand.
PB: What are the latest and most exciting product introductions from Vetscience? What are the major selling points of these products?
DeLorenzo: We've just completed a very long research and development cycle into functional products for pet parents' major areas of concern, and we are launching Fruitables BioActive treats next month. There are three areas addressed with a new approach to functional treating—Dental, Complete Joint Care and Soft & Glossy Coats.
BioActive is the use of biologically active compounds in the product and is also a term used in veterinary research, referring to the compounds that have an effect on cells and tissues—examples include fatty acids, flavonoids, choline, prebiotics and polyphenols.  We have taken a dual-pronged approach to functional products, addressing both the functional and structural areas of need, such as the joint and connective tissue structure, and by addressing painful inflammation often occurring with joint issues by adding in marine bioactive essential fatty acids and antioxidants.  
In the dental chews, we've included other marine bioactives to deliver bacteriostatic properties to help reduce plaque, combined with a flexible chew that scrubs the tooth from tip to gum line without the treat breaking apart like many other hard dental products. We believe in providing the maximum benefits of the functional ingredients in recommended dosing by the size of the dog, which is included in the packaging label.
Our Fresh Mouth Dental Chews also have a patent-pending feature of a treat pocket that our Skinny Minis treats fit in to provide a low-calorie flavor addition, as well as a scoop feature for scooping some Fruitables Pumpkin or peanut butter to make the activity fun for the pet and pet parent.  PB