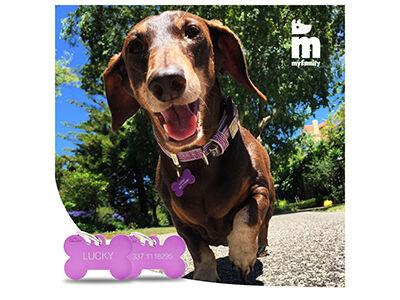 Tell us about MyFamily USA. What types of products does the company offer? What sets you apart in the industry? MyFamily, founded in 2010 in Valenza, Italy, with its U.S. distribution facility in Florida, has forever changed the concept of instantly engraved ID tags. With our revolutionary self-service Techla engraving system, wide-ranging collections and over 600 styles, MyFamily's tags are setting a new standard in the category. Now, based on our success, we have introduced lines of leather, leatherette and nylon collars and leashes to our product portfolio. They are 100 percent Italian in design and produced in our factory with the same dedication to innovation and quality as can be found in the most prestigious fashion brands.
What are some of your best-selling products/lines? What makes these items popular with pet owners? ID tags are an important product in supporting the health and safety of our four-legged friends, as they ensure the fastest return of a lost pet. MyFamily gives stores the ability to provide personalized tags instantly with its self-service Techla engraving system, and with an extensive variety of styles, shapes and finishes, they continue to be the cornerstone of our success. 
What are some of your newest product introductions? What are the key features of these products? All MyFamily products are designed and manufactured in-house, including our innovative Hushtags. These unique ID tags have a metal core fused with a rubber edge, so that they produce no noise when worn, look better and last longer than traditional tags. Another innovative concept is the Always Ready D-Ring, incorporated into every collar we make, which eases the effort of attaching the leash to them.
Aside from offering high-quality products, how does MyFamily help drive sales in pet stores? What types of sales and marketing support do you provide to retailers? An instant ID tag option for customers is something every pet store should have, as it is an important product and service that cannot be replicated online. MyFamily supports its pet store partners with the most innovative display options, screen savers on our engraving machines that promote pet identification and special order books that provide an "endless aisle" of tags, as well as POP options of all types that enhance the profile of our products.
What does the future hold for MyFamily? Do you currently have any new products in the pipeline? MyFamily is constantly innovating and developing new products. As we move forward, we will be looking to enhance our ID tag offering with creative designs. However, our line of memopet leads and collars, which include NFC technology that allows you track a pet's activity and keep vital information stored then accessessed via a smart phone app, is going to be a real game changer. 
When you are a customer, and part of MyFamily, you should expect exciting and beautiful new ideas, so we will continue working hard to provide them!  PB