Tell us about Nutra Pharma Corp. What is the company's background? What types of products does it offer? Nutra Pharma offers homeopathic products for sale that are non-toxic, non-narcotic, non-steroidal and contain no aspirin or acetaminophen; for the treatment of pain for humans and our companion animals under the brand names Nyloxin and Pet Pain-Away. We are a biotechnology company specializing in the acquisition, licensing and commercialization of pharmaceutical products and technologies for the management of neurological disorders, cancer, autoimmune and infectious diseases, including Multiple Sclerosis (MS), Human Immunodeficiency Virus (HIV), Adrenomyeloneuropathy (AMN) and Pain.

How does Nutra Pharma's Pet Pain Away address chronic pain in pets? What makes it stand out from other products in the marketplace? Pet Pain-Away is the first over the counter (OTC) pain reliever clinically proven to treat moderate to severe chronic pain for our companion animals. It works by targeting receptors on nerve cells. These receptors are found in nerves outside the central nervous system and activator of the inflammatory pathways. As a result, the pain and inflammation pathways are temporarily shut off. In clinical studies, the pain-relieving ingredients in Pet Pain-Away provided prolonged chronic muscle and joint relief.
Equine Pain-Away is for horses suffering from pain. It is a topical gel that is rubbed directly on the leg joints. It is safe to handle so no need for gloves and no need for wrapping the horse's legs. It is safe and effective.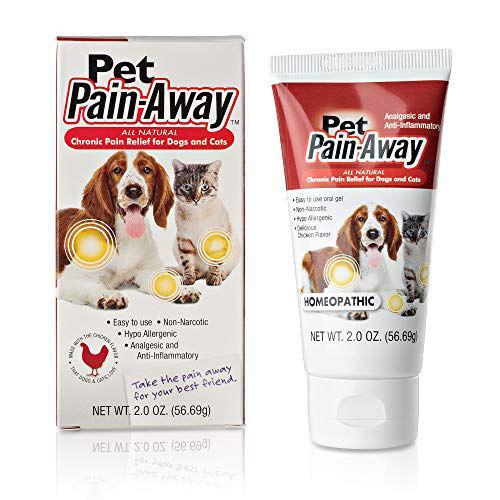 Why should pet stores stock products that are formulated to address chronic pain in pets? It's time for pet stores to offer over-the-counter homeopathic choices to relieve pain for our pets that are natural, safe and effective and don't cause harm over time with use. With the rising cost of drugs, it shows the pet store is offering a more cost effective option for its customers.
What does the future hold for Nutra Pharma's pet offerings? As this branch of the company grows, so will our offerings. We are in the process of creating a chewable medicament for cats and dogs. Right now, you place Pet Pain-away on a treat or your finger and let your pet lick or eat the treat. It has a hypo-allergenic chicken flavor that pets love.