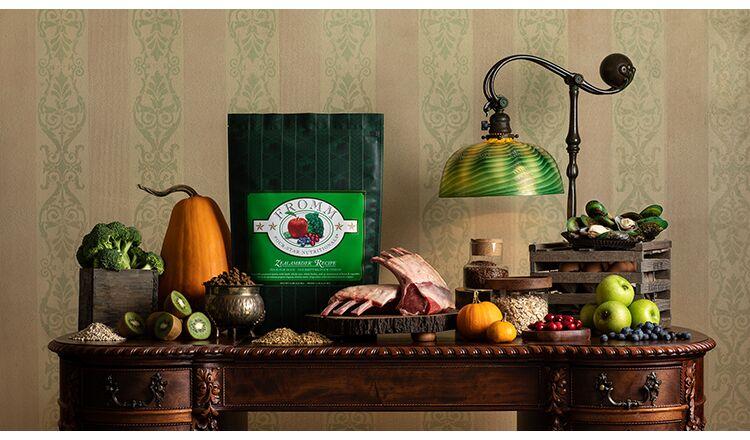 Tell us about Fromm Family Foods. What is the company's philosophy and approach to delivering safe, high-quality nutrition to pets?
Fromm Family Foods is a fifth-generation family-owned and -operated pet food company based in Wisconsin. Our history is deeply rooted in innovation. From creating the first canine distemper vaccine to pioneering the process of cooking meat and grain together to create the dry kibble that is so prevalent today, we are proud to be pioneers in the field of pet wellness and nutrition. 
Today, we continue to create and expand our variety-driven collection of complete and balanced nutrition, including dry and wet foods and treats in one of our four family-owned manufacturing facilities. Owning our own facilities allows us to have full control over the quality, safety and supply of the products we produce. Quality begins with sourcing premium ingredients and continues through our meticulous formulation process and rigorous safety measures from start to finish. From the start, Fromm has been a proud supporter of the independent channel, supporting neighborhood pet stores throughout North America.  
In October 2020, Fromm introduced Adult Gold with Ancient Grains Food for Dogs. What are some of the key features of this new formula? How does it fit in with Fromm's overall approach to pet nutrition? 
Adult Gold with Ancient Grains, first introduced in late 2020, adds another grain-inclusive adult formulation to our Fromm Gold life-stage specific line of dog foods. The new recipe offers diversity with different ingredients that offer a unique distribution of nutrients. Traditionally, grains considered "ancient" have not been changed over time through cultivation and farming and are naturally higher in fiber and richer in protein. The addition of ancient grains, including sorghum, buckwheat, spelt, millet, quinoa, whole barley and whole oats, helps to provide more complex carbohydrates that are packed with energy and may provide a dietary option that yields a better digestive match to some adult dogs.
The ongoing expansion of our Gold line helps us to continue our mission in creating variety-driven complete and balanced nutrition for dogs.
Grain-inclusive diets, in general, have experienced something of a resurgence over the past couple of years, but not all of these diets are created equal. What makes Fromm's Adult Gold with Ancient Grains recipe stand out from the pack? Why did the company choose the specific grains that are in this diet?
In a market where the demand for variety remains high, new Adult Gold with Ancient Grains provides pet parents with another grain-inclusive option that delivers ingredient diversity while providing complete and balanced nutrition to adult dogs. The life stage-specific recipes within the Fromm Gold line offer a greater variety of nutritional options for pet parents and the flexibility to test and try various recipes across all Fromm foods, including Classic and Four-Star, without digestive upset or transition time. Offering a diverse selection of diets empowers our retail partners to better serve customers who may have pets that have unique nutrition requirements, a sensitive digestive tract or have just yet to find the best option for nutrition. Whole grains are a proven and important ingredient to diets, providing energy, fiber and protein. Ancient grains offer a new platform and diversity through ingredient distribution for dogs.
How does Fromm help educate retailers and consumers who are trying to navigate the ongoing evolution of grain-inclusive diets?
In recent years, the spotlight on grain-inclusive diets has intensified, and with it, a need for education on its health benefits for dogs. In a world where grain-free nutrition has been a focus for an extended period of time, we believe that a better approach to nutrition as a manufacturer is offering variety, both in ingredient offerings and formulations. Variety allows for a longer runway for pet parents to try and determine the best match for their pets.
It's critically important for neighborhood pet retailers to be educated and informed when it relates to the brands and products they sell. As a manufacturer, with each new launch, we provide information and sales support to our distributor and retail partners. Our district managers work to stay in communication with their accounts and our customer service and nutrition/veterinary consultants are always available for questions and continued education. As a brand, we offer ISOs and sales tools, shelf talkers, etc., to help retailers raise awareness for the new products as well.  
Aside from the Adult Ancient Gold recipe, what are some of the other new introductions from Fromm over the past year? How do these products advance the quality of pet nutrition?
In 2020, we brought a number of new products to the market that further broadened our variety of cat and dog diets, as well as treats. We saw a very successful packaging update of our Gold Cat line, together with the introduction of Healthy Weight Gold—a new weight-management option for less active, overweight or senior cats. 
We focused on an expansion of our canned offerings with Purrsnickety Pâtés for Cats and Frommbalaya canned stews for dogs and added to our variety-driven Four-Star Nutritionals menu with Zealambder Recipe for dogs and Trout and Whitefish Recipe for cats. 
We also supported the growth of our fan favorite Fromm Crunchy Os treats with two new varieties: multi-grain Banana Kablammas and Pot Roast Punchers. In a market punctuated by consumer demand for variety, we are very proud that our product assortment supports the trend for diversity. At the root, we will always focus on formulation, quality and complete and balanced nutrition, but with Gold and Four-Star, we have the luxury of two platforms that let us meet the needs of our customers and the demands of the market.
What are some of Fromm's most popular products/lines? What makes these offerings resonate with pet owners?
The variety and flexibility within both our Gold and Four-Star Nutritional lines provide pet parents with a great deal of options when it comes to finding the best nutrition for their pet, while offering our retail partners a diverse collection of products to stock, sell and support their customer base. Fromm Gold allows a pet parent to seek out a life stage solution from puppy to senior and all the stages in between, while Fromm Four-Star takes a more globally-inspired, artisanal approach to nutrition. Fromm Four-Star provides various ingredient sources and formulations to help keep pets interested in mealtime through variety and rotation, or to sometimes solve for unique digestive challenges through the use or omission of proteins and ingredients. 
Today's pet parents seek out variety but don't want to sacrifice quality and with Fromm, they have the benefit of a breadth of products dedicated to both.
Fromm is well known for its commitment to supporting independent pet stores. Why does the company place so much value in this retail segment? How does the company demonstrate this commitment?
Our dedication to independent and neighborhood pet stores runs generations deep. This segment is often on the forefront of new trends, understanding the market and its demands and provides a more intimate buying experience and a deeper understanding of animal nutrition for their customer base. They are dedicated, knowledgeable, motivated and loyal to the brands they support and the customers they serve. We strive to honor this relationship by listening and working to help develop and deliver products that will satisfy the demands they're presented with in the marketplace. We're inspired by the entrepreneurial spirit and love of pets that move and motivate our retail partners each and every day.
What does the future hold for Fromm Family Foods? Do you currently have any new products in the pipeline?
We plan to continue the momentum we gained in 2020 with the introduction of more canned entrees, treat varieties and recipes within our Four-Star line. As the world begins the path toward a more familiar way of life, we are very committed to our retail base and plan to offer continued support through some virtual training and thought leadership this year.  PB