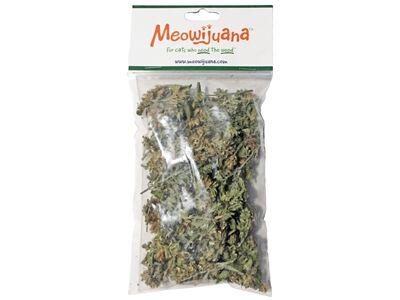 Pet Business: Tell us a bit about Meowijuana. What inspired you to get into the catnip business? 
Marc A. Adams: Meowijuana—a Catnip Company is an emerging business with a quality product that is manufactured in the USA, as well as a creative brand and marketing outlook for an otherwise underserved (and totally boring) pet industry for the 90-plus million cat-owning households in North America. The company currently carries over 20 different products like Meowi-Waui, Kalico Kush and Siamese Twinge, as well as our most popular product, Purrple Passion, which retails for $28.95 via our online store (meowijuana.com).
PB: What does the term entrepreneurship mean to you? How does Meowijuana embody those principals?
Adams:  As entrepreneurs, we see business as an extension of what drives you and where your passion comes from. For some, it's having a vision for change and meeting a need, or solving a problem in the world or building a process that makes things work and function better, faster, cheaper. For others, it's connecting with people and building relationships that are influential and inspire change for others. It's totally different for each person, which is what makes our team special, for sure.
When Meowijuana was founded and launched, the objective of the company was based on four key principles: 1) to build something among friends that we could have fun doing together; 2) to create a brand that would be considered as a household name to the markets and consumers we sell our products to; 3) to manufacture a quality product that could back the brand; and 4) to make a 'Meowtain' of cash.
PB: What is the NewCo movement? What makes Meowijuana fit into this new class of business? 
Adams: We are living in the era of the entrepreneur, where the young, the creative and the opportunistic are full of ideas for how to change the world. With a new commander in chief in President Donald J. Trump—also a self-made businessman—the pulse of America today is strong for rebuilding and growing our economy. Newly developing startup companies have a greater potential for momentum in this era than at any other time in our nation's history.
Meowijuana reflects both innovation and creativity in our catnip products, and our executive team has a history of building successful smaller businesses. Of course, we've had some really bad seasons of business and made some bad calls along the way, but we know what it takes to drive business. With the potential that we believe our brand has, we want to take Meowijuana to that ultimate level of success and have a lot of fun in the process.
PB: Meowijuana's point-of-sale display won a "Best in Show" award in the 2017 Global Pet Expo New Products Showcase. Tell us about the display. What does this type of recognition mean to you and your team?
Adams: We have two versions of our display—small and large, with the large measuring about 1.25 cubic feet. Each display has a cardboard frame with an insert that is die-cut to house and hang our most popular products. In our larger display, retailers get about 48 products, which is double the capacity of the smaller display. The outside highlights our logo and the background for our website landing page, affectionately known as 'Meowijuanaville' (coming soon).
We really hadn't planned to go to a big show like Global Pet Expo and didn't think we were ready just yet for such a large convention, so it was just amazing to see the response that we got from everyone as the conference went on. When they announced our company for best new product, I couldn't even hear us guys cheering for the swell of applause from the other people around us—it was just amazing. Over those three days, and even the weeks following, we were really pumped about what we have and where we could take this company.