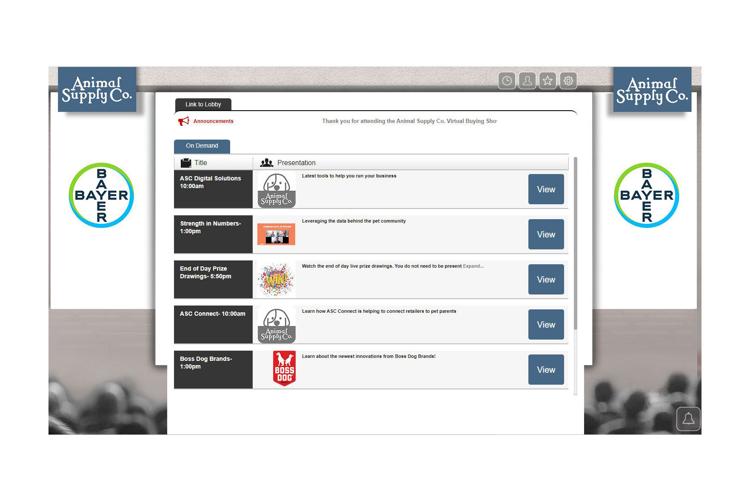 As a distributor focused specifically on the pet specialty channel, how does Animal Supply Company (ASC) view its role in driving success for its retailer partners?
In addition to helping retailers secure the latest and greatest items from hundreds of brands, we help them compete in today's multichannel and complex environment. We start by educating them about new market trends and innovative product offerings from our 365-plus brand partners. Importantly, working with us allows retailers to access the brands and products their customers want most, all in one place. At ASC, our sales team works as business consultants, bringing ideas uniquely tailored to each retailer to help their business thrive.
How has the ongoing COVID-19 pandemic affected the way ASC works with retailers? What are some of the challenges that ASC has stepped up to help its customers overcome?
Retailers have had to get creative to engage customers and sell products as a result of the COVID-19 pandemic. Because of shelter-in-place orders and social-distancing recommendations, there aren't as many customers walking the aisles of brick-and-mortar stores. Animal Supply has provided strategies and tips to help, such as guidance on curbside pick-up and home delivery, as well as resources on our website to help the independent pet industry remain resilient at this unprecedented time.
Each year, ASC hosts buying events across the country to help retailers connect with brands and get an up-close look at the latest products—events that simply cannot take place in person with the current social-distancing guidelines. How has the company adjusted to this reality?
Our retailers look forward to our buying shows every year, so we knew we needed to find a way to make them happen, even as venues around the country remain closed. The ASC Promotions and Events team partnering with the Digital team, took on the challenge to replicate the live show feel—virtually, from a computer screen. We've had three shows to date and a couple more are in the works. We were unsure how the virtual shows would be received, but the results have been amazing. Retailers loved the format, flexibility, games, contests and prizes!
What are some of the key features of ASC's virtual buying shows?
Without the hassle and costs associated with travel, more retailers have been able to attend our virtual shows. In fact, attendance is up more than 20 percent. Those who participated were able to browse and place orders 24/7, giving them extra time to spend at each booth or time to visit more booths, without needing to physically run around a busy showroom floor. The virtual show format was really intuitive and a great place for retailers to learn and grow their product knowledge and stay ahead of the trends.
During the show hours, the live chat feature allowed retailers to chat with brand representatives, learn about new products, ask questions and get their answers on the spot. And, once orders are submitted, they are processed faster. With just a click, retailers can take advantage of promos, place orders and be on their way!
While in-person events will hopefully be back in play soon, do you expect that the success of your virtual buying shows will have an ongoing impact on the way you connect brands and retailers?
Absolutely! While a virtual show doesn't replace an in-person experience, this new platform has opened many virtual doors. Even when in-person shows return, it is likely that virtual shows will be an additional offering in the future.
The success of these virtual shows is one more example of meeting the customer where they are. In today's digital world, it's more important than ever to provide customers with the option of a digital shopping experience.
What are your expectations for the pet specialty retail channel in the future? How will ASC help retailers meet and even exceed those expectations?
The specialty pet channel has a strong future ahead. The COVID-19 pandemic has only underscored the critical role we collectively play in keeping pets happy, healthy and safe. Throughout the pandemic, pet food manufacturers, distributors and retailers continued working together to produce and deliver food and supplies quickly and safely to support pet parents.
We expect technology will continue to play a more prominent role in the future of distribution. It has been a catalyst for our ability to innovate products and services we offer our brand and retail partners, and a necessity for businesses to thrive during the pandemic.
Going forward, ASC will continue helping retailers adapt to new technologies, offering secure supply chains, high levels of customer service and the ability to compete and thrive in today's ever-changing business environment.  PB