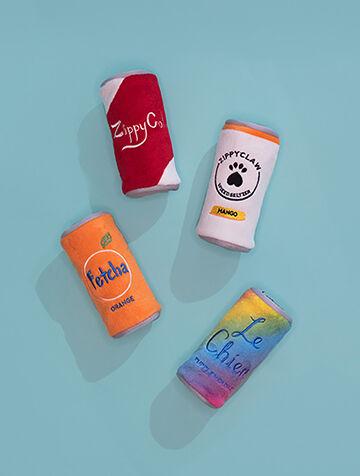 Time is a wonderfully complicated concept—while it seems unfathomable that we'll be in the 2030s in 10 years, there are still people who remember 2011 like it was yesterday. And 2011 is precisely where our story starts.
At the time, Jennifer Cao was a business student at USC and living in an apartment with her adopted Golden Retriever, JJ. However, there was one problem: Cao didn't like how unappealing JJ's dog toys were. 
"When guests would come over, Jen would be embarrassed of the toys she had laying around," explains Grant Jape, assistant marketing manager for ZippyPaws. 
Determined to increase the fashion of dog toys while maintaining their function, Cao started creating her own dog toys by tapping into her strong design background. After seeing success with her small venture, she then leveraged her family's 20 years of manufacturing in the pet industry to build ZippyPaws into the whimsical empire it is today. 
With its origins rooted firmly in fashion and function, ZippyPaws quickly evolved from fun, visually appealing toys into a large portfolio that includes bowls, leashes, accessories, wearable waste bags and more.
Given the night and day difference between 2011 and 2021, ZippyPaws recently underwent a complete brand refresh, which included a new logo and color palettes that fell in line with the company's maturation. 
"ZippyPaws has always been a brand that is about being fun and friendly," explains Jape. "However, as our tenth anniversary approached, we wanted to show how we have grown up. The rebrand was solely inspired about that idea; however, we wanted to stay true to who we are still. Our new logo and look show our true colors still, but we are just a little older now."
So, what are ZippyPaws' keys to success? A bright idea, a balance between pet parent and dog benefits, and an adaptability to change are a few. 
Expanding While Adhering to Brand Style
ZippyPaws is one of the few brands with a distinct, consistent style across its entire product portfolio. Its products are some of the most recognizable items on store shelves, and the distinctly playful designs draw the eye—and dollars. To meet the increased demand for its products, ZippyPaws invested in a new warehouse space to accommodate its growth. Its second warehouse features a whooping 25,000 sq. ft., bringing the company's total distribution center size to 100,000 sq. ft. 
"As we grow, our products are in more demand, and we are adding new product lines," says Jape. "With this growth, we need more space. Our warehouse expansion helps supply our demand and allows for more ideas when it comes to new products and categories."
However, don't think that growth has shifted the organization's priorities to mass fulfillment—ZippyPaws is constantly innovating, creating new ideas and identifying new areas of the pet market to expand into. Impressively, that flurry of innovation and constant creation never stray from the company's iconic designs. 
It's a common mistake for organizations to abandon their branding guidelines in an effort to keep up with trends and meet the increasing demand. In fact, brand recognition is so integral to success that a lack of cohesion across channels contributes to failure. It's that understanding that keeps the ZippyPaws' design, marketing and creative teams in close alignment, as part of its success is its commitment to creating products that are "fun and friendly," Jape explains.
"Our brand is a trend-setter," he continued. "In the pet toy industry, many brands essentially try to copy and paste successful products, meaning there is no uniqueness when it comes to the overall industry's products. However, we are constantly trying to create the newest design or function—it keeps us one step ahead of the competition."
Giving Back to the Community
Despite ZippyPaws' ever-growing selection of products, its plush dog toys are arguably the most iconic and noticeable. With that in mind, the organizations created several charitable initiatives around the successful softies. 
In addition to regularly donating products to shelters and organizations in the Los Angeles area, the company founded a formal charity program, appropriately called Zippy Charity. With the singular goal of enabling its customers to help dogs in need, the company partnered with organizations with similar brand values, such as Mission K9 Rescue, Paws With A Cause, Earth's Oceans Foundation, Golden Bond Rescue and Central Westcoast Forest Society. 
The program is simple: ZippyPaws designed a toy that aligns to one of the above charities' branding. Whether it's products are sold online or in-stores, ZippyPaws will donate $1 to the toy's accompanying partner organizations. At the time of publishing, the organization has sold more than 200,000 toys related to its philanthropic efforts.
Looking Ahead…
As ZippyPaws enters its next decade, its goals are still just as ambitious as the young woman with a dream. Although the nation's going through some whiplash with the ever-changing safety guidelines surrounding Covid-19, the company is cautiously optimistic it will be able to host programs that enable to interact with its customers. 
"With things opening back up, we are excited to start doing more events when it becomes safer," says Jape. "We love being able to interact with our customers and their pets, and doing branded events in the future is something we are excited for."
After spending the past decade rolling with the punches and thriving on the shelves of pet store, Jape reflects on ZippyPaws' ability to innovate with the times and maintain its brand while still delivering new and exciting products. 
Over the last 10 years, the company stayed true to its mission of providing pets with the best life possible while overcoming and adapting to all the challenges it faced along the way.
"We hope to see ZippyPaws be more successful every new decade," says Jape. "However, we approach our goals and missions on a day-by-day basis; we seize the day and plan for the next. I believe that mentality has made ZippyPaws what it is today. In the end, if we are making at least one pup happy with our products, then we are doing something right." PB