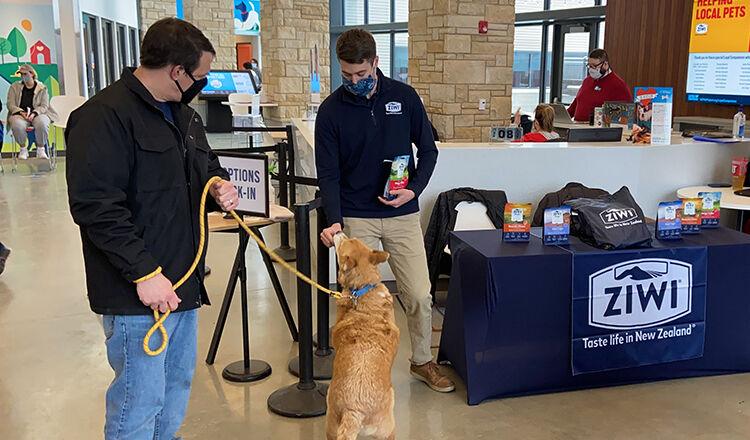 Ziwi is well-known not only for its ethical and sustainable approach to producing high-quality pet nutrition products, but also for its commitment to supporting pets and pet owners through a variety of charitable efforts. How do these two sides of the company's approach relate to one another?
ZIWI's New Zealand farmers believe wholeheartedly in "Kaitiaki," guardians of the land, sea and creatures. ZIWI puts this philosophy into our process of creating quality food for pets. We seek to create sustainability that increases the health and longevity of our communities and their pets. 
Ziwi recently celebrated its partnership with Kansas City Chiefs defensive tackle Derrick Nnadi by covering all adoption fees at a local Kansas City pet shelter called the KC Pet Project. How did the company get involved with this shelter? What did this project entail?
One of the results of the global pandemic was an increase in pet adoptions at shelters across the country. ZIWI has always supported the adoption of rescue pets so they can find their forever homes. After seeing the impact Derrick Nnadi had when he covered all adoption fees at the KC Pet Project in 2020, we knew wanted to be a part of that mission this year.
After every Kansas City Chiefs win this season, Derrick would cover the adoption fees of a dog at the shelter that was struggling to find a forever home. ZIWI then provided the adopting family with a gift bag containing several pet essentials, as well as ZIWI product for their dog to enjoy. At the end of the football season, ZIWI wanted to recognize Derrick's contribution to the pet adoption community by covering all adoption fees for the dogs at the shelter. The event was a huge success, as we were able to cover adoption fees for 88 dogs who now have their forever homes. 
What are some of the other ways that Ziwi has given back to the pet community? What are some of the charitable efforts that the company is currently involved with?
ZIWI frequently donates food to shelters for their needs in high-quality treating and training for shelter pets. We also actively participate in several non-profit fundraisers, including KC Pet Project's Hoops for Hounds event, which provides operating funds for the shelter to help them find homes for all their animals. 
ZIWI gives back to our local community. This past year, ZIWI donated more than 33,000 meals to the Kansas City Harvesters organization and sponsored a local family by providing Christmas gifts and clothing through the Angel Tree program. As we continue to grow, ZIWI looks for more ways to give back to our communities.
In addition to supporting organizations that help pets and their owners, Ziwi has long been committed to supporting independent retailers. Why is this retail segment important to the company? What are some of the ways Ziwi demonstrates that support?
There has never been a greater need to support independent retailers and local communities than during this time. Last year, ZIWI launched its new online module to help provide retailers with the training they need to better educate customers on the nutritional benefits of ZIWI. When it comes to answering consumers questions on pet nutrition, local pet food retailers are the front line of education. ZIWI has also updated its store locator, highlighting additional services neighborhood pet stores provide, including home delivery and curbside pickup. As we've seen retailers make a greater shift into the digital space, ZIWI has also provided social media kits to provide retailers with pre-developed content. We are continuously seeking additional ways to support our retailers. 
What does the future hold for Ziwi?
ZIWI will continue to be the world leader and innovator of air-dried nutrition. We are currently in the construction phase of a new kitchen that will be the largest pet food manufacturing facility in New Zealand. The new production kitchen will be fitted with the latest processing technology, capable of doubling ZIWI's current output. It will also have new air-dried technology, which will allow the development of new product lines, ensuring that ZIWI maintains its global leadership in the air-dried pet food category.  PB