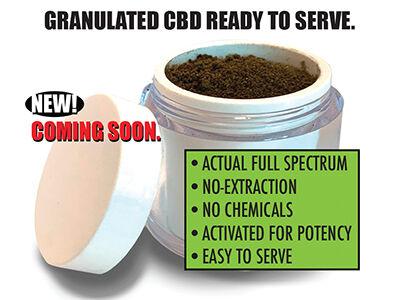 KING KANINE has been at the forefront of the CBD movement in the pet industry since it began a few years ago. What has been the key to achieving this leadership position?
I think the key has been consumer education, even with a simple product like our KING KOMB deshedding tool. Right from the beginning, we knew we had to make sure our pet-owning customers, potential future customers and retailers knew exactly who we were and why exactly we were selling the products we had. For instance, over half a decade ago, we were formulating our first pet CBD products. Nobody really knew what this was all about. I mean, just the time we spent educating pet owners that the whole "pot for pets" thing wasn't what this was all about. It took an exhausting amount of time and effort. However, I believe people noticed our passion and our love for what we were doing. I think they knew we were putting their pets first with the products we were developing. 
One of your newest products is a powder supplement that is formulated to be mixed with meals. Can you tell us a bit about this product and why it's innovative?
There is still a lot of misunderstanding when it comes to CBD. Many of us know how powerful high-quality, avidly-tested CBD products—like the ones KING KANINE makes under our KING KALM line of CBD for pets—can be. Unfortunately, there are still a lot of misinformation out there about this stuff. Even supposed industry professionals misuse certain terminology. For instance, how can you call an isolate or distillate, chemically extracted form of CBD a "full spectrum" product or even an organic product? Actually, you can't. But they do it anyway—perhaps to add value to a product they know very little about that really isn't full spectrum at all. 
You see, when you extract a CBD flower to get an "isolated" portion, you no longer have a full spectrum—you barely have a broad spectrum. If the flower and plant were more effective working in unison as a whole, why would you want to strip out part of it? 
So, we are so excited that early this year, we will be launching an actual FULL SPECTRUM, decarboxylated, whole plant, granulized or powder based, ingestible, patented CBD product.
But you sell one of the most trusted oil-based products now. Doesn't that conflict with your thoughts on the new product you're selling?
The products we sell and have sold were always at the forefront of this part of the pet industry. And yes, so many thousands of positive results, amazing reviews and what seem to be life-changing outcomes would make you think if it's not broke, then don't fix it. However, we understand that products can always get better as research and testing continue. Now, I'm not saying that the oils we sell will be obsolete; I'm just suggesting that as we advance, so can our products. 
Merchandising, marketing and customer education are still very important in the CBD category. How does King Kanine assist retailers in these areas?
We have always been aware that consumer and retailer education is most important. Even a small retail store could have hundreds of products, and employees may be more inclined to sell the products that they understand the most. This is why we want to make sure our retailers have a thorough understanding of our products, especially when it comes to CBD-based items. Marketing and merchandising are definitely ways to help a customer get instant information, but there is a fine line between shiny, sparkling packaging and good solid basic information. 
What does the future hold for the CBD category in general, and KING KANINE specifically?
The future of CBD is still vast. There is still so much to learn, and so many studies and science to be tended to when it comes to the medicinal or therapeutic power of CBD from hemp. Technology always advances, just like in any industry. King Kanine has always tried to stay in front of the curve when it comes to laboratory testing, compliances, etc. So, for us, there will be a lot more of just that. Like I mentioned earlier, the advancement of our new decarboxylated product is just one of the great things to come this year. We will also finally launch our nasal (or snout) dosed CBD, which studies show has much faster and effective absorption rate.  PB