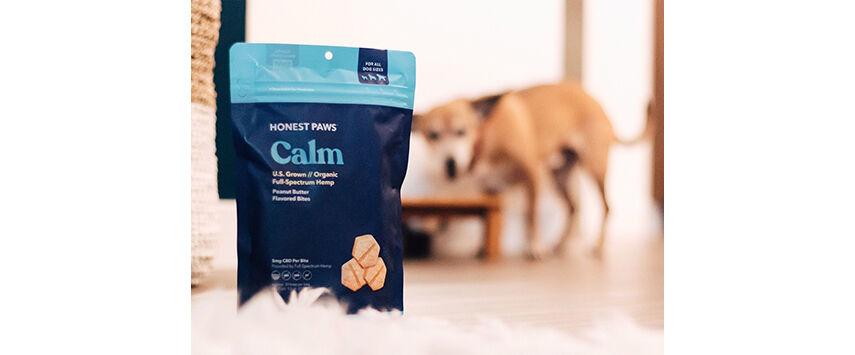 How has Honest Paws earned its place as a leader in the CBD pet products category? What is it about your approach that sets you apart in the industry? I strongly feel that becoming a leader in this category required three principals to our business model.
Firstly, we have a commitment to only offering quality, premium products developed with complete transparency. Although we offer, in my opinion, the highest-quality products in the market, our MAP pricing is extremely competitive. We have always been confident that volume is what is going to help us succeed, not short-term profits. It doesn't hurt that our products are extremely effective, resulting in an almost cult-like following as our customers are extremely committed to our brand and have become our strongest ambassadors.
Secondly, we've learned that being a leader in education was a great pathway to marketing success. From the beginning, we found it was our responsibility to teach the general public about the benefits of CBD for our pets. Several years ago, CBD simply wasn't on the radar as a beneficial compound for animals. Because of this, we knew that successfully launching Honest Paws meant we would be accountable for helping to educate the general public as effectively as possible. By offering endless amounts of content and designing programs like Honest Paws Academy, I like to think that we really helped increase the knowledge around CBD oil. As a result, I believe that many of the consumers in this space are familiar with the Honest Paws brand.    
Lastly, reputation can absolutely precede you in this industry. Always trying to push the boundaries of product quality and design while seeking new and exciting dosing methods, the company culture at Honest Paws has always been about striving to always do what's right and never compromise what the brand stands for. Internally, we have a saying that it's OK to fail as long as you fail fast and learn from those failures. This has provided our staff a level of encouragement and freedom to think outside the box. I think all of this has resulted in Honest Paws' reputation as a company that is firmly committed to our 'customer-pets' best interests.
What are some of Honest Paws' most successful products? What are the key features of these products? Although all of our products perform very strongly, our most successful products right now are the tinctures and our peanut butter products, followed closely by our bites and soft chews. I think, just because of its nature, our tincture products are very popular because they provide our customers with the opportunity to purchase the same oils we use in our other products while in their purest forms. 
Our peanut butter products are extremely popular because we use human-grade, xylitol-free, craft peanut butter that would easily sell in grocery stores for $10 a jar. The quality is amazing, and it shows. Many people don't know that CBD becomes much more bioavailable when introduced with a lipid (fat). This is why our peanut butter is so effective—and what dog doesn't love peanut butter? 
Our bites are always going to be popular because, like the rest of our product line, they have a very clean and wholesome ingredients list, and most dogs just love the flavor and texture. The soft chews are not only very effective, they are perfect for smaller dogs or older dogs with compromised dental health.
What are the newest and/or upcoming products from Honest Paws? We are actually excited about a couple things for 2020. First and foremost, we just launched our new packaging, and it was such a relief for us to learn that it was so well received. The feedback from our retailers has been amazing, so we are thrilled. 
The most important thing to know about the new packaging is that we've placed further emphasis on the different use-cases of each product by adopting a color-coded scheme. This approach makes it so much easier for our customers to quickly identify the appropriate product for their pet's needs. We've found that too many potential customers are overwhelmed by the vague packaging that we have seen in the CBD space, so we decided to push the standards for the good of the category. We're very pleased that our retailers and distributors agree, as they predict even better sell-through as a result.
Secondly, our first topical product has quickly become our fastest-growing SKU. Like the rest of our products, it is comprised of only wholesome ingredients that one can easily pronounce. Many of our customers that have already reported on its effectiveness and speed in addressing hotspots, skin issues and paw pad or snout dryness. 
What are some of the biggest misconceptions that pet owners have about CBD products? How can retailers dispel these misconceptions? This is actually very easy to answer. The biggest misconception about CBD products today is regarding the differences between full-spectrum CBD oil, broad-spectrum CBD oil, and CBD isolate. Allow me to demystify this once and for all (hopefully). 
Full-spectrum products (there are many besides Honest Paws) will always be more effective than broad-spectrum or isolate products.  You see, in an effort to strip out the remaining 0.3 percent of THC in full-spectrum oils (which is absolutely miniscule and legally unnecessary), broad-spectrum oils are unfortunately stripped of much of the cannabinoids and terpenes that are needed to produce an effective result. Isolate products are even less effective, although cheaper. I tell potential retailers all of the time, "Whether you go with Honest Paws or another brand, choose one that uses full-spectrum CBD and don't look back."
What does the future hold for the CBD category? Has it peaked, or is there still room for this trend to grow? I think the future of this category is going to be very interesting to see. The data shows that this category is far from peaking. To put things in perspective, we still meet retailers today that are just now starting to consider offering CBD products in their stores. That said, the landscape will develop into something very different from what we see today. As the category progresses, many of the smaller CBD brands that have tried to enter the market with generic products (we see a lot of white label clones of the same products in different packaging) will eventually dissolve. Competition produces a relentless demand for improvements in quality and innovation, and many of the new or smaller brands will have difficulty weathering such a storm. As a company, we try to only focus on the things that are within our control, like pushing ourselves to continue producing category-leading products that present CBD as the effective compound that it truly is.  PB