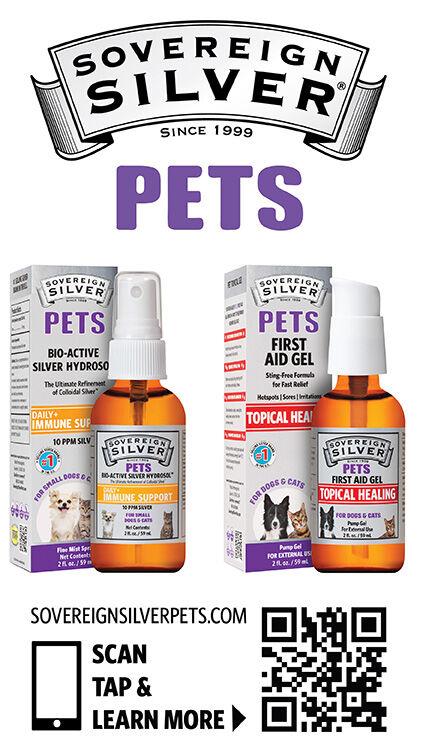 Tell us about Natural Immunogenics. What led Stephen Quinto to start the company back in 1998? What types of products do you offer?  Sovereign Silver's founder, Stephen L. Quinto, became familiar with silver's antimicrobial properties in 1967, when searching for non-chemical methods to keep his swimming pool water clean.  In 1997, he began researching colloidal silver for immune support and developed a unique manufacturing process capable of releasing silver into miniscule particles, at the nano-size, with a perfect and uniform dispersion for ease of absorption into, and elimination from, the body. This unique form of colloidal silver is referred to as Bio-Active Silver Hydrosol™, due to its exceptional virtues, in addition to its extreme quality and purity.  Sovereign Silver PETS' product portfolio currently includes Bio-Active Silver Hydrosol for Daily+ Immune Support, and a First Aid Gel for Topical Healing.
What makes Natural Immunogenics stand out in a very competitive healthcare category? How does your approach differ from other companies? Sovereign Silver Bio-Active Silver Hydrosol™ has been the #1 selling silver supplement for immune health* in the U.S. since 2005.  Our proprietary manufacturing process creates the smallest silver particle size seen with a Transmission Electron Microscope, as also verified by third parties.  Smaller particle size equates to easier absorption in, and excretion from, the body.  This means we can keep our silver hydrosol at a low, 10 ppm (parts per million) concentration for safety, and provide improved efficacy over higher ppm products.  Our PET products are extensively tested by third-party laboratories for absence of Aflatoxins, Fumonisins and Vomitoxins, in addition to our standard complete microbial panel, including Salmonella spp, Staphylococcus aureus, Pseudomonas aeruginosa, Burkholderia cepacia complex, clostridium spp, yeast and mold, total coliform count and Enterobacteriaceae counts, to make sure it is safe for your pet. This makes Sovereign Silver the industry leader in both safety and efficacy.  Our Good Manufacturing Practices are regularly audited by several Notified Bodies such as NSF International and NASC among others—our company is fully certified for conformance with U.S. and international regulatory standards.  We operate under the highest standards of integrity and are proud to be able to contribute to making a difference in people's and pets' lives.
How does Natural Immunogenics' Sovereign Silver help support the health of pets?  Sovereign Silver PETS Bio-Active Silver Hydrosol™ helps support a healthy immune system. The product may boost your pet's innate resistance to pathogens and relieve seasonal allergies. Virtues of the product go as far as promoting periodontal health by supporting healthy teeth and gums.  
Sovereign Silver PETS First Aid Gel helps accelerate healing up to three times and minimize scarring by up to 80 percent—all while fighting minor skin infections, reducing pain and calming inflammation.  This multi-action gel soothes and relieves common minor pet skin irritations such as paw burn, hotspots, sores, cuts, scrapes, bug bites, and skin eruptions from minor infection. It's non-toxic, safe if licked and has no known side effects when used as directed. The non-greasy, odorless, transparent formula will not stain and is perfect for all breeds of cats and dogs and skin types.  
How does Natural Immunogenics educate retailers and consumers about the benefits of its products?  To support retailer sales and marketing efforts, we offer expert training on our products through professional agencies, such as ExpertVoice, which gives retailers the information they need to educate their customers on the benefits of the products.  In addition, we actively participate in industry trade shows such as SuperZoo; educate through both print and digital media, and build customized marketing and educational material as needed. 
What does the future hold for Natural Immunogenics? The future is very bright for Natural Immunogenics, and in particular Sovereign Silver PETS, as the market for vitamin and mineral supplements remains strong and is forecast for continued growth. Minerals are being rediscovered by more and more people seeking natural ways to take control of their health and the health of their pets.  You can't find more natural supplements than minerals.  PB