Giving back is an excellent way for any retail business to create goodwill in its community. Whether it is through monetary or in-kind donations, opportunities abound for pet retailers looking to support causes and organizations close to home. With that in mind, Pet Business asked pet store owners around the country to share the ways in which they support their neck of the woods. 
Pet Business: What type of community services or charitable efforts does your company take part in and why?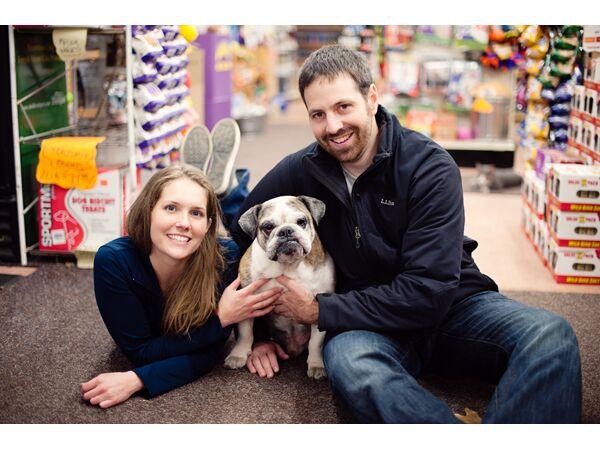 Sarah Sutherland and John Munshaw
Very few advertising promotions compare to the goodwill and acknowledgment Sutherland's PetWorks receives from donating or sponsoring local events.
Our community is very passionate about supporting each other, including families in need, returning veterans and homeless animals. We enjoy supporting the people and families that support Sutherland's PetWorks, and it puts our name in front of people who aren't yet customers.
We offer gift certificates and logo items for raffles, and prizes at fundraisers for youth programs, animal rescue organizations and families in need. We donate pet food and supplies when animal rescues need assistance. During store events, we actively try to include community organizations, even if they are not animal related—for example Boy Scouts have sold baked goods at our Halloween party.
Our staff is also active in the community; we encourage it and allow time off whenever possible. They are productive and in good spirits when they have been able to participate in something they are passionate about. It's really a win/win for us. If we are capable of supporting a community event, we will.
— Sarah Sutherland, co-owner of Sutherland's PetWorks in Hudson Falls, N.Y.
At Pet Kare, we know how much time and effort it takes to care for pets, but sometimes it's also about the people who take care of them. For the past 11 years, we've worked with the Delaware Autism Program, the Brennen School and the University of Delaware to provide job training and real work experience for young adults with learning difficulties seeking to enter the workforce and gain some degree of independence. They do a variety of tasks for us, including putting away stock and caring for all types of animals. These exceptional young people not only expand their job skills, and enjoy every moment, but they inspire us daily with their unfailing positive attitudes.
— Allison Brown, owner of Pet Kare II in Newark, Del. 
Jett and Monkey's Dog Shoppe, located in Des Moines, Iowa, proudly participates in our community in several ways throughout the year. Since the store opened in 2009, Jett and Monkey's has donated thousands of dollars in products and gift certificates to numerous local charities, found homes for over 200 dogs, and donated thousands of hours volunteering for pet and neighborhood organizations. We firmly believe giving back is something everyone, as a company or individual, should strive to do because of the benefit to our community.
Our contributions to local charities help raise funds for needy pets and community causes. Jett and Monkey's has given major donations to major events for Animal Lifeline of Iowa, Animal Rescue League and the Historic East Village. We also give to many smaller organizations and host events, including adoption and learning seminars. We give preference to pet or neighborhood causes.
We are very active in local rescue and neighborhood organizations. September marks the third anniversary of [co-owner] Jennifer Kluesner's volunteering as a foster parent for several local rescue organizations, including FluffyButts Rescue and A Heinz 57 Pet Rescue. She has housed, trained and placed over 215 dogs over the past three years. Outside of her store duties, she can be found running a foster [pet] to the vet or adapting [rescue pets] to new surroundings. Her top priority is the welfare of her fosters—and her own pets—and she has always been willing to help a pet in need.
 [Co-owner] Josh Garrett has been involved in the Historic East Village neighborhood and merchants association. He served as on the board since 2011, including president from 2012-14, and was recently re-elected for another three-year term. From working on its website to helping raise funds for Christmas lights, Josh believes his work to make his neighborhood stronger is a win for our community and a win for Jett and Monkey's.
We also plan the annual Historic East Village Spooky Paws Parade. In its fourth year, the parade continues to grow and has become a tradition on the Sunday before Halloween. Last year, over 200 furkids and their parents dressed up for the festive holiday. As one of our favorite holidays, the Spooky Paws parade is a treat for neighborhood visitors and customers alike!
— Jennifer Kluesner and Josh Garrett, owners of Jett and Monkey's Dog Shoppe in Des Moines, Iowa.
My name is Norm Shrout, co-owner of Long Leash On Life, a health food store for cats and dogs in Albuquerque, N.M. Ken Wormser and I opened our store, in June of 2006 in a pet-friendly town where the local pet parents really want the best for their cats and dogs. To best service them, Long Leash On Life takes pride in offering the healthiest pet products along with education about proper nutrition, positive training methods and meaningful enrichment. Interestingly, many of our customer's pets are rescues—dogs and cats that survived the stress of the rescue system, only to come out winners on the other side. These pets must think they hit the jackpot by finding a loving home.
As adults, all of our personal pets have been good old-fashioned rescues—at least one from every city we've lived in over the last 25 years. We've enjoyed the company of many a mischievous mutt and several cat companions along the way. Similarly, many of our customers are passionate about finding homes for stray pets. This leads to a high percentage of customers becoming fosters and heavy into rescue. It gives Ken and me great satisfaction to walk hand-in-hand with many dedicated rescue organizations helping find homes for the less fortunate misplaced local pets. This is one of the major reasons Long Leash On Life initially got involved in charitable giving.
Here is brief synopsis of some of the community service and charitable efforts in which Long Leash On Life participates:
• Presenting hand-crafted custom gift baskets to fund-raising events.
• Donating life-saving pet oxygen masks to multiple fire departments.
• Supplying pet food to four local pet food banks.
• Sponsoring a portion of the Mayor's Ball, an annual event to increase spay/neuter awareness and generate funding for the city Animal Welfare Department.
• Contributing to the American Cancer Society local chapter.
• Becoming a major supporter of Animal Humane New Mexico, including sponsoring an agility field and its Project Humane Get Acquainted Room.
• Supporting the efforts local search and rescue organizations.
• Providing annual donations to smaller local rescue organizations, especially those with no corporate sponsorship.
• Offering pet food coupons to senior-living communities.
• Supporting local organizations with their fundraising activities including schools, breed clubs and human/pet health fairs on local Pueblos.
• Participating in local events, cat/dog shows and open houses to help educate pet parents about better ways to care for their cats and dogs.
• Hosting the annual Long Leash On Life To the Rescue! Massive Yard Sale & Pet Adoption Event, which is a fundraising yard sale extravaganza and dog adoption event that also raises awareness about how local rescue organizations are helping with pet overpopulation.
Across the country, the law states that animals are possessions, but we all know that pets are family, enriching our lives in a wonderful and healthy way. How can we ever repay them for our improved mental/physical health and the unconditional-type love they provide? Not surprisingly, surveys show that pets rank higher than most family members in overall importance. To us, that speaks volumes. Doesn't every homeless pet deserve the opportunity to find a forever loving home? That's a big reason why Long Leash On Life steps in to support the dedicated efforts of local rescue organizations and shelters in New Mexico.
— Norm Shrout, co-owner of Long Leash On Life in Albuquerque, N.M. 
Happy Retales gives all net profits to six local no-kill pet rescues and a low-cost spay/neuter clinic, located here in Middle Tennessee. Adoption, along with educating the community of the importance of spaying and neutering their pets, is our purpose and mission. With rescues, we promote and sponsor events and adoptable animals through our advertising, Facebook page and in-store meet/greet events. Our staff is made up of the rescue volunteers. This gives the rescues ownership and direct contact with the community in a retail setting. 
Our store gives customers the ability to take care of their pets with healthy holistic products and supports animals in need at the same time. We usually have a foster dog or two in the store from the rescues to meet and greet people as they come in. The dogs also help draw in potential pet owners that may not have come in the store previously. This is yet another way for customers to connect with the rescues. Additionally, we have a donation jar that we feature a special-needs animal from one of the rescues on a monthly basis. People love to put their change from purchases in the jar and directly see an animal they are helping—children especially love this to start the conversation of giving to others.
— Kimberly Kelly-Thompson, general manager of Happy Retales in Brentwood, Tenn.