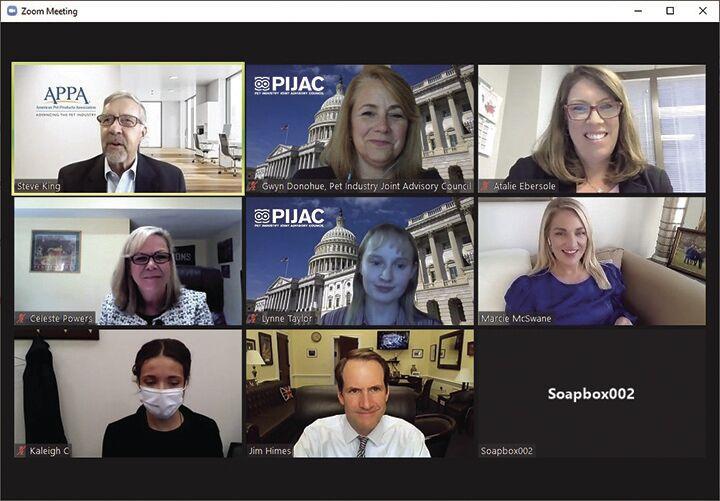 Even though online events became commonplace during the ongoing COVID-19 pandemic, we at the Pet Industry Joint Advisory Council (PIJAC) had hoped for a return to an in-person Pet Care Community DC Fly-In in 2021. The experience of coming together on Capitol Hill, meeting your peers in the responsible pet care community, and discussing issues that impact pets, pet owners and pet-related businesses in face-to-face meetings with lawmakers and their staff is truly powerful. 
Alas, the halls of Congress remained closed to public visitors as the fall date for the fly-in drew near, so we once again held an online event. On Wed. Oct. 20, over 60 members of the responsible pet care community powered up and logged in, then got to work talking about their personal stories and the incredible power of pets with Capitol Hill decision-makers. 
The passionate pet professionals who participated in the 4th annual Pet Care Community D.C. Fly-In hailed from 21 different states, representing constituents of 57 House and 42 Senate districts. This group was larger and held more meetings—nearly 100—than during the 2020 virtual fly-in. 
Their message to the elected officials was that pets are more important than ever for human mental and physical health and well-being. As people dealt with pandemic-related stress and social isolation, pet ownership surged. The American Pet Products Association reported that over 11.38 million U.S. households added a new pet in 2020 after the pandemic began.  
Issue Focus
This year, decreasing threats to human and animal health were at the forefront of the issues discussed in the meetings. The Preventing Future Pandemics Act, which focuses on the study, detection, and mitigation of zoonotic threats nationally and internationally, was again on the agenda. It would provide for oversight to protect the health of pets, their owners, and the public from the dangers of illegal imports while ensuring the availability of healthy pets. 
The Healthy Dog Importation Act would discourage illegal importation of dogs by establishing importation protocols including veterinary exams, immunizations, and more. There has been an increase in dogs imported into the United States with rabies (including the canine variant that had previously been thought eradicated in the U.S.), canine flu, screwworm, brucellosis and other infectious diseases. With over 1 million dogs imported into the U.S. annually, according to the U.S. Centers for Disease Control and Prevention (CDC), this increased oversight is critical to help prevent future health crises, and to protect human and canine health. 
The Ocean Shipping Reform Act of 2021 addresses long-standing problems with shipping regulations, which are causing availability and prices of materials and products to surge, putting hardships on companion animal owners and those who provide essential services to them. The bill would help control the prices of pet related products, and help ensure families could afford to care for their pets and businesses could serve their needs.  
Finally, as children returned to the classroom this year, we were even more committed to promoting forthcoming legislation to direct the Department of Education to study allocating funds to organizations that facilitate companion animals in schools. The physical and mental benefits of animal-assisted interactions are more important now than ever to youth who are still coping with pandemic-related stress.   
Making an Impact
This year, we were also happy to be able to thank the lawmakers for their support of the Puppies Assisting Wounded Servicemembers (PAWS) for Veterans Therapy Act, one of the issues fly-in participants advocated for last year. PAWS directed funds to programs that connect veterans with service dog providers, and President Joe Biden signed it into law in August. 
We are grateful for the dedication of all the retail business owners, product suppliers, animal caretakers, veterinarians, pet trade group leaders and many more members of the responsible pet care community who participated in this year's fly-in. If you haven't yet been part of a fly-in, we urge you to join us in voicing the power of pets to lawmakers next year, whether it's in person or again online. 
Developing relationships with lawmakers isn't just an opportunity to take advantage of once a year. We at PIJAC can help you connect with your elected officials all levels of government all year long. Contact us at info@pijac.org or 202-452-1525, and join us at pijac.org/join to stay informed and add your support as we work to protect, strengthen and advance the pet care community. PB
Gwyn Donohue is the Pet Industry Joint Advisory Council's Vice President of Communications.