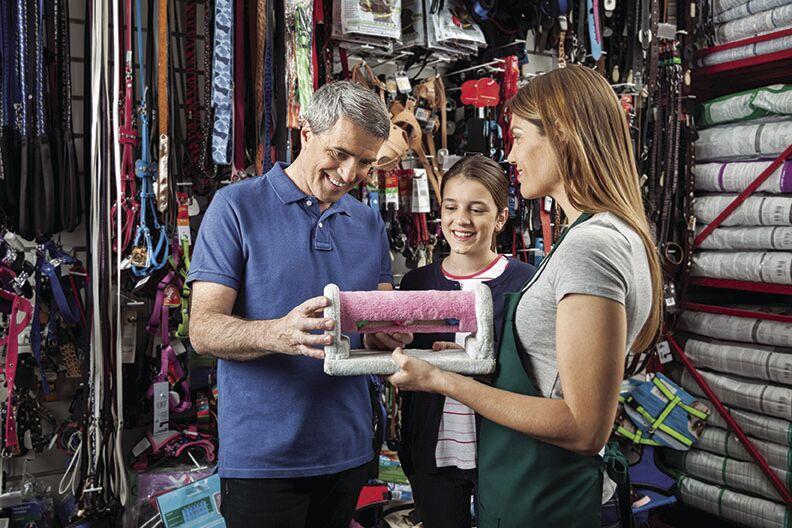 Pet Store Pro will celebrate its 15th anniversary at Global Pet Expo 2023. The program was introduced by the distributor members of the Pet Industry Distributors Association (PIDA) in 2008 as a free online platform that would directly benefit pet stores (and their customers). At the time, PIDA hoped that Pet Store Pro would evolve into one of the leading educational online portals for pet store training. We've since invested more than $3 million into the program to achieve that goal. 
Pet Store Pro was developed to help independent retailers get an edge over eCommerce, mass merchandisers and big-box stores by providing them with access to the same type of specialized learning resources that their larger competitors receive. Launched with nine courses focusing on business basics and pet care for entry-level employees, the curriculum has since grown to more than 30 associate- and management-level courses and remains 100 percent free, thanks to continued full funding by PIDA. 
What does "continued full funding" mean? Although Pet Store Pro is free to pet retailers, it requires considerable financing to maintain, improve and expand. This is not a one-size-fits-all retail education, nor is it a one-and-done investment. Pet Store Pro is supported by PIDA's revenue from Global Pet Expo. The sidebar highlights how those dollars have been used to keep the program relevant and up to date.
Pet Store Specific
Pet Store Pro operates on the principle that people shop at small specialty stores for expert, knowledgeable service they can't get from corporate stores or online. Fact-based content applies to any type of pet retailer. Lessons include examples that relate specifically to pet stores, so employees can quickly put what they learn to use.
There are a number of generic retail training courses available online, which range in price from free on up. None are specific to the most specialized of specialty retail businesses, which promote the health and happiness of living creatures that customers consider to be part of the family. Pet Store Pro was designed to help new hires make a great first impression on pet parents right out of the box.
Only Pet Store Pro offers a full slate of universal core competency training expressly geared to the pet industry, complete with monitoring, assessment and other administrative tools—all for free. The curriculum teaches basic skills that all pet store employees need to master, whether they work at a full-line store with live animals or a specialty boutique. Optional courses can be assigned based on what your store sells and the expertise that your team members want or need to learn. A manager track was developed for store owners, managers and sales associates who are ready to take on more advanced responsibilities.
All Mapped Out
A 30-course curriculum may initially seem daunting to busy pet store owners, many of whom are chronically overstressed and understaffed. In fact, our market research shows that the most difficult task for training managers is determining which courses their employees should take. That's why we literally mapped out a general training plan to help you get started. 
Separate Associate and Manager Curriculum maps were created to graphically depict the structure and sequence of each curriculum. Each lists four top-line courses to study first, the recommended order in which to complete them and the estimated time they will take to finish. Optional courses for each core track are listed beneath. Clicking on a course name leads to the course description for quick review. Of course, you can also customize lesson plans any way you choose. 
Pet Store Pro's management-level Training for Success course outlines the process of implementing a consistent, structured training program in detail. The step-by-step guide features best practices and lessons learned from real pet store owners who have made the program an integral part of their onboarding and ongoing education processes. "Quick Start Cheat Sheets" walk trainees and administrators through their Pet Store Pro dashboard, click by click. 
Our Survey Says?
Those are just a few examples of actions we have taken in response to user feedback and needs assessments that PIDA conducts with Pet Store Pro's eLearning development partner, BlueStreak Learning. A significant portion of Pet Store Pro's annual budget is dedicated to continuous improvement. We truly value and regularly seek—and implement —user, expert and editorial input. 
In response to our latest needs assessment, PIDA has established a regular maintenance cycle for Pet Store Pro's entire curriculum. The schedule will initially focus on courses with the highest enrollment. Pet Store Pro's flagship Customer Service & Sales course was updated last year to better reflect National Retail Foundation skill standards and we launched a new management-level course, Managing Customer Service & Sales. 
This year, our Merchandising Fundamentals course was updated to include more current photos and captions to guide store associates. Currently under review is Pet Retail Basics. A big thank you to Nancy Guinn of Dog Krazy Inc., Jeff Jensen of Four Muddy Paws and Johannes Pichler of That Pet Place for their time and expertise evaluating the course, which is being edited and enhanced according to their input. To discuss becoming a volunteer reviewer, contact PIDA at info@pida.org.
Training is an ongoing process that requires time and commitment but pays off fast. The stronger the staff, the stronger the retailer. As the direct link between products and consumers, strong retailers are key to the industry as a whole. PIDA's investment in Pet Store Pro is really an investment in you. Use it to your advantage!  PB
Celeste Powers, CAE, is the president of the Pet Industry Distributors Association (PIDA). PIDA's mission is to enhance the well-being of the wholesaler-distributor, to promote partnerships with their suppliers and customers, and to work cooperatively in fostering the human/animal bond.