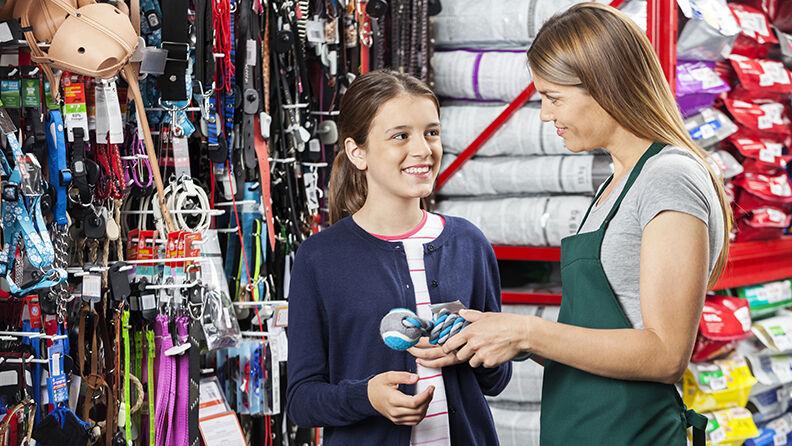 A wise pet retailer once said, "The more you know about pets, the better you can sell their food, treats and toys." Even if you don't keep live pets in your store, your associates should learn all they can about the real end users of the products your store sells. This is especially true for independents, who differentiate themselves from their larger, better-known competitors with expert staff and exceptional customer service. 
People shop at independents to make important choices, such as the right starter pet for their children, substrate for their fish tank, or flea and tick medication for their dog or cat. They come to your store expecting to get the best advice. The more knowledgeable your employees are, the better service they can provide—and there's a lot for them to learn! 
Pet Store Pro quickly gives your associates a solid understanding of basic pet care and behaviors so they can help customers diagnose problems and take better care of their own pets. 
Used alone or to supplement additional employee training, Pet Store Pro is a cost- and time-efficient way for busy pet store owners and their staff to hit the ground running. The free online program was developed by the Pet Industry Distributors Association (PIDA) to help small independents compete with e-commerce and big-box stores by providing access to the same kind of specialized training resources that larger organizations receive. 
Pet Store Pro's pet care expertise curriculum track teaches in-store care for nine pet categories—birds, cats, dogs, freshwater fish, lizards, saltwater fish, small animals, snakes, and turtles and tortoises — and how to communicate their basic needs to customers. Each course is designed to help your team:
• Explain how to keep pets happy and healthy.
• Help customers make the right selections.
• Boost equipment and add-on sales.
• Give in-store livestock the proper care.
Convenient Format
Working one-on-one with every employee to cover every section and pet category in the store is a time-consuming process that makes it easy for information to fall through the cracks. Pet Store Pro lets everyone who works for you learn skills quickly by delivering consistent information in a modular format that's easy to digest. 
Each of Pet Store Pro's nine animal-specific courses are divided into sections that are designed to be completed in 30 minutes or less. Associates can study independently from a computer or tablet whenever and wherever it works best. The program tracks and bookmarks where students are in their assignments so if they don't finish a section during their allotted training time, they can go back and pick up where they left off. You can customize training and refresher sessions that focus on your store's particular needs.
Topics cover how to identify potential health issues, feeding and nutrition guidelines, housing requirements, cleaning and sanitation, and socialization and grooming. Each course also includes a customer equipment checklist and overview of common groups, species, and breeds. 
To review Pet Store Pro's complete associate training curriculum and individual animal-specific courses, including total estimated completed times for each course, go to the Pet Store Pro home page and select "Associate" from the Courses pull-down menu. Clicking on a course name will take you to the course description.

Engaging Content
Your employees can use the knowledge they gain to generate discussions with customers on the sales floor and increase their confidence when selling. Pet Store Pro's Dog Care course, for instance, teaches how to visually inspect a puppy for common parasites, how to treat them, and what to do to prevent further infestation. Knowing what to look for helps your associates ask customers the right questions in order to diagnose their pet's problems and recommend solutions.
Learning the general characteristics of common pet species and breeds gives your team talking points to engage with customers and fuels opportunities for suggestive selling. Pet Store Pro's pet care curriculum explains the factors to consider when helping customers select a pet or pet product, such as size, temperament, suitability for households with children, housing needs, grooming and exercise requirements.
Dogs, for example, have been classified into groups such as herding breeds, hound breeds, sporting breeds, toy breeds and terrier breeds. Herding breeds are intelligent and bred to work hard. They need lots exercise and toys or other things of interest to stay mentally and physically healthy — so don't forget to show their pet parents what's new in stock!
Free employee training from Pet Store Pro gives busy owners the time and resources to make sure that critical tasks, like in-store pet care, get done right. Even if your store does not sell livestock, Pet Store Pro's animal-specific pet care curriculum gives your team a knowledge base to help customers find the solutions they need for happier, healthier pets.
Since its launch in 2008, more than 39,407 pet store owners, managers and sales associates from more than 7,573 stores have used Pet Store Pro to train for success. The program has expanded to offer more than 30 associate and management-level courses and remains 100-percent free, thanks to continued full funding by the distributor members of PIDA. Visit www.petstorepro.com to learn more. PB