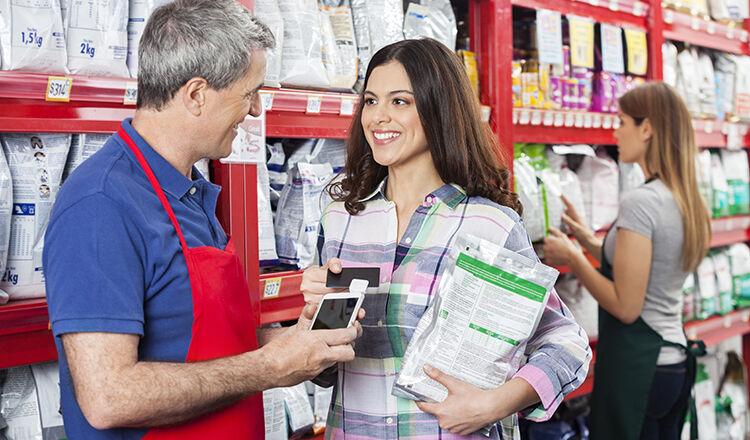 If you're an independent brick-and-mortar retailer who scrambled to shift your sales online and set up curbside pickup and delivery services last year, it's likely that employee training took a backseat to all your other challenges. But, now that a light is starting to appear at the end of the tunnel, shoppers will hopefully soon return in force to their local small businesses like the long-lost friends that many of them are. 
A knowledgeable, friendly staff that can engage with customers about their pets is what makes shopping in person at stores like yours worthwhile. To help you prepare for better days ahead, Pet Store Pro spent the bulk of 2020 making it easier for busy retailers to kick an effective employee training program into gear.
Pet Store Pro (petstorepro.com) was developed by the Pet Industry Distributor's Association (PIDA) to help small independents compete with e-commerce and big-box stores by giving you access to the kind of specialized educational resources that larger organizations receive. The free program offers a wealth of online courses designed to make sure that everyone who works for you has the skills they need to differentiate your business from big-box stores, provide an excellent shopping experience, sell more products and build a loyal customer base. 
New Curriculum Maps
With more than 30 associate- and management-level courses to choose from, it can be hard to know where to start. In fact, in a needs assessment conducted by BlueStreak Learning, Pet Store Pro's eLearning development partner, training managers confirmed that deciding which courses to assign to employees is their most difficult task. 
"Most of those we surveyed said they just assign all of them at once," says Jennifer DeVries, BlueStreak Learning president and chief solutions architect. "But that just transfers the struggle to the student." 
In response, a new, graphic Associate Curriculum map was created to make it faster and easier to build a general employee training plan. The map lists four core courses to start with, the recommended order in which to complete them and the estimated time they will take to finish. These topline courses—Zoonotic Disease Prevention, Pet Retail Basics, Basic Customer Service & Sales and Merchandising Fundamentals—teach skills that all sales associates need to know, whether they work at a full-line pet store with live animals, an aquatic shop, a farm-and-feed store or a specialty boutique. 
Optional courses for each core track are listed beneath. These cover skills that only certain associates need. Training mangers can determine which to assign based on the pets and products your store sells, any specific challenges that your store faces and the experience levels of your individual trainees. For instance, you can assign the Cashier Service Basics course to an employee who needs to develop better register skills. Plus, you can assign the individual pet care courses listed in animal-specific section—such as Small Animals, Lizards, or Fish—for the different types of pet products you sell in your store. 
A separate map was also created for Pet Store Pro's Manager Curriculum. The four core tracks for manager training include Business Basics, Manage Your Team, Grow Associate Sales and Maintain & Grow Your Customer Base. 
To review and download the curriculum map, go to the Pet Store Pro home page and select it from the "Courses" pull-down menu. Clicking on a course name will take you to the course description—you no longer have to repeatedly pull down and scroll over to learn more about a course. You can also print the maps to use as a reference when explaining course assignments to trainees. Of course, you still have the option to customize lesson plans and assign refresher courses in any sequence you choose. 
Estimated Completion Times
The estimated time to complete each course and test are now included with the course descriptions to help you set realistic deadlines. Allowing too much time to complete assignments may create the impression that the lessons aren't important, while too little time will leave students overwhelmed. It's best to assign just a few courses at a time and stagger the deadlines for each assignment. You can adjust deadlines based on the complexity of the topic, the amount of time an employee can spend on training and how quickly the individual reads and learns.
Keep in mind that every Pet Store Pro course is divided into sections designed for students to complete in 30 minutes or less. The program tracks and bookmarks which sections of each assignment are complete, so trainees can go back and pick up where they left off. 
"This creates motivation by showing them how far they've come and how far they have left to go," says DeVries. 
To reduce the tendency to "set them and forget them" when it comes to deadlines, Pet Store Pro will now send reminder emails every 30 days to students who have started a course assignment but haven't logged onto the program since. After six months, the employee will be asked to complete a short survey to find out why. 
"Life gets busy, priorities change and it can be challenging to get everything done," says DeVries. 
A separate survey will be sent when a course is complete. 
Continuous Improvement
Data from the surveys will be compiled and used for continuous program improvement. PIDA has continued to invest in Pet Store Pro over the years to expand and enhance the program. A best practice in education is to look for patterns and act on them, so Pet Store Pro regularly seeks user, expert and editorial input to keep the program relevant—and free. We truly value your feedback!
Since its launch in 2008, more than 35,591 pet store owners, managers and sales associates from more than 7,392 stores have used Pet Store Pro to train for success. The program has expanded to offer more than 30 associate and management-level courses and remains 100-percent free, thanks to continued full funding by the distributor members of PIDA. Visit petstorepro.com to learn more.  PB