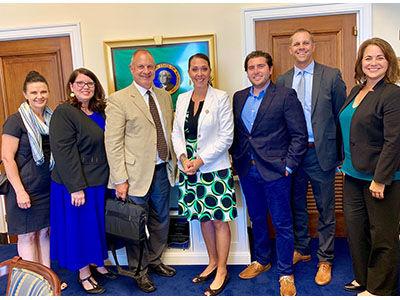 While many things in the world have changed this year, one thing has not—the importance of communicating with elected officials about the power of pets. PIJAC is committed to protecting the health and safety of our fly-in participants, Members of Congress and their staff, and everyone they come into contact with, so this year, in order to help mitigate the spread of COVID-19, the Pet Care Community DC Fly-In will be held as a virtual, online event.
Earlier this year, lawmakers heard the responsible pet care community when we came together to advocate for keeping pet supply and care businesses open through pandemic closures so that Americans could continue to care for their hundreds of millions of beloved pets. Demand for pet companions is surging as our population copes with the negative impacts that come along with months of social distancing. It's never been more important to carry the message to Congress that pets have a positive impact on humans' emotional and physical health and well being.
While we all know the power of making a face-to-face connection, we are in unprecedented times, so we will be scheduling video meetings. You'll be able to build relationships with lawmakers from the safety of your home, office, store or other socially-distanced location. You won't have to take on travel expenses or leave your community, and it will only take a few hours—not days—away from your day-to-day business operations.
You will be bringing your personal stories and messages to the lawmakers who are making decisions on issues that could significantly impact your business—including trade tariffs, animal importation, environmental policies and more. During past fly-ins, participants have spoken in their meetings about legislation including the Pet and Women Safety Act (PAWS) and the Puppies Assisting Wounded Servicemembers Act (also PAWS).
In 2020, we will again focus on a few key issues in our meetings, including protecting public health through animal importation regulation and oversight and the importance of continued support and funding for both PAWS Acts. There will again be guest speakers and advocacy training before the video meetings. We'll be sharing updates on political, regulatory and legislative developments and how they could affect you and your business, and other information on the role and value of pet ownership in the U.S.
There's no cost to participate in the virtual fly-in. PIJAC does all the preparation work for you, including scheduling the meetings, drafting and providing talking points on the issues, and developing the materials for you to send to lawmakers electronically.
For those of you who've participated before, you may be wondering about the annual Pet Night on Capitol Hill reception that is held the evening of the fly-in. That event has also been converted to an online event, Pet Week on Capitol Hill. Hosted by the Human Animal Bond Research Institute, it has now been expanded to a three day event from Sept. 8-10.
The online Pet Week format features expert guest speakers sharing insights on the importance of pet ownership and scientific evidence that demonstrates how policies that strengthen the human-animal bond can improve well being for both people and companion animals. The schedule is still being developed, but there will be Members of Congress, industry leaders, the veterinary community, animal welfare advocates and research organizations. You can get the latest Pet Week news at petnight.com.
Your support, as constituents of the lawmakers who make decisions that impact pets, pet care and pet businesses, is essential. Your personal stories of who you are, what you do and how laws affect you, your family, your business and your community make our issues relevant.
Register today for both the Pet Care Community DC Fly-In and Pet Week on Capitol Hill at pijac.org/dcflyin.
Don't forget that PIJAC is here to help you advocate for your interests as a member of the pet care community with all levels of government all year long. We encourage you to join as a member at pijac.org/join to actively support the power of pets, safeguard your business and stay informed as we work to protect and strengthen the pet care community.  PB
Gwyn Donohue is the Pet Industry Joint Advisory Council's Director of Communications and Public Affairs.